The Ziggurat Method
T h e   Z i g g u r a t    m e t h o d
tailored & top down
seamless
simultaneous set-in sleeves
simultaneous neck-shaping
built-in everything (pockets, buttonband, seamlessly lined hems
absolutely minimal sewing in of ends
A Ziggurat pullover is knitted seamlessly and top down with simultaneously set in sleeves and neckline (and other) shaping, buttonbands, pockets… the whole shebang.
You knit in a zigging and zagging manner to create each shoulder in turn before normal knitting in the round begins. The yarn is cut only when absolutely necessary – so there are very few ends to sew in. In fact, if your were to knit from a huge skein with yardage enough for the whole sweater, you would have precisely 6 ends to weave in at the end.
a   t y p i c a l   Z i g g u r a t     p u l l o v e r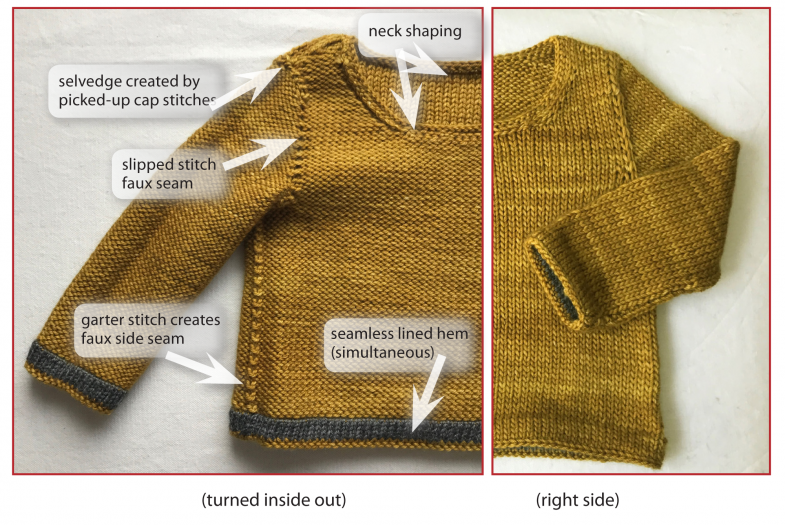 t h e    s t a r t   o f   a   t y p i c a l   Z i g g u r a t    c a r d i g a n

s t r u c t u r e   w i t h o u t    s e a m s    o r    s e w i n g
I like these wrong-side pictures – in classes I pass this swatch around. It gives a clear idea of what you are constructing. It also shows that there is indeed structure, without seams or sewing. The selvedges created by picking up stitches in cast ons provide sturdy yet stretchy joining points or lines.
t h e    b a s i c   p r i n c i p l e  is the same since the very first Ziggurat back in 2011: you cast on for back and shoulders, then work the back and front shoulders in turn while also creating tailored sleeve caps, all in one continuous piece. Along the way, I have tweaked the Ziggurat steps  and refined some details. And designed new pockets and cuffs. And things.
t h e   Z i g g u r a t   s t e p s   a r e    a l w a y s    f a m i l i a r
One feature of every Ziggurat pattern is that the Steps are instantly recognisable from one pattern to another. As are the shaping instructions.
In every Ziggurat pattern they are coded and displayed in the same way.
sleeve increases (sM1) are always red
neck increases (nM1) are always green
body increases (bM1) are always blue
They are coded that way in the written instructions, and also in the (surprisingly helpful!) Helpful Table that has been a signature feature since the start. This means that once you've knitted just one Ziggurat sweater you'll be able to navigate through any other Ziggurat pattern with ease.
a d d i t i o n a l    g u i d a n c e
You'll find more photos and guidance in Ziggurats: 16 elegantly seamless knits, where there are also closeups of how and exactly where you pick up stitches for the sleeve caps and other tricksy bits, including how to read and make good use of the Helpful Table.

Z i g g u r a t   C l a s s 
~Earlybird signup: April 24–May 3~
(The Earlybird signup is over – signups will be available again in autumn.)  Knit Stars 5.0 is an amazing lineup of fellow designers and instructors –  all 10 of us!
My class: a video workshop, where I'll guide you through every Ziggurat step and detail – at your own pace. Please join in!
a    h e l p f u l    v i d e o
If the construction sounds odd, you get good a  overview of the Ziggurat  method in this FruityKnitting video interview; coaxed and coached by the host, Andrea, I explain the steps and the many virtues of Ziggurating.
For your first Ziggurat you may nevertheless have to knit on trust and not worry about some of the moves seemingly not making sense. If you're stumped you are likely to find very good advice and cheering on from the friendly knitters in the Åsa Tricosa Group on Ravelry.
I encourage you to drop by!
h a l l m a r k s   o f    t h e     Z i g g u r a t    M e t h o d
t a i l o r e d
A tailored fit with set-in sleeves that is easily modified to
accommodate disobedient body parts.
The shoulders look almost sculpted, no?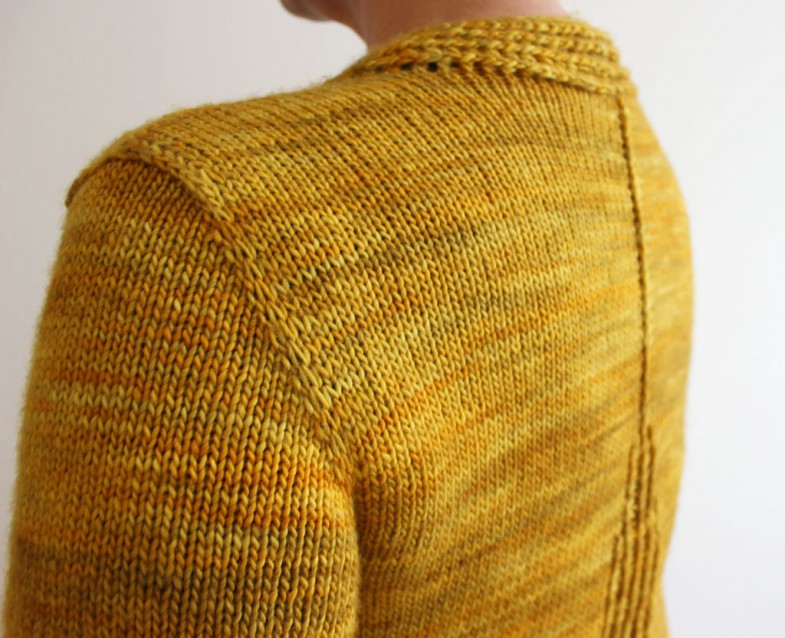 a l l – i n – o n e
Ziggurat is true all-in-one-everything-built-in-as-you-go.
If you were knitting from a huge skein with yardage enough for the
whole sweater, you would have precisely 6 ends to weave in at the
end.
1 at the top for the cast on
1 at the bottom hem after pulling the yarn through the final cast-off stitch
2 for each sleeve (1 at underarm pickup, 1 at cuff)
There are some exceptions for I realise that not all knitters are pigheadedly
adhering strictly to principles for principles' sake.
There are several good reasons for leaving the collar until last, not
least that it's nice to leave things open – you may while knitting
change your mind several times about what will look best. Moreover,
a collar added on last can easily be undone and reknitted.
That said, some Ziggurat designs begin with the collar.
n o    s e a m i n g
I have nothing against sewing per se. I just like to keep sewing and
knitting apart.
n o    c u t t i n g
This is really in the interest of saving ends to weave in.
And also for the beauty of the challenge of sticking to principles.
And for the integrity of a treasured yarn – this is not just a silly idée fixe. No, for it leaves the yarn intact should you decide to frog (unravel) your sweater to start over.
n o    j o i n i n g
There are no separate little pieces or schnipzels to join. You start at
the top, and then zig and zag in a rather clever manner to the end,
creating a tailored look and fit along the way.
In my designs, you will find optional waist shaping, bust darts, a sneaky way of adding space for a prominent bootie, built-in pockets – or you can add your own details.
w h e n    i t ' s    d o n e    i t ' s    d o n e
When done knitting, the garment is and looks finished, trims, buttonbands, hems, cuffs. All of it. Well ok, except the collars on (most) pullovers – the collars on cardigans are, so far, built in, even when they're a little pesky to get started.
And some very few ends to weave in. That's it.
s t r i p e s   &   s t i t c h   p a t t e r n s
One simply cannot have too many stripes. However, striped Ziggurats present an additional challenge.
For symmetry (intended asymmetry is good, unintended, well… often not so good) each version has to be worked out individually.The 6-row striped cardigan will have its Ziggurat  turns in a different place than the 4-row pullover, and the 6-row pullover at a different place again.
The same holds for other stitch patterns. More of those to come in Book The Next (a wip with no set publication date… yet).
a d d i c t i v e
A word of warning: Ziggurating is a bit addictive. I will not be held responsible.
a d a p t a b l e
Ziggurat designs are adaptable and easy to modify, especially if you make use of the Helpful Table to guide you between sizes.
You may, for example, have narrower shoulders than usual for your standard size. Solution: cast on for a smaller size but follow increases and stitch counts for your desired size and ease to accommodate bust and other measurements.
Try your sweater on as you go! The beauty of Ziggurating (and other top-down designs) is that you can get a good idea of the fit without sewing and before blocking and drying.
z i g g u r a t    d e s i g n s
You can find all Åsa Tricosa Ziggurat sweaters and tops here.
The most basic Ziggurat is Simple Ziggurat (the photo at top of this page).
My book, Åsa Tricosa Ziggurats: 16 elegantly seamless knits is a selection of very knittable pullovers and cardigans along  with plenty of detailed tutorials for both novices and advanced knitters.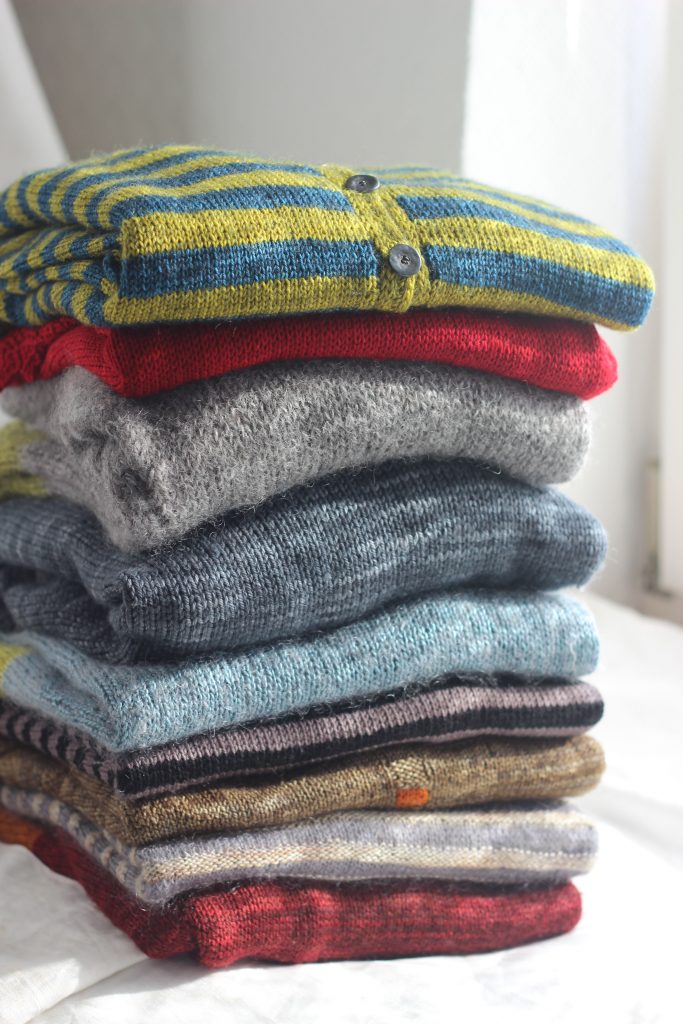 d e s i g n i n g    w i t h    t h e    Z i g g u r a t    m e t h od
Please do! – with proper credit to Ziggurat method by Åsa Tricosa
(contact me if you wish permission to use also tutorial steps and/or graphics)
Designer Ann Kingstone features two sweaters using the Ziggurat method in her book, Lace Knits: Magical Methods for Openwork Knitting.
s o m e   e a r l y   z i g g u r a t s . . .
---
Want to know what's up my knitted sleeve? Sign up for the occasional Åsa Tricosa Newsletter.