Wollfest Hamburg — photos!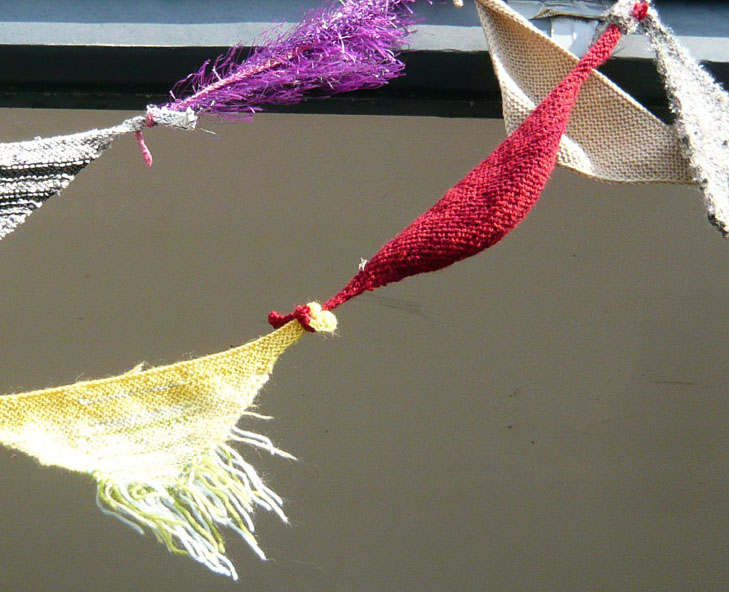 A blast and an inspiration: Wollfest Hamburg 2014
I'll share some photos.
They are neither representative nor do they do justice to the magical organizational powers of the interesting, competent, fun, can-do women who pulled it all together. I fell in a little bit in love with all of them. I think we all did.
Oh, and they even arranged for perfect weather – if, that is, one had thought to bring summer clothes. 27 degrees! Sun!
Here it is, yarn, knitters, more yarn, more knitters, even more yarn and knitters.  Classes, talks, readings, blitz workshops, food, yarn and yarn and  yarn. Wonderful!
Danica of Nature's Luxury surrounded by her charming support and luxurious yarns.
Forcing some perfectly nice Wollfest knitters to pose for the camera, while Yarnissima comes to think of her steeking and fair isle classes and that it might be useful to know what  floats are called in German. The perfectly nice knitters obliged: Spannfäden
Oh, and here she is, Barbara: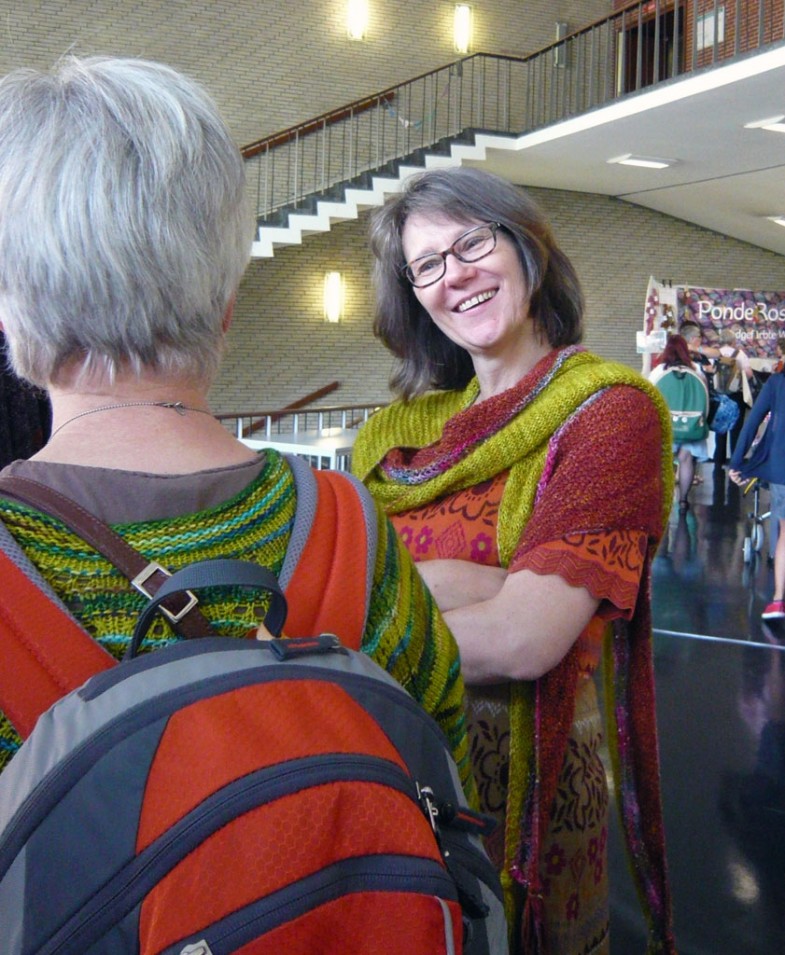 Parts of the magical Wollfest team:
Jeannette, Bettina, Iris, Brita (I looooove you!!!)
(and you!!! …Betta, Lauren (Laurenlolly), Jeannette, Marlene)
Betta in her cruelly moth-attacked Tric… Tall tales about a sheep auction… where Betta may or may not have bought a sheep…  In safe hands through the knitting First Aid (note the knitted lifesaver!)
And there were classes and knitting and more knitting…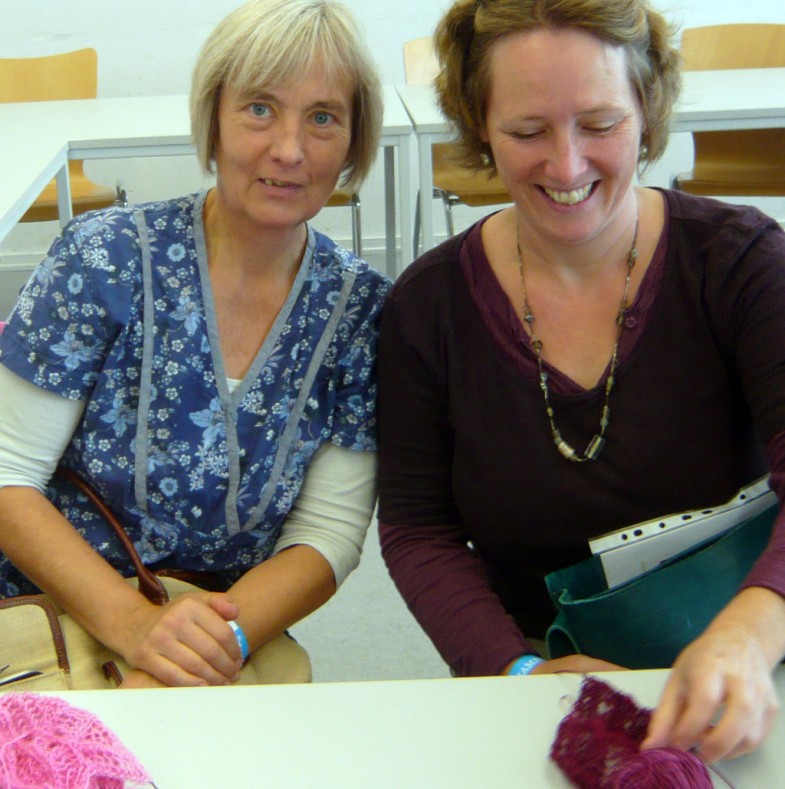 Some Åsa Tricosa designs walked by, all better and more beautifully knitted than my own samples (THANK YOU for knitting them and thank you for showing them off!)
Bajads knitted expertly by… another Bajads knitted expertly by frosteline with yarn dyed expertly by Michaela of Wollfaktor… Mysteriosa knitted expertly by Sabine.
There were of course tonnes of designs by the rockstar designers, Stephen West and Ysolda – I didn't catch them on film but lots and lots and lots and lots of other people did. (You can see great photos and links to photos and videos, too, in the Wollfest Group on Ravelry.)
Oh, and here's me and Miriam of Welthase and Miriam and her gorgeous Welthase yarn:
The Dye For Yarn stall was mobbed so I couldn't get close enough to the yarn to take photos. Nicole and Cordula look quite pleased, no?
Fortunately, I have quite a lot of DFY yarn stashed that I can look at any time I want. And knit with…
Oh, and I met the enthusiastic knitting ambassadors Teresa & Irene of Austrian Yarn Club. They run a knitting and crafting retreat, Wollness Wochenende, at a wonderful-sounding Naturhotel outside of Vienna. There may still be spots open…
And there was more. But as all good things it had to come to an end. But not before I finally had a chance to meet Melanie Berg (Mairlynd), woman of some very Fabulous Shawls:
Dismantelling the festive bunting.
If you haven't had enough, there are more photos on Flickr.
p.s. If you find yourself in a photo and would rather not have it displayed, I'll remove it. Email me or send a PM on Ravelry.