Nondaily Tip No. 11: Tuck it in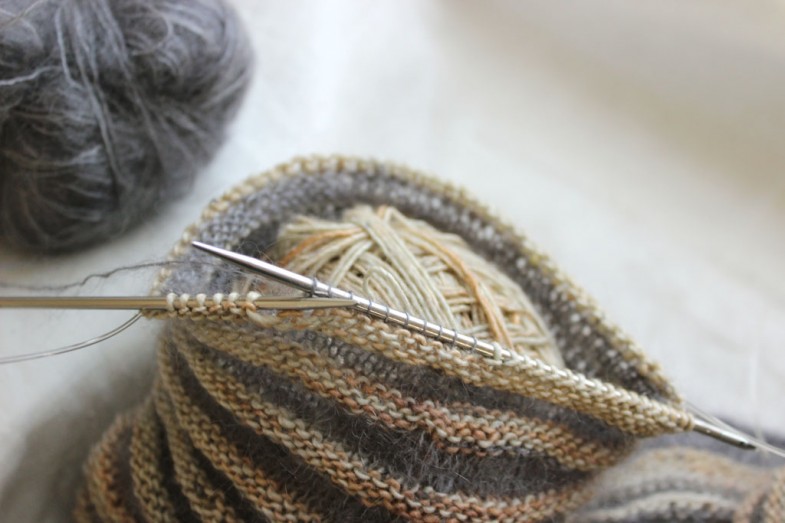 It WANTS to tangle – don't let it!
Stripes are most desirable.
Stripes require, for the most part, knitting with more than one skein.
And this is the only time we must believe in Aristotelian physics where bodies tend to their natural place. The natural place for a strand of yarn is in a tangle.
It WANTS to tangle.
This cannot be changed.
All we can do is to try to sometimes gently force the yarn to go against its nature.
So, for example (in addition to continually stopping to detangle before you have a HUGE annoying tangle):
When knitting striped sleeves, tuck the idle skein into the sleeve (top photo).
Most useful.
When finishing  the sleeves or a collar  before deciding on final length on a (top down) sweater, tack the idle skeins to the inside of the sweater, poking the circular needle through skein(s) and fabric like so: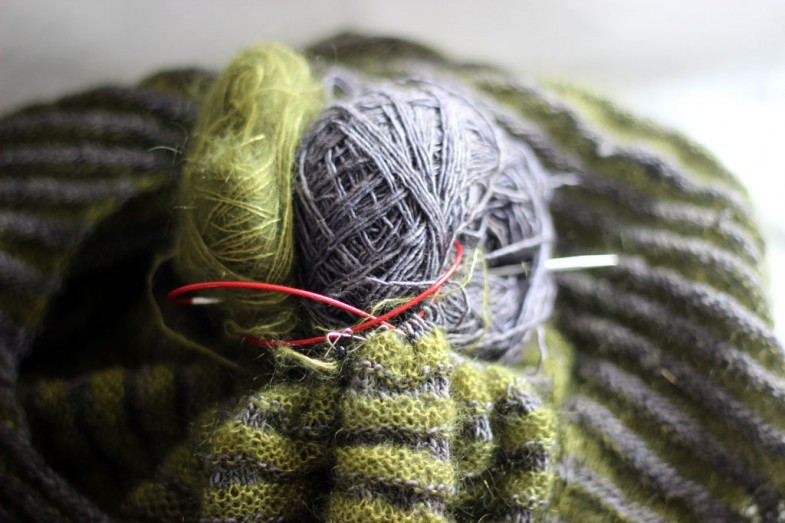 Then knit away (mostly) without tangles.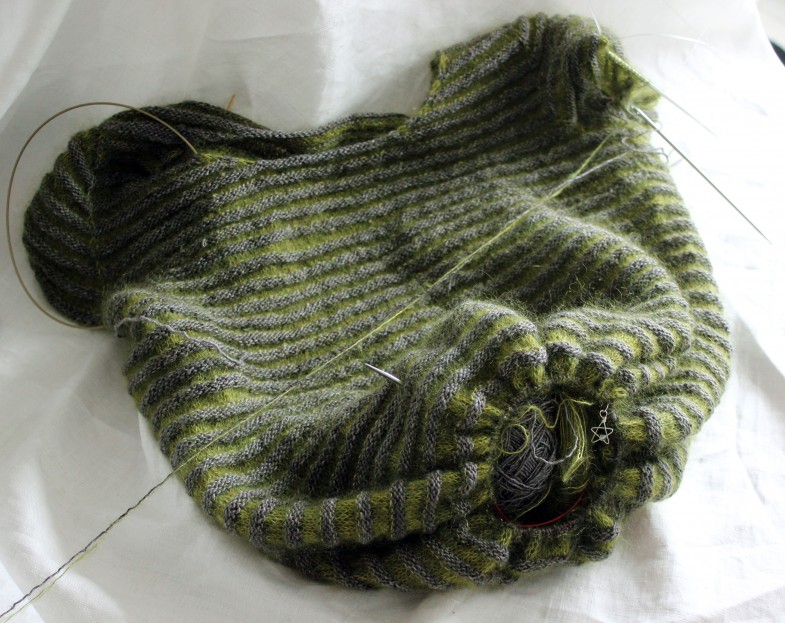 This works on gloves too. On anything where one skein or skeinlet is not used at all times.
Here is a topdown mitt with provisional stitches sitting on the cast-on circular and a little tot of yarn that WANTS to tangle. Poke the needles through and leave it on the outside… while finishing the cuff.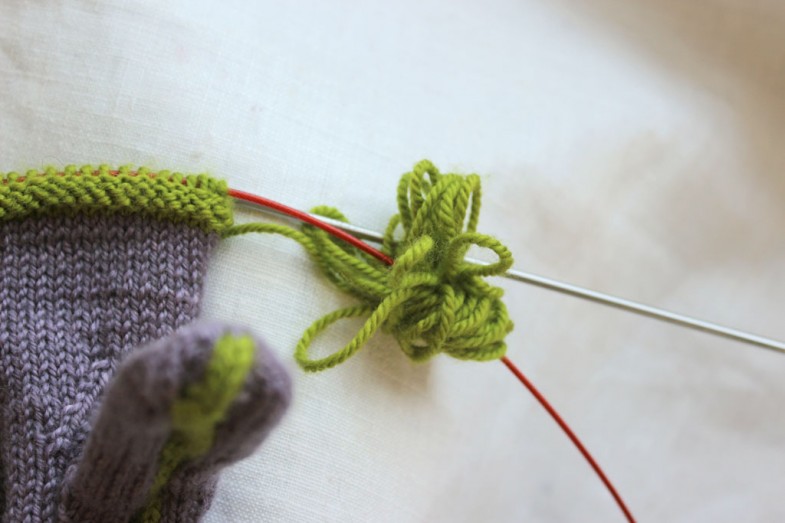 …or attach it to the inside: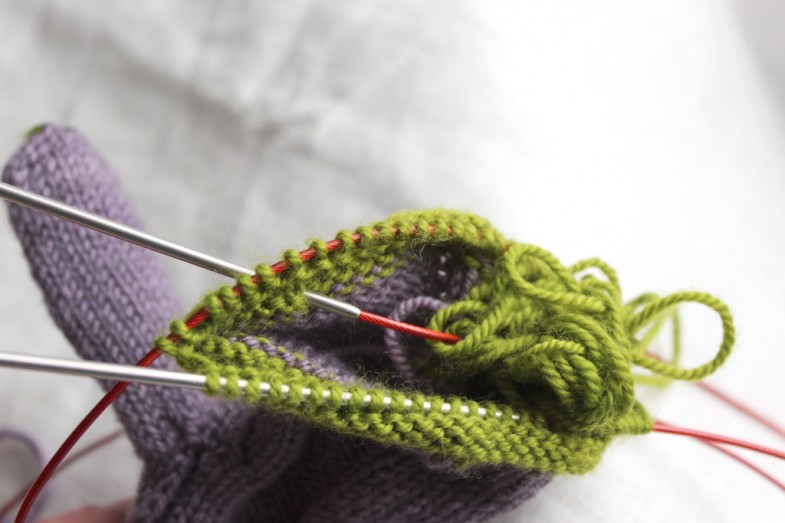 Or pin it with a stitch holder or a safety pin to the inside of what you're knitting.
Here, the contrast colour for the thumb is pinned to the gusset to be out of the way while the fingers are done (for of COURSE there is a long enough end of contrast colour to finish the thumb later without having to join new yarn… I don't like sewing in ends):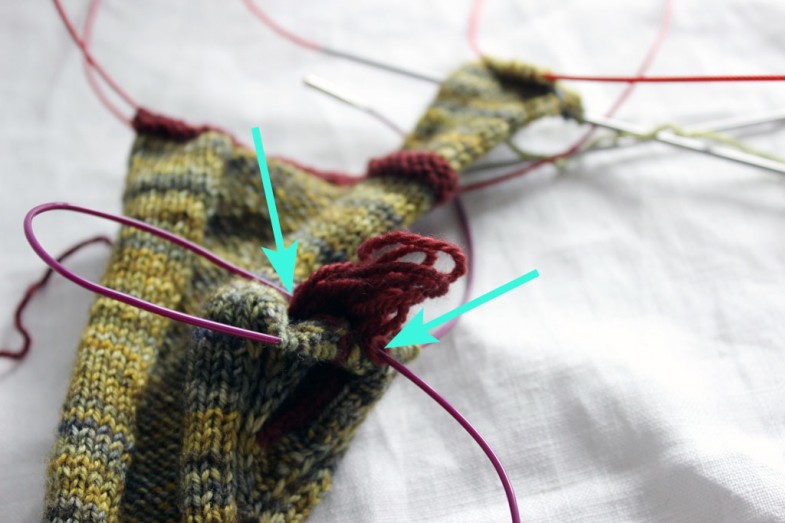 When a tangle is already a fact, untangle with the help of gravity – let it dangle freely and see it untwirl:
For impatient souls, it's essential to untangle frequently. The only other alternative is THE SCISSORS. That would be shame on such lovely yarns. Besides, who wants to weave in yet more ends? Not I.
Want to know what's up my knitted sleeve? Sign up for the occasional Åsa Tricosa Newsletter.
---
Yarn in photos:
Ma Non Troppo pullover
Sand/grey : WalkCollection Delicate Silk (Mica) and KidMohair Lace (Stone)
Grey/green: WalkCollection Delicate Silk (Vulcanic Sand) and KidMohair Lace (Moor)
Mio glove
purple/green: Wollmeise Blend Meilenstein & Grünfink
greenish/wine: Malabrigo Sock (Turner & Boticelli)