Tiong Bahru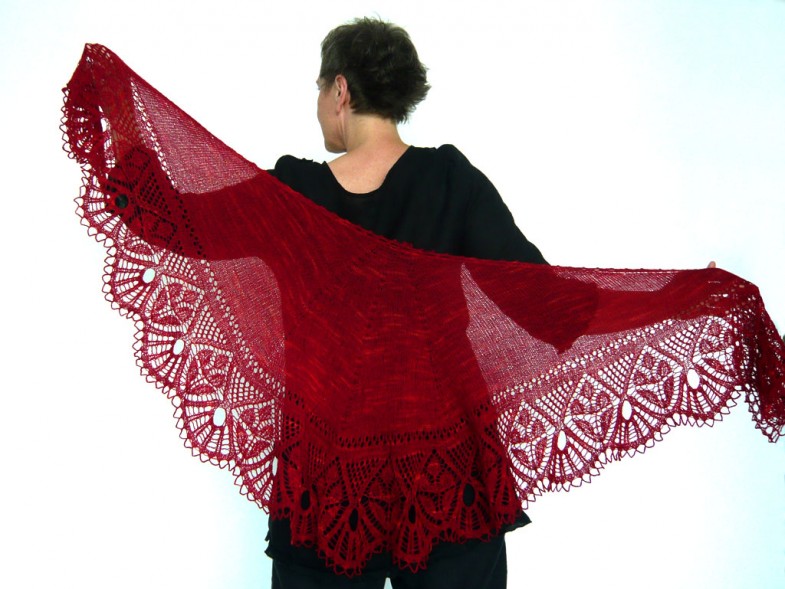 Elegant and stylish with a spectacular lace border, this top-down semi-circularish shawl transitions from stocking stitch to the billowing border all in single rows. A lacy edging is knitted along as you go. Shaping is made by paired increases — for comparison: Tiong Bahru1 is a bit more crescent-y than Bakau.
The insructions are both written out line by and charted. You can work from the charts or the written instructions only – or use both to guide you through the lace. Åsa's Tab Cast on (first featured in the Bakau pattern) makes another appearance here. There are two sizes to choose from, a generous shawl and a slightly smaller version (but rather bigger than a shawlette). The pattern can easily be scaled up or down. Stitch counts and calculations for this are provided. For a beaded Bind Off as in KimDenise's gorgeous Tiong Bahru: Small: 176 beads Large: 197 beads As for yarn choices, Tiong Bahru can be worked in cobweb to heavy laceweight in silk, silk-blends or wool. The red (slightly larger) shawl in the photos was knitted with Wollmeise Lace-Garn. The grey with DyeForYarn Lace Silk. Gauge for WM Lace: approx 19 sts x 32 rows = 10 cm/4in Gauge for DFY Silk: approx 20 sts x 27 rows = 10 cm/4in A Japanese translation is available at Atelier Knits.
---
Want to know what's up my knitted sleeve? Sign up for the occasional Åsa Tricosa Newsletter.
---
Tiong Bahru is a suburb and subway stop on the East-West Line in Singapore — I just like the name, especially the way it's enunciated with gravitas and faultless clarity on the tube. Tiong Bahru is also a simpler version of Jamie's Shawl which will take while longer to write up and test knit.