Nondaily Tip No. 3: weigh it!
or: never (or hardly ever) run out of yarn
Will it last?
Will it?
Will you run out of yarn midway through casting off?
The scale is your friend.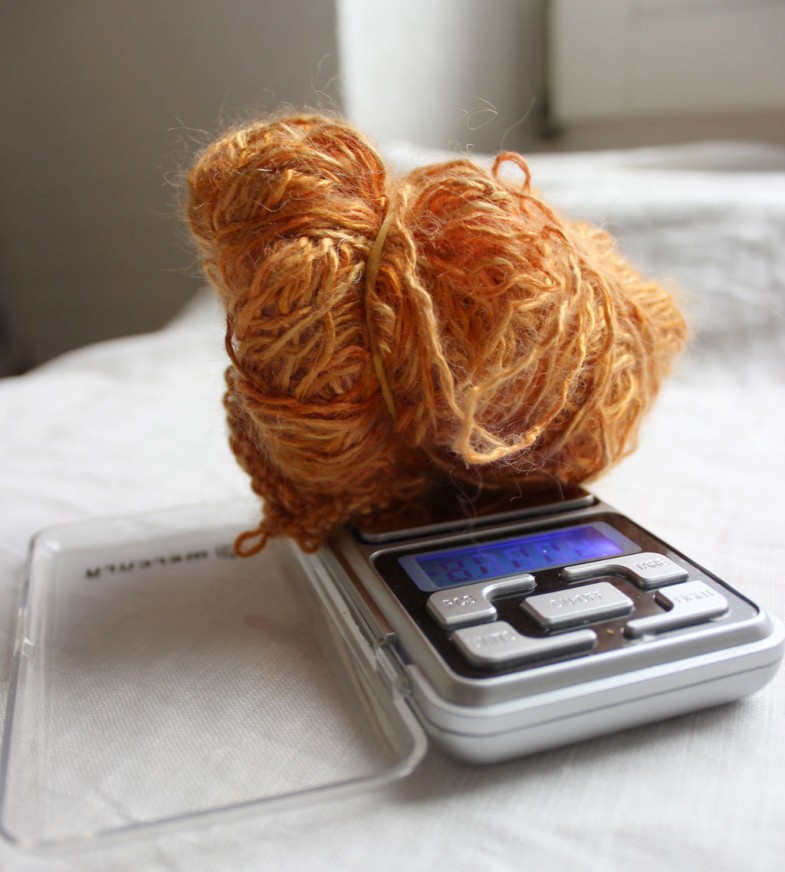 Weigh your yarn.
And then knit with confidence to the bitter end.
There's really no need to knit faster, tighter, more frantically toward the end as your last skein is dwindling and there seem to be disconcertingly many rows, rounds, or repeats left to knit.
Unless you feel the need for extra excitement in your life.
I have sympathy with that, too.
These travel scales go with me everywhere. (You can get them for about a tenner.)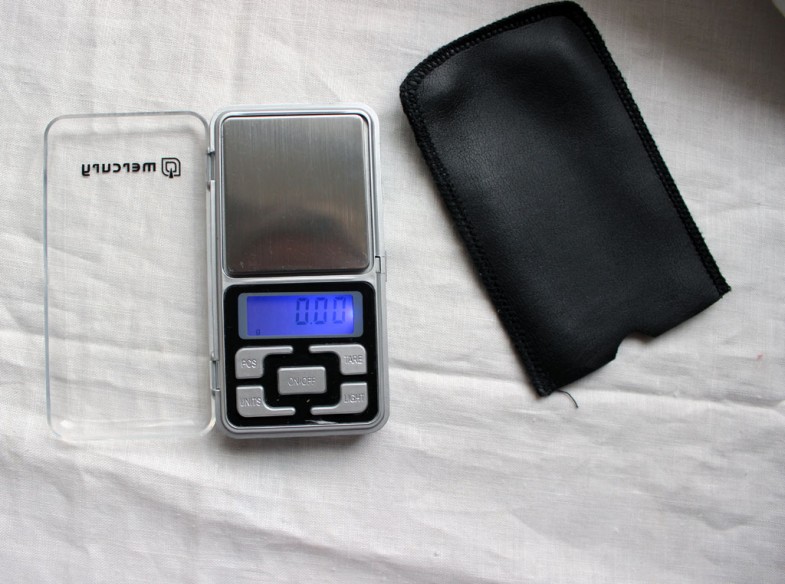 They were a present from Sparkleduck (thank you!), and one of the most useful presents ever.
Kitchen scales are useful, too. But they take up so much space in one's purse… (and yes, I've tried that).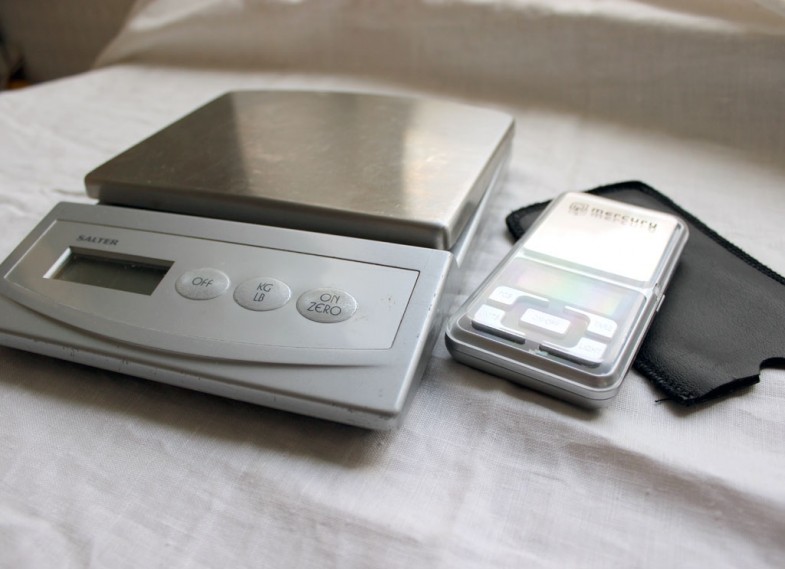 How to put your scales to use.
Before you even begin a new project, weigh your skein(s).
Now you know what you've got.
Note: it's especially useful if you also remember to
1. write it down
2. remember where you wrote it
I sometimes keep track on my Ravelry project page as that cannot easily be misplaced (1st skein: 113.4 g, 2nd skein: 109.5 g…).
Well-behaved balls of yarn are easy to weigh.
More unruly yarn or unwieldy projects can be placed in a light plastic cup or bowl.
To set the scales to zero, place the container on the scales before pressing the ON button.
Or you can use the TARE function.
Turn on scales, place container…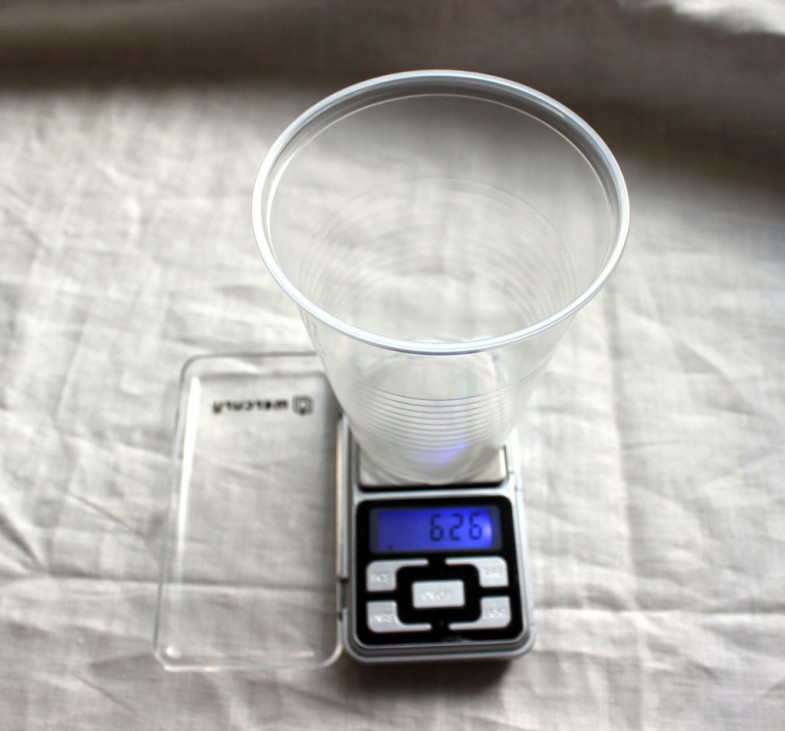 …, press TARE to reset the scales to zero: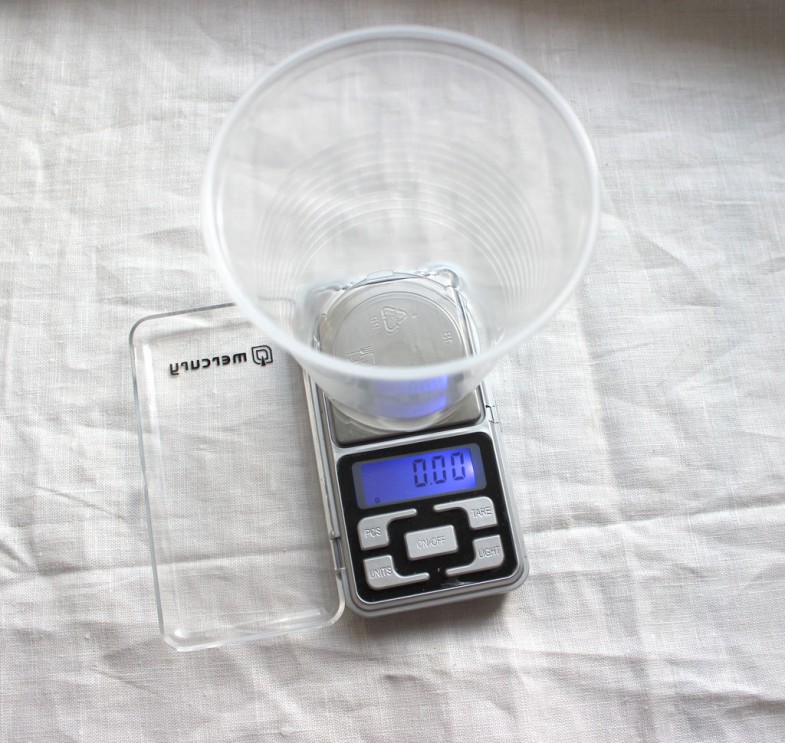 Now put your yarn, sock, shawl into the cup.
Weigh.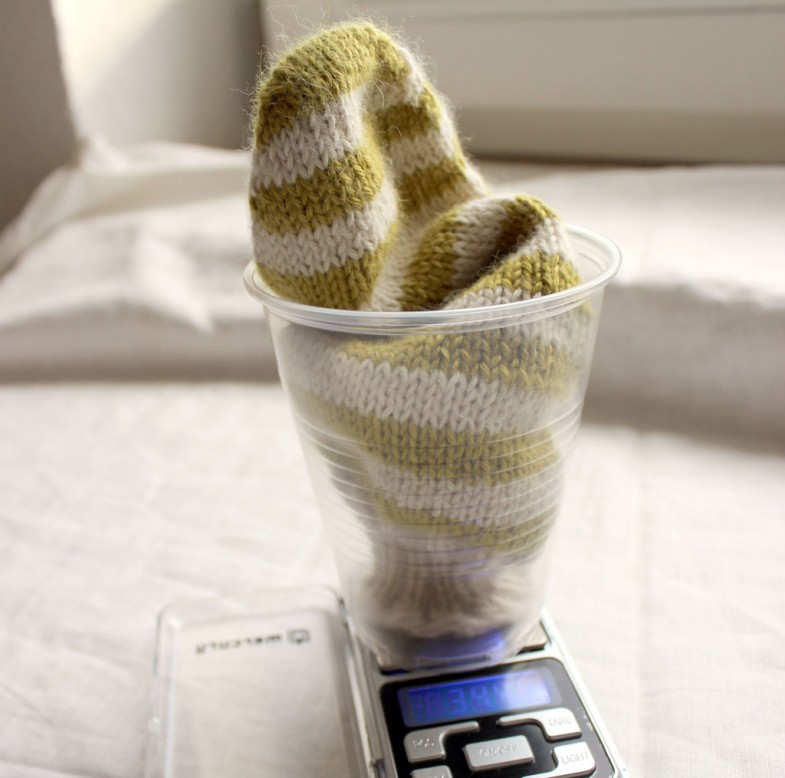 For the forgetful (I am such a one), weigh your project partway through with needles and all.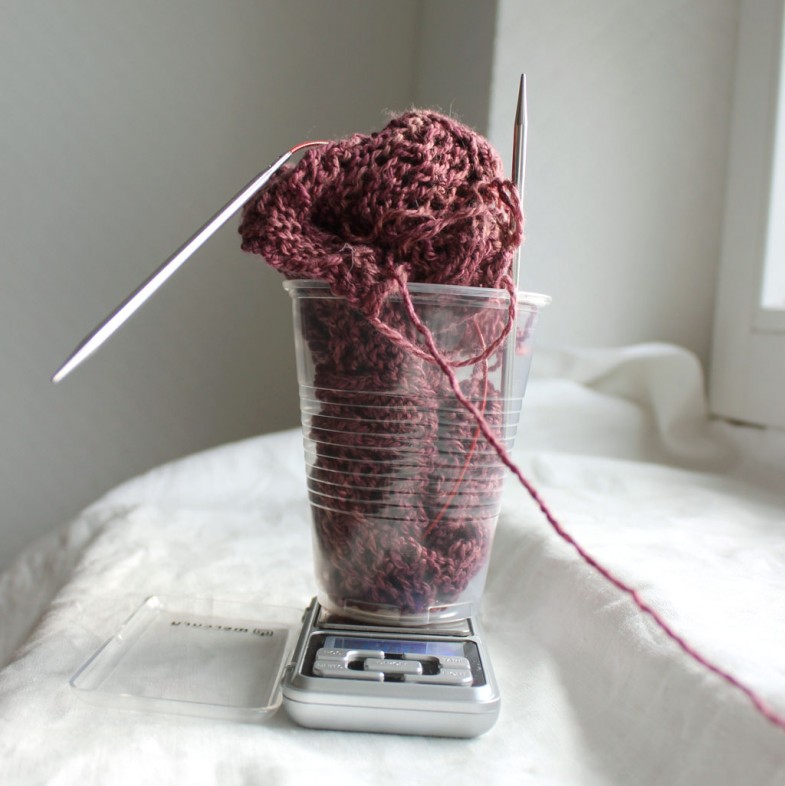 Then weigh a similar needle separately …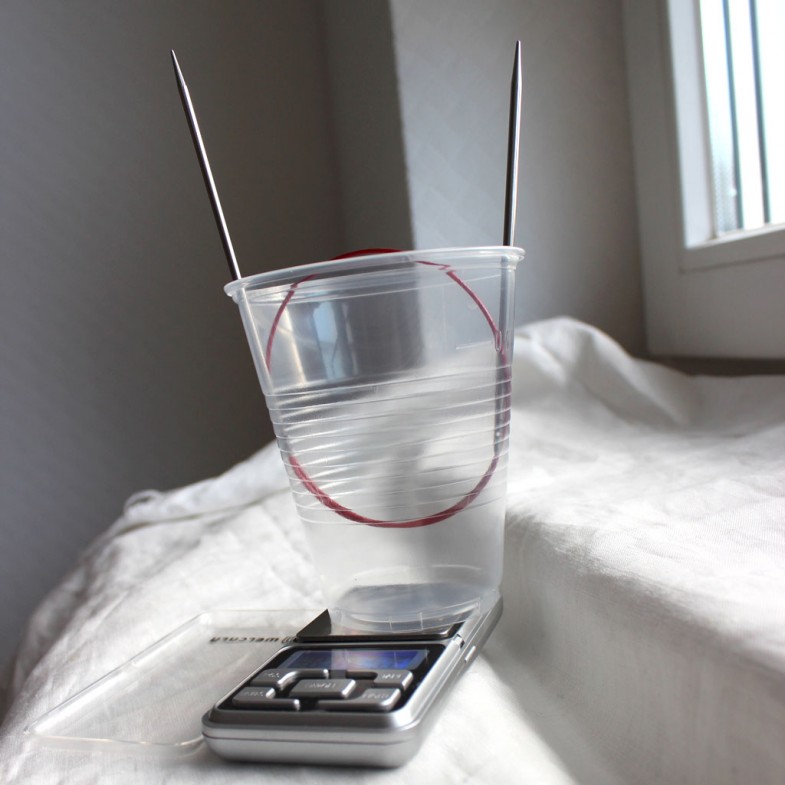 …and subtract.
Is there enough yarn for the second mitten, sock, glove?
Weigh the first one.
Weigh your remaining yarn.
If you have no little cup or container: a rubber band works.
Roll up your mitten or compress your unruly skein and secure it with a rubber band.
Weigh.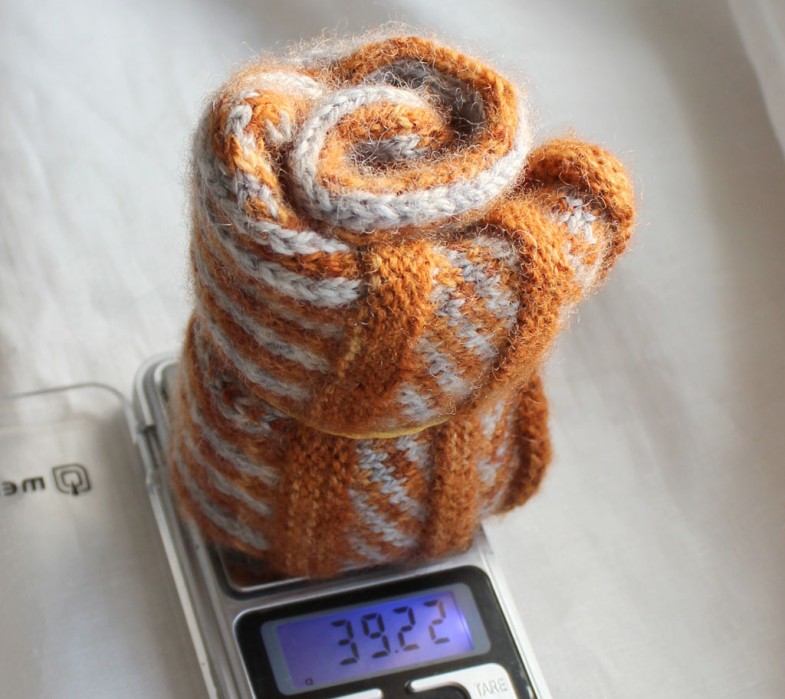 Sideways shawls & stoles
For several of my sideways shawls designs that are knitted tip to tip (Semele, Atalanta, Galathea, Arietta, Agrippina) the pattern instructs you to stop increases some way before you've used up half your yarn.
If you've weighed it, you'll know where the turning point must take place.
If you're knitting one or more straight repeats before you begin your decreases, you may want to weigh your yarn before and after a completed repeat to determine how many grammes one repeat requires.
Other shawls & uses
Weigh your skein before and after completing 2, 4 and maybe 10 rows or rounds: then calculate how many grammes are required per row on average.
1.Take yarn weight before
2. Subtract yarn weight after completion
3. After 2 rows, divide by 2
4. After 4 rows, divide by 4
5. After 10 rows, divide by 10
Cast off
I usually try to save what is required for 3 rows for the cast off.
If it's an extra stretchy cast off, I make sure there's more.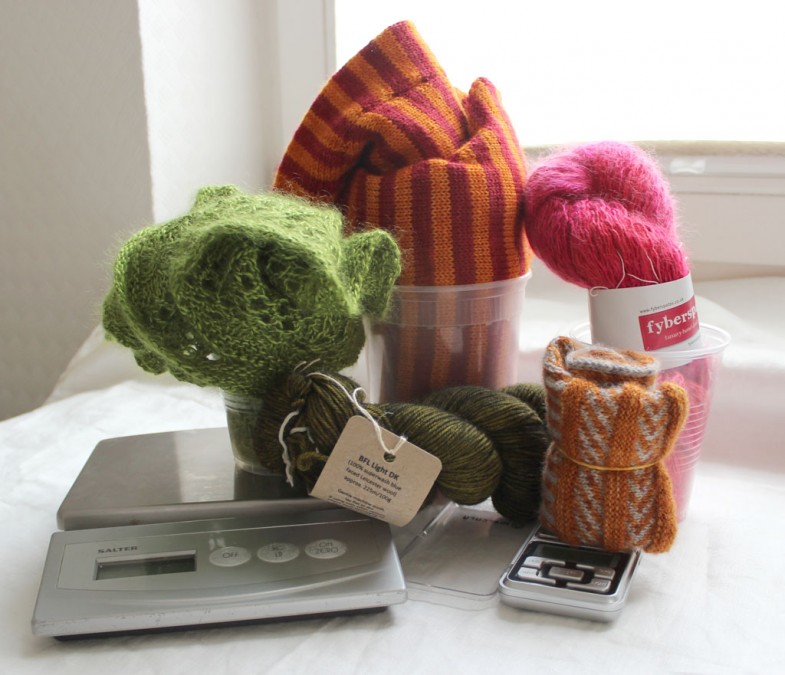 Disclaimer: No yarns were harmed during the making of this feature. For any dangerous shots, especially trained stunt yarns were used in accordance with regulations (yarns used in photos in order of appearance: Faery Wings by Fyberspates (1, 2), BFL Light DK by The Uncommon Thread, Väinämöinen by Knitlob's Lair, Baby Alpaka by GGH, Scrumptious 4ply by Fyberspates, Ilmarinen by Knitlob's Lair.

Small scales: Mercury Digital Pocket Scales (run on 2 AAA batteries, max capacity: 300 g)
---
Want to know what's up my knitted sleeve? Sign up for the occasional Åsa Tricosa Newsletter.