mai troppo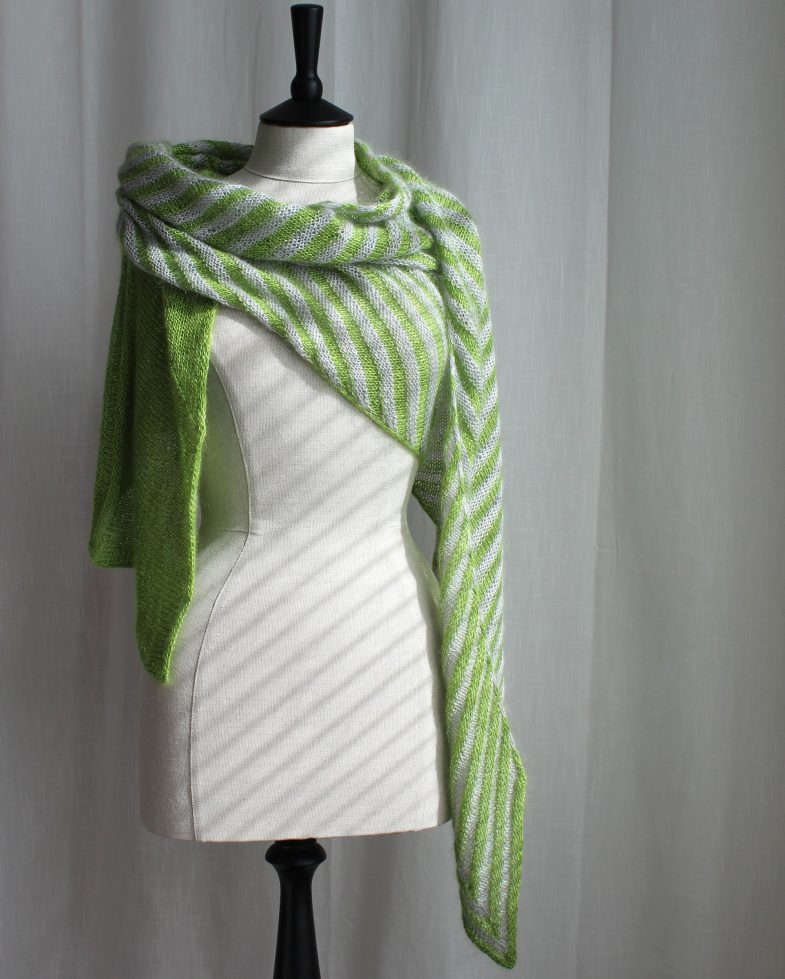 mai troppo is a design in my new Tuvstarr Collection, celebrating the rebirth of a favourite yarn and the continuous beauty its siblings.

mai troppo is the bigger, faster-moving sister of lace-weight non troppo. mai troppo features the same easy-to-knit alternating stripes in stocking stitch and reverse stocking stitch and a pleasing asymmetry for funky elegance. The cast on is a little different, and the striping sequence toward the end is, too. You are invited to make up your own stripes and throw in a remnant contrasting stripe here or there as you wish. The palette of Faery Wings, Curly Silk and MoFluff is vast and if you're knitting one or more of the patterns in the Tuvstarr Collection, you will likely find many opportunities to use a remnant from one in another.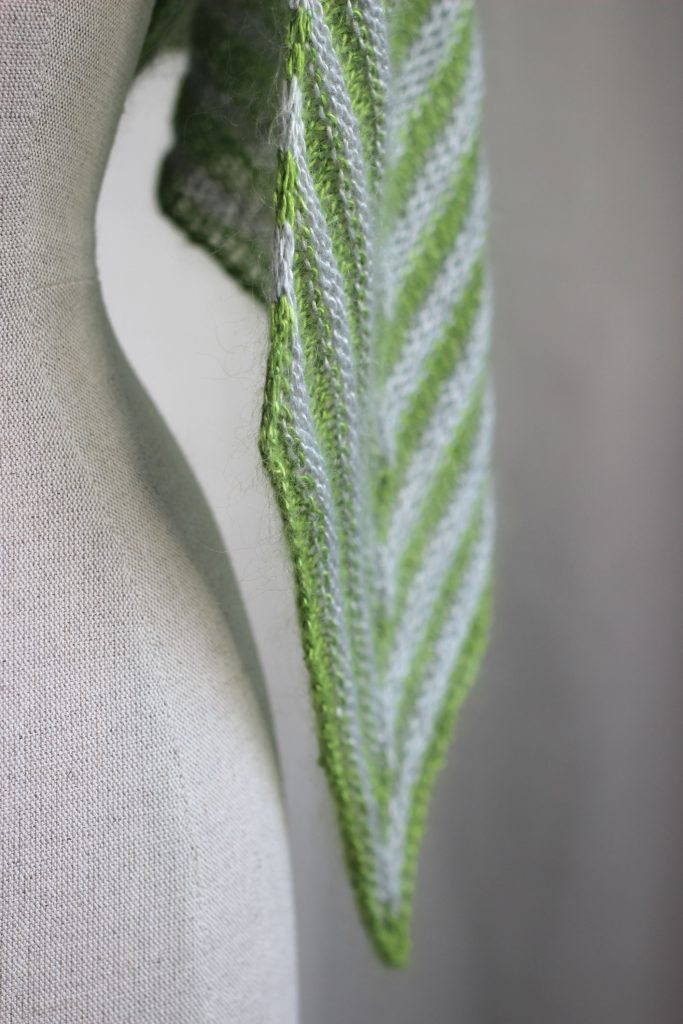 Faery Wings from Fyberspates, and  its siblings, Curly Silk from Dibadu and DyeForYarn's MoFluff, is a silk/mohair blend yarn that is curly and wavy in the skein and knits up to a smooth and drapey fabric.
The Tuvstarr Collection (eBook)
5 patterns released randomly  over several days (18–23 December)
2 shawls :: 2 cowls :: 1 mitt

Note: If you buy a single pattern from the collection and change your mind and wish to buy the collection, one pattern can later be applied toward the Collection and is deducted automatically.
Who is Tuvstarr?
Tuvstarr is a fairy tale princess with hair like Faery Wings. She has been beautifully painted by John Bauer, a Swedish artist. Bauer's illustrations for the book of fairy tales, Bland Tomtar och Troll, are wonderful and evocative, and perhaps especially so, his lovingly rendered Prinessan Tuvstarr.
You can read more about this early 20th Century artist and find more illustrations here.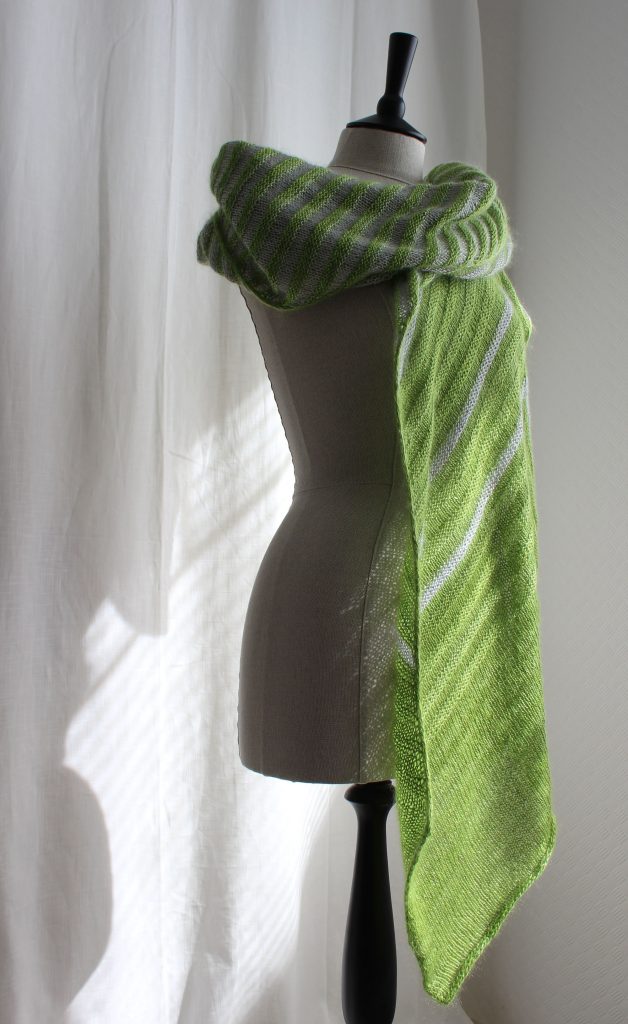 mai troppo shawl
S i z e
45 cm x 200 cm (18″ x 40″)
Y a r n
Faery Wings (67% Silk/23% Kid Mohair/10% Nylon, 175 m (191 yds) per 50 g); MC: 2 skeins, CC: 1 skein
Colours: Lime and Silver
alternative yarn suggestions
Dibadu Funnies Curly Silk or DyeForYarn MoFluff
(67% silk, 23% mohair, 10% nylon, 350 m (383 yds) per 100 g)
approx yarn requirements
MC 700 m (770 yds) CC 350 m (380 yds)
N e e d l e s  &  N o t i o n s
4 mm (US 6) circular needle
(if your circular is not long enough to loop: additional smaller circular for the cast on)
Stitch marker
B l o c k e d   G a u g e
18 sts x 27 rows = approx 10 cm (4″) in 8-row stripe pattern
P a t t e r n  N o t e s
The knitting begins with the simplest cast on ever, the Winding Provisional Cast On that is stretchily bound off immediately. If you prefer you may use a conventional cast on of your choice just as long as it has some give. Alternating stripes in stocking stitch and reverse stocking stitch in two colours make up the main part, which is followed by an interlude with some random stripes before the asymmetrical finale with MC only.
H E L P F U L   L I N K S
Abbreviations
Crochet Cast On
Ksk Edging
M1R/M1L
Moving Marker
Stretchy Bind Off
Tuvstarr discussion on Ravelry
Winding Provisional Cast On
---
Want to know what else is up my knitted sleeve? Sign up for the occasional Åsa Tricosa Newsletter.