ma non troppo
A dreamy Ziggurat with stripes and airy elegance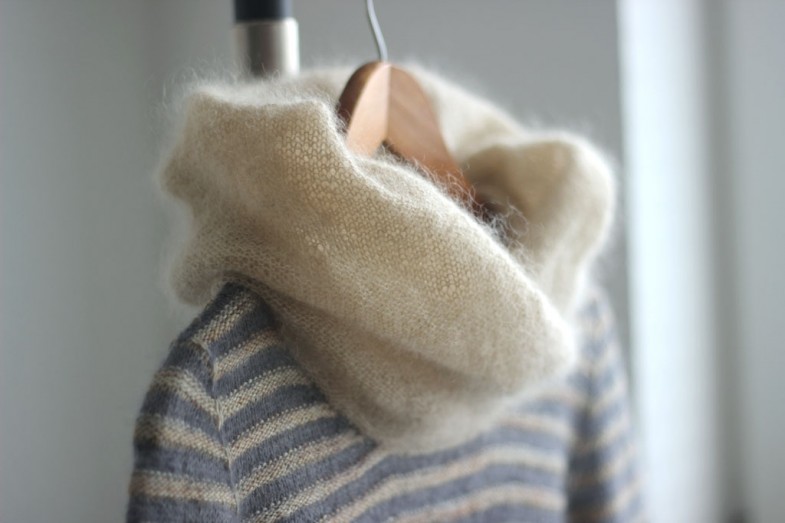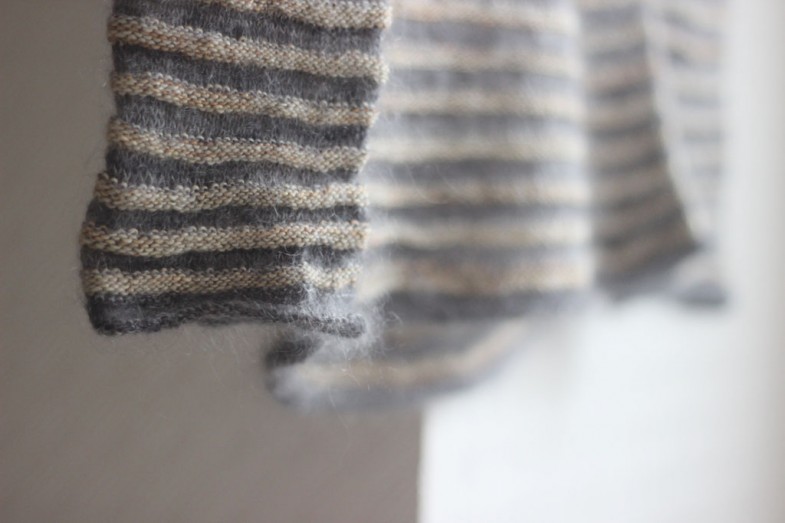 ma non troppo is a dream of cloudy lightness and funky elegance.
The elegance & lightness is due to the attractive WalkCollection yarns dyed in colours that sing and match in subtle and sometimes surprising combinations. The colours I chose are Mica (Delicate Silk)  and Stone (KidMohair Lace). (I'm knitting a second ma non troppo with Vulcanic Sand and Moor.)
DelicateSilk is a single ply, so called heavy laceweight – fine, but not too fine. It stripes particularly well with the airy, elegant KidMohair Lace.
ma non troppo is (not surprisingly) knitted with the Ziggurat method – that is, top down, cleverly seamless and with minimal finishing. A billowing collar is indeed shaped like a hood but not intended to be worn as a hood, but nevertheless thus shaped for the sake of drape. (It can of course be worn as a hood.)
Stripes of 1ply merino-silk alternate with whispy mohair lace that also forms the billowing collar.
The dramatic collar is optional (suggested yardages include the collar)
The collar is really a hood for the sake of a billowing drape – it's not intended to be worn as a hood (but could be)
As usual, everything is knitted in one go – no seaming, and only a few ends to weave in
Waist shaping
An optional bust dart is worked in cleverly (yes) with the stripes
The set in sleeves are knitted in the round from cap to cuff
Step by step instructions and photos take you through the unusual beginning and show how to pick up stitches for a neat and tailored sleeve cap
The pattern is written and also has a helpful chart to keep track of rows and shaping (chart is not required reading)
Yarn sets Dyed to Order
Cathrin of WalkCollection will offer Dyed to Order sets in enticing combinations selected especially for ma non troppo in her Etsy shop update on Sunday 22 February, 9pm CET.
Which one will be your favourite?
Note: the collar in the photos was knitted with a second  (that matched the lighter MC colour)
Another Note: the pullover in the photos is a little longer in the back – a modification of the pattern (it's just a double bust dart, and the bust darts are in the pattern)
The name? It should really include a comma, as in ma, non troppo!
Ma non troppo was designed and knitted for a mother, and mothers sometimes have to be told (in the kindest possible way): ma', not too much!
Approx yardage
MC 720 (760, 810, 870, 910) 960, 1010, 1050, 1100, 1140 m
790 (830, 900, 950, 1010) 1060, 1110, 1160, 1210, 1250 yds
CC (including collar)
1060 (1090, 1150, 1200, 1240) 1290, 1330, 1370, 1445, 1485 m
1160 (1200, 1260, 1320, 1360) 1420, 1460, 1500, 1580, 1625 yds
(collar only): 350 (350, 350, 350, 350) 350, 350, 350, 375, 375 m
385 (385, 385, 385, 385) 383, 383, 383, 410, 410 yds
Needles & notions
Circular needle, 80 –100 cm (32 in – 40 in), one each of
2.25  mm (US 1)
2.75 mm (US 2)
Cable needle (or double pointed needle)
Crochet hook, 2 – 3 mm (D), optional for cast ons
Stitch holder(s)
4 + 1 stitch markers (one in different colour)
Gauge
26 sts x 40 rows = approx 10 cm / 4 in over stripe pattern (4 rows MC reverse stocking stitch alternating with 4 rows CC plain stocking stitch) on 2.75 mm needle
---
Want to know what else is up my knitted sleeve? Sign up for the occasional Åsa Tricosa Newsletter.