loggia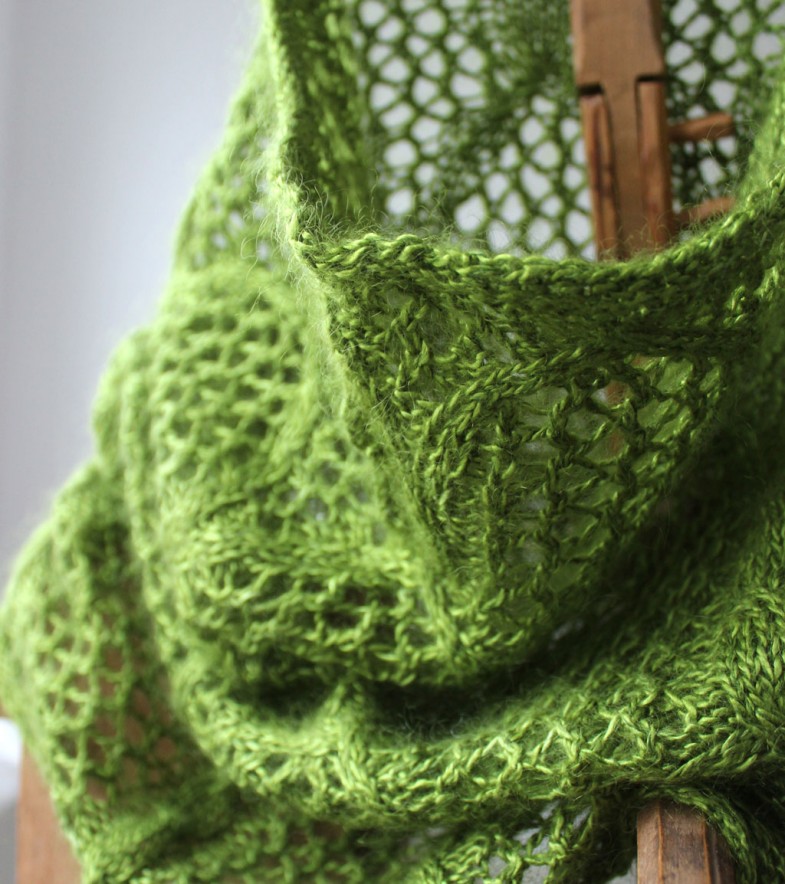 Loggia – knitted with 1 skein of Faery Wings from Fyberspates (yes, again…) in grrrreeeen (yes, again…).
This cowl is a rhythmic mix of mesh and arching cathedral window cables in a shape that is both elegant and comfortable.
The stitch pattern is a traditional mesh and cable pattern that runs in straight lines. I wanted some movement to break up the straight lines.
This required, for me, some experimenting (I can report that Faery Wings holds up well to frogging and reknitting).
It's quite possible that there are smarter and better ways of making cables move over mesh but I'm pleased with my solution.
Loggia is worked in the round from the bottom upwards with slight shaping towards the top.
The large cowl in the photos requires 1 skein of Faery Wings or approximately 100 grammes of any 4ply or sport weight yarn.
Sizes available: S (L)
Bottom circumference: approx 70 (90) cm / 28 (35 1/2) in
Top circumference: approx 55 (65) cm / 21 1/2 (25 1/2) in
Length: approx 25 (51) cm 10 (20) in
In the pattern you can choose between brief charted instructions and line, by line directions.
Techniques linked to in the pattern:
Magic Loop (not necessary – but helfpful if you happen not to have the right length circular needle)
NOTE: it's not possible to shorten the cowl toward the top, so if you think yardage is an issue, skip a repeat or two of Chart B in one of the steps. This is particularly important if you are a loose knitter – I used the entire skein for my sample (am not a loose knitter).
To block or not to block – an eternal question. For squishiness, don't. For lacy elegance, do.
A yarn note: Curly Silk by the German indie dyer dibadu.de is equivalent to Faery Wings.
---
Want to know what's up my knitted sleeve? Sign up for the occasional Åsa Tricosa Newsletter.