Chirrup – a soothingly simple cowl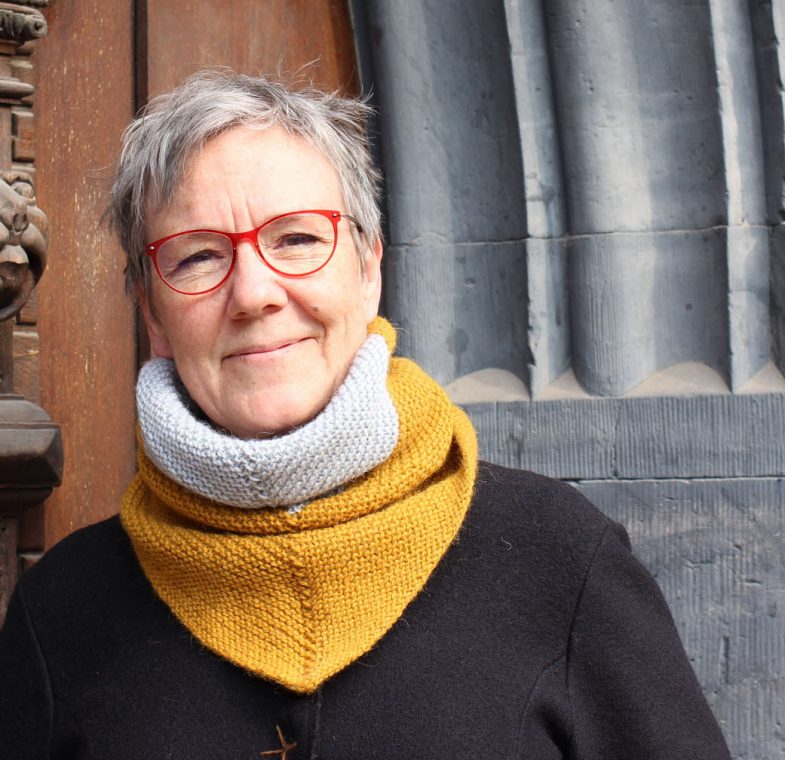 Chirrup is knitted in the round, bottom up, and on the bias. Soothing garter stitch make for an allover plush and comforting cowl that can be varied in many ways and worn in even more. The finished cowl looks more intricate than the making of it would lead you to believe.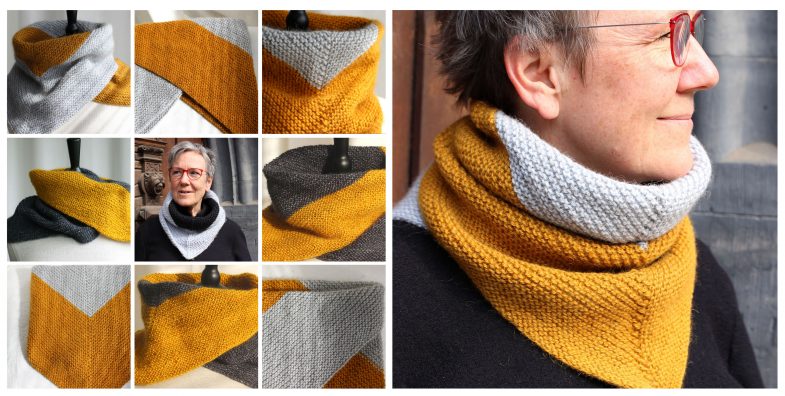 Chirrup comes in two weights and gauges – sport and worsted – with suggested stitch counts for several more weights and gauges.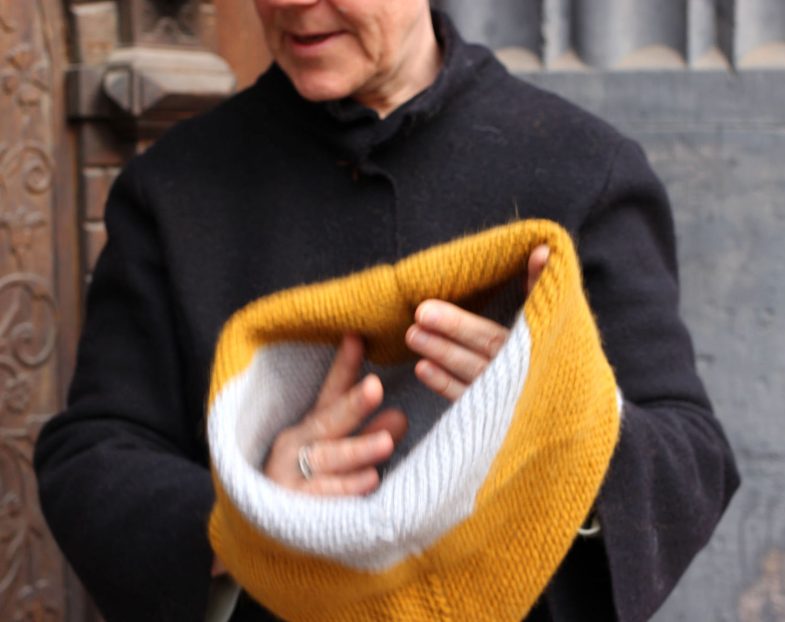 s p o r t   w e i g h t
Faery Wings from Fyberspates, and  its siblings, Curly Silk from Dibadu and DyeForYarn's MoFluff, is a silk/mohair blend yarn that is curly and wavy in the skein and knits up to a smooth and drapey fabric.
w o r s t e d
Outlaw Bohemia Worsted is a nicely plump blend of Polwarth, Alpaca, and Possum.
m o r e    y a r n   i d e a s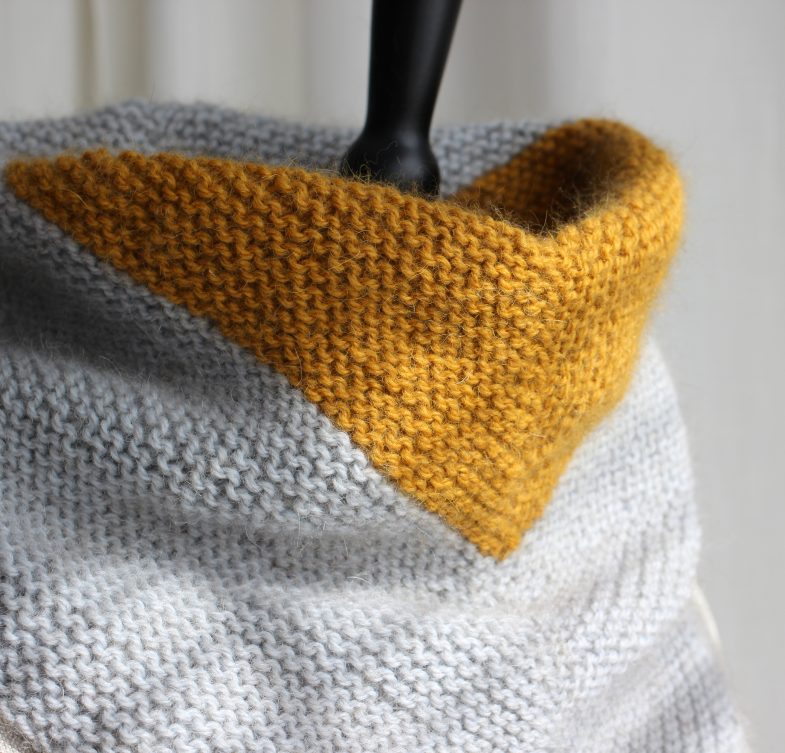 C H I R R U P
S i z e
measured perpendicular from cast on
36 cm tall by 50–60 cm circumf
(14.5″ tall by 19.5–23.5″ circumf)
Y a r n
Faery Wings (67% Silk/23% Kid Mohair/10% Nylon, 175 m (191 yds) per 50 g)
MC: Slate, 1 skein; CC: Gold, 1 skein
~ or ~
Outlaw Yarn Bohemia Worsted (45% Polwarth, 45% Alpaca, 10% Possum, 200 m (219 yds) per 100 g)
MC: Troy (mustard), 1 skein, CC: Fog (grey), 1 skein
approx yarn requirements

sport
MC 175 m (190 yds) CC 90 m (100 yds)
worsted
MC 200 m (220 yds) CC 200 m (220 yds)
N e e d l e s  &  N o t i o n s
sport: 3.75 mm (US 5) circular needle, 40 cm (16″)
worsted: 5 mm (US 8) circular needle, 40 cm (16″)
2 stitch markers
optional for the i-cord version: additional smaller circular and 2 holders (or removable stitch markers)
B l o c k e d   G a u g e

Sport: 20 sts x 38 rows = approx 10 cm (4″) over garter stitch on 3.75 mm (US 5) needle
Worsted: 18 sts x 36 rows = approx 10 cm (4″) over garter stitch on 5 mm (US 8) needle
P a t t e r n  N o t e s
CHIRRUP is knitted in the round and bottom up on the bias in easy, plush garter stitch. For simplicity, choose a plain longtail cast on and a stretchy bind off. For plump edges, wind on provisional stitches and right away bind off the bottom edge with an i-cord bind off, then finish with i-cord bind off along the top edge.
The instructions are written for the simpler version. Find additional instructions for the i-cord edgings with a photo tutorial on the final pattern page.
The size is eminently adaptable. To change the circumference, consider that the bias or actual circumference is smaller than the knitted round.
Yarn usage and yardages change with changed circumference and/or gauge. Use the given estimated yarn requirements as a starting point.
Chirrup is also a great excuse to use up leftovers, so perhaps extra yardage can be scrimped from bits and bobs in your stash –  perhaps work in some stripes!
H E L P F U L   L I N K S
s2kp and the Moving Marker
Abbreviations
M1L/M1R
Stretchy Bind Off
Winding Provisional Cast On
---
Want to know what else is up my knitted sleeve? Sign up for the occasional Åsa Tricosa Newsletter.