Nondaily Tip No. 9: bobble it
Just one way to make a BOBBLE.
You may not be able to stop…
Bobbles are fun.
And they're easy to make, too.
This is just one way to knit a 5-stitch bobble.
You'll need about 50 cm (20 in) of contrast yarn.
(the BOBBLE doesn't have to be worked in a contrasting colour…)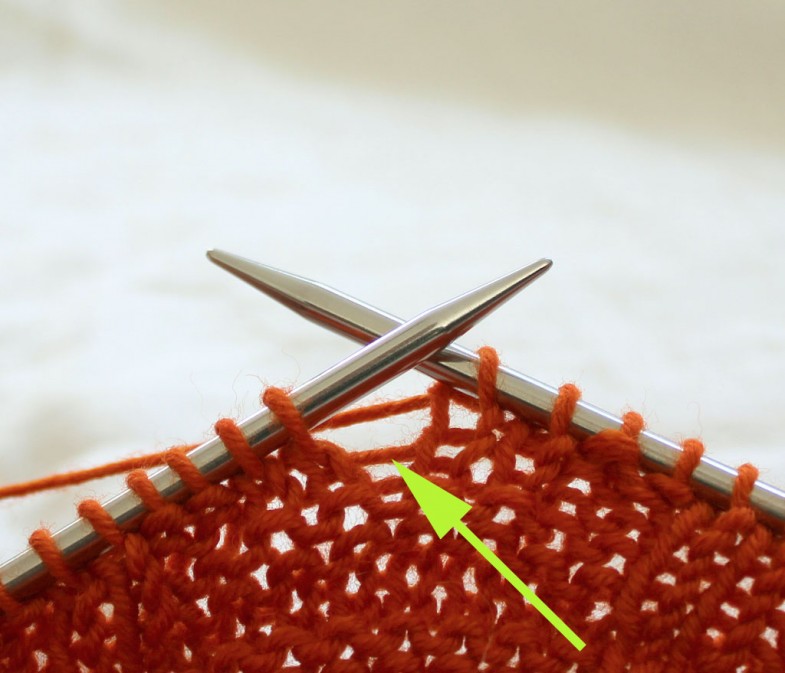 1. Knit to BOBBLE place.
With Bobble Yarn M1L (Make One Left) in bar between two stitches, that is…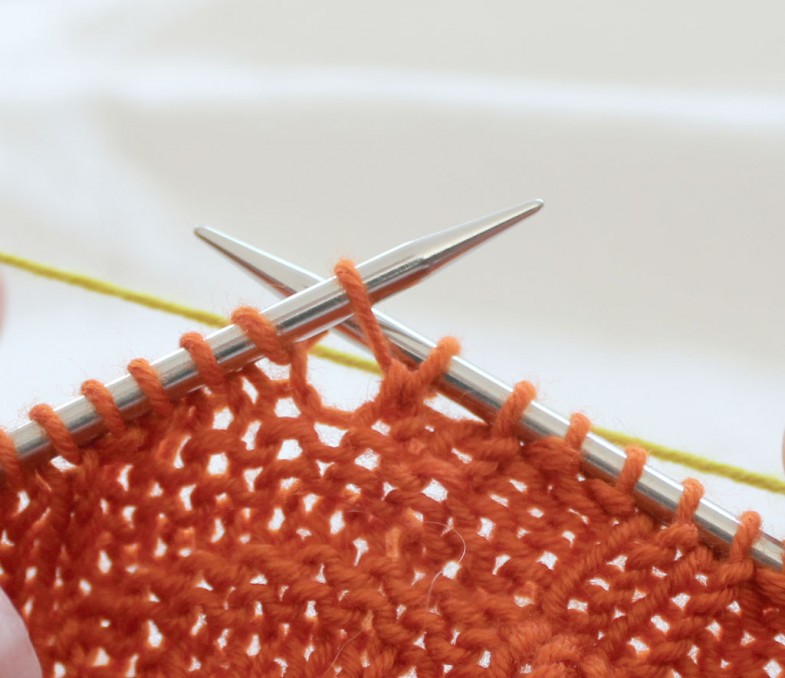 1b. … insert Left Needle from front and below to place bar between stitches on Left Needle.
Then…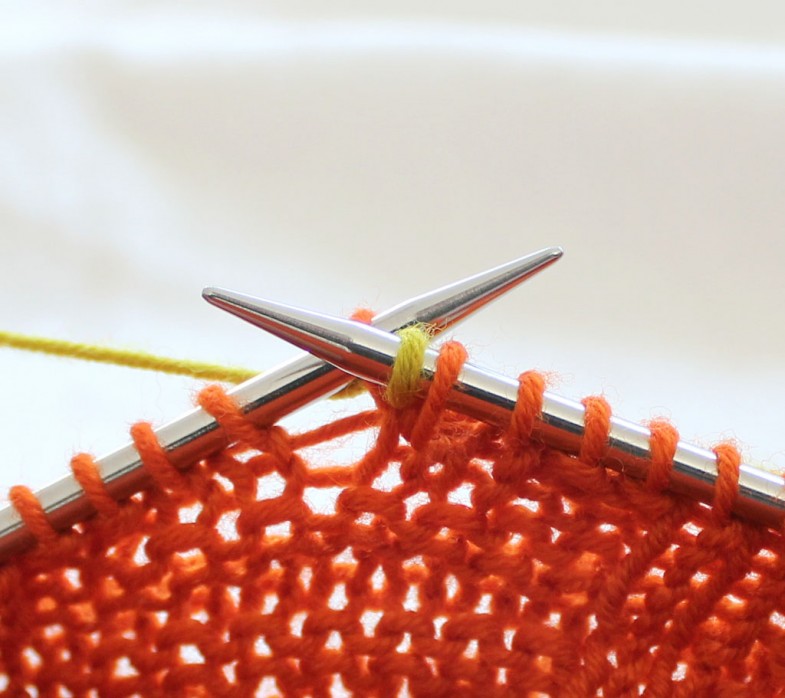 1c. … k1 into the back loop – but do not slip stitch off Left Needle.
Leave it there!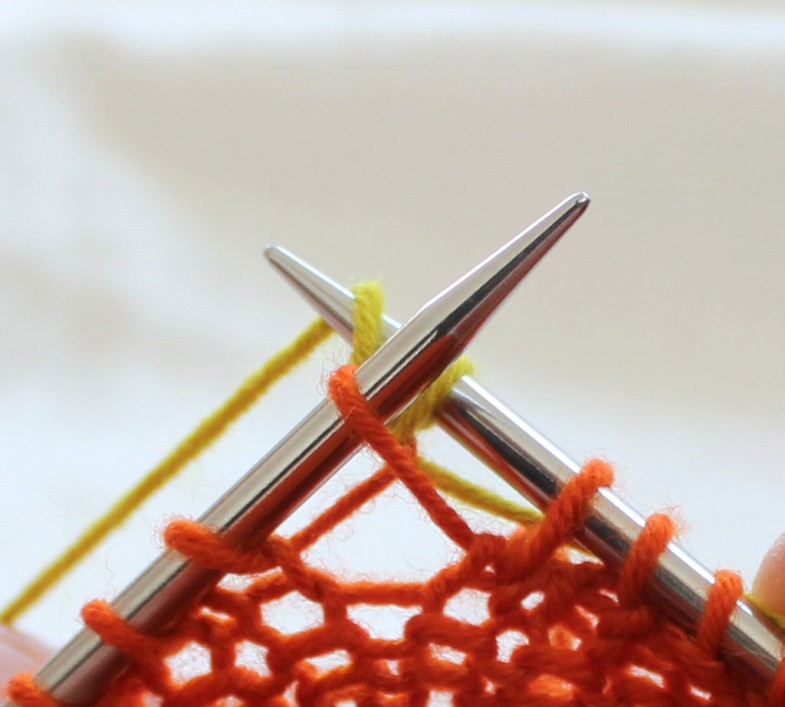 2. Make a yarnover, and then…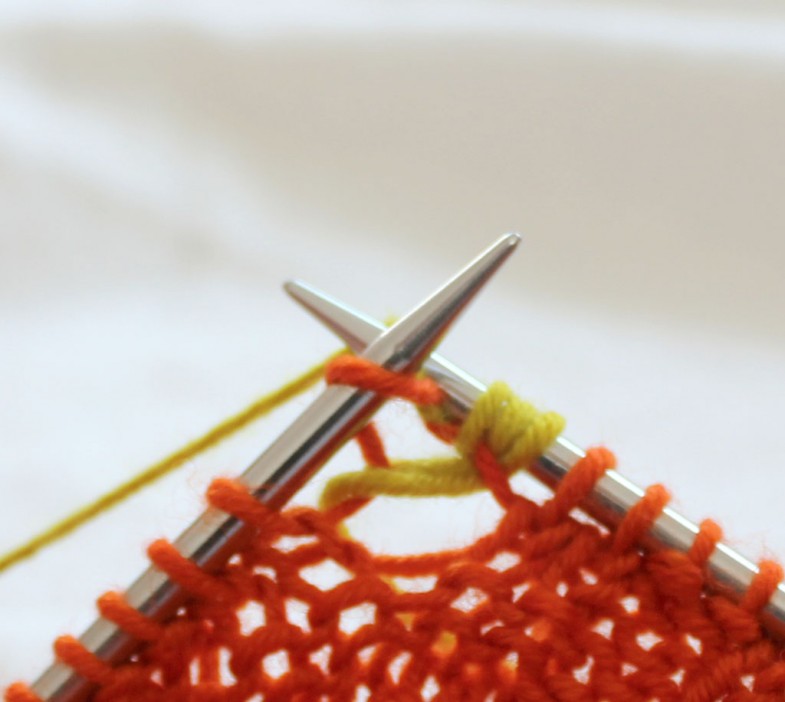 2b.. … knit into the front leg and make another yarnover = 4 BOBBLE sts.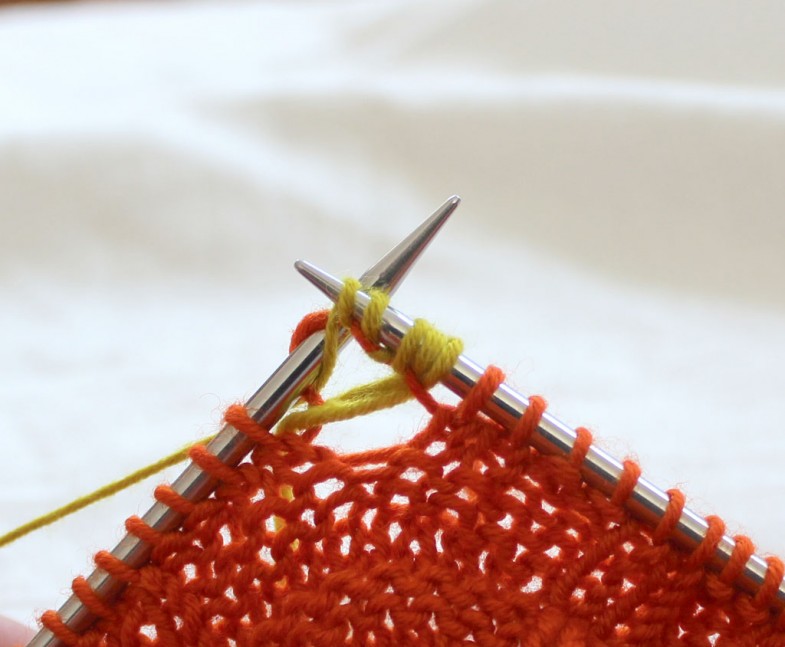 2c. … knit 1 more stitch.
Still into same stitch (the raised bar).
You have 5 BOBBLE sts and  you have worked:
k1tbl, (yo, k1) twice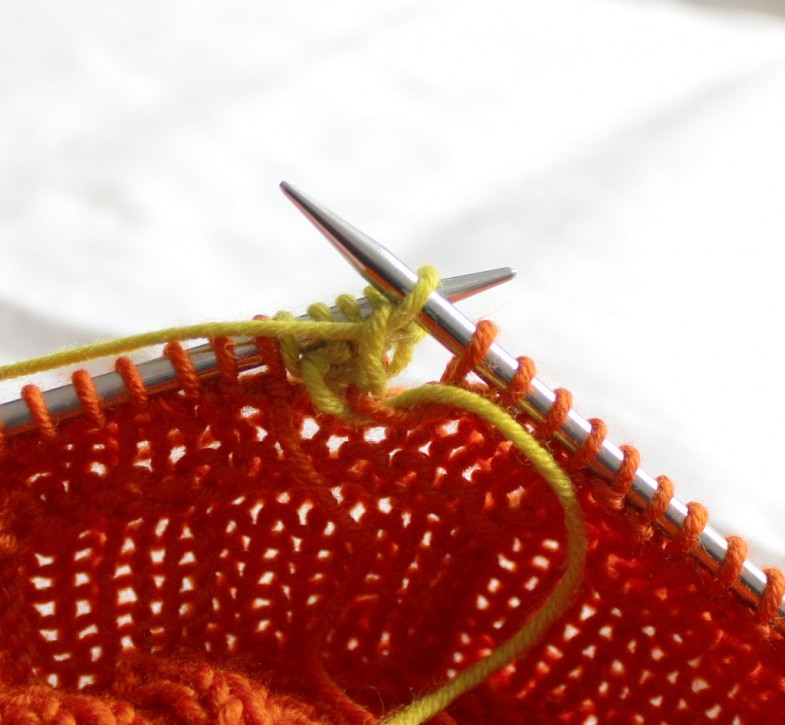 3. Flip work over to work on WS.
Sl1wyf (slip one stitch purlwise with yarn in front).
Then purl 4 stitches.
TIP within the TIP: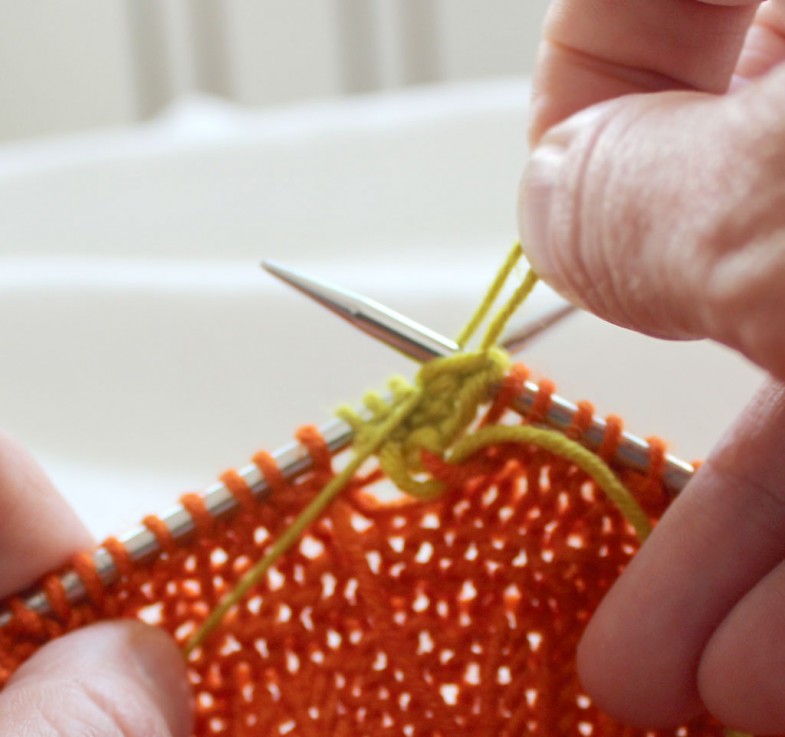 3b. After purling the 2nd stitch, pull on it in order to tighten the first (slipped) st.
Then pull on the running yarn to make the 2nd stitch snug as well.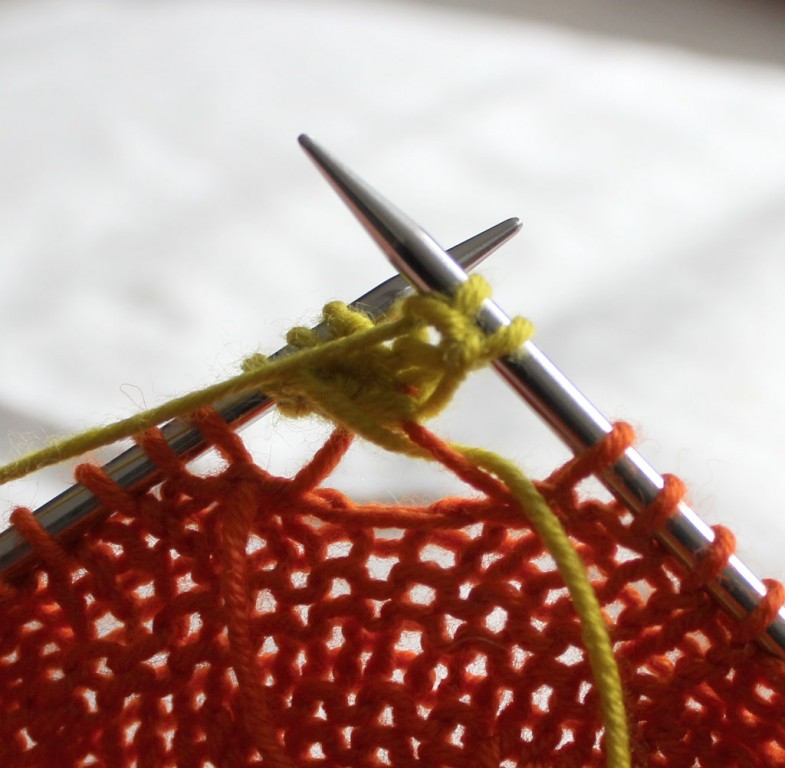 See, nice and snug as a bug!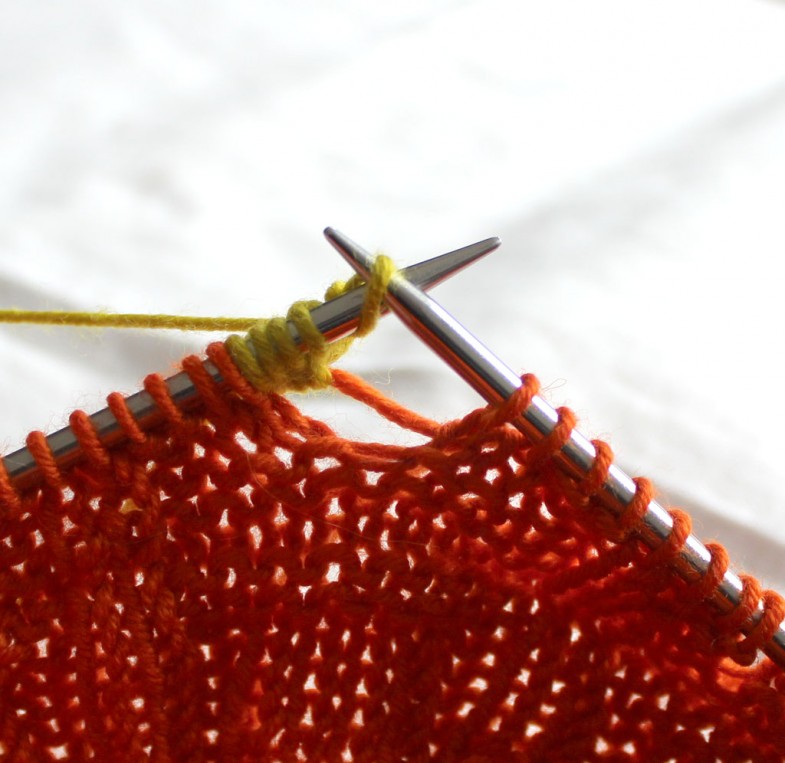 4. Flip work over to work on RS.
Sl1wyb (slip one stitch purlwise with yarn in back).
Then knit 4 stitches (performing the tightening/snug thing after the 2nd stitch).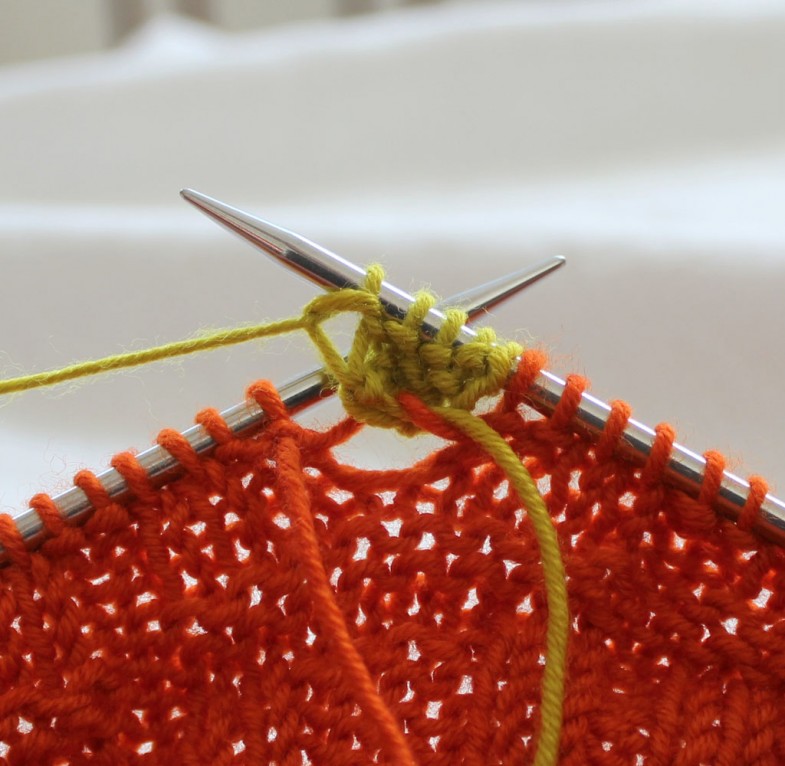 5. Work Step 3 once more (WS):
Sl1wyf, p4 (tighten after 2nd stitch).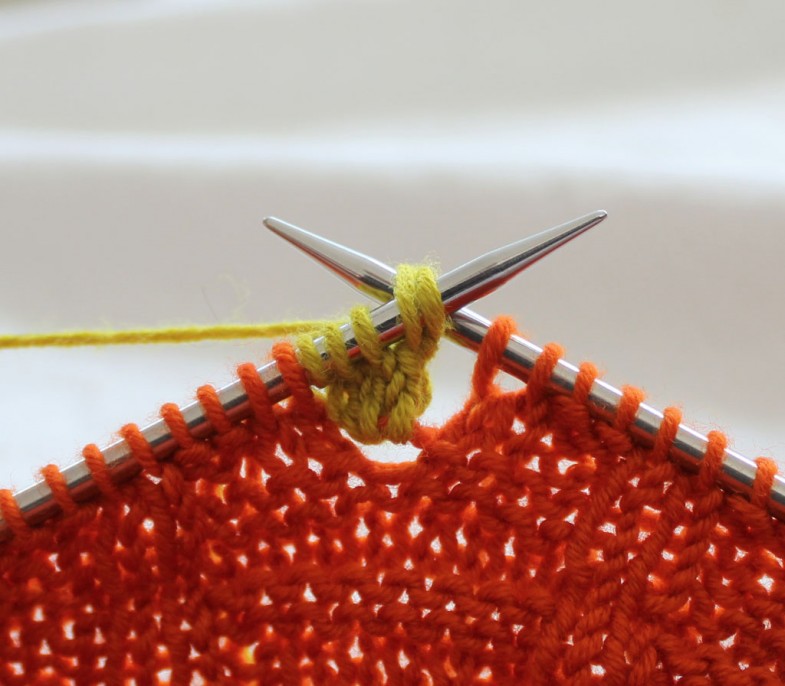 6. Flip work over (last time) to work from RS.
Ssk…  = (sl1 knitwise) twice, sl2 back to LN, k2tog tbl
You have 4 BOBBLE stitches.
Written out even longer:
(slip one stitch knitwise, slip one stitch knitwise, slip 2 stitches back to Left Needle, knit the 2 slipped stitches together through the back loop)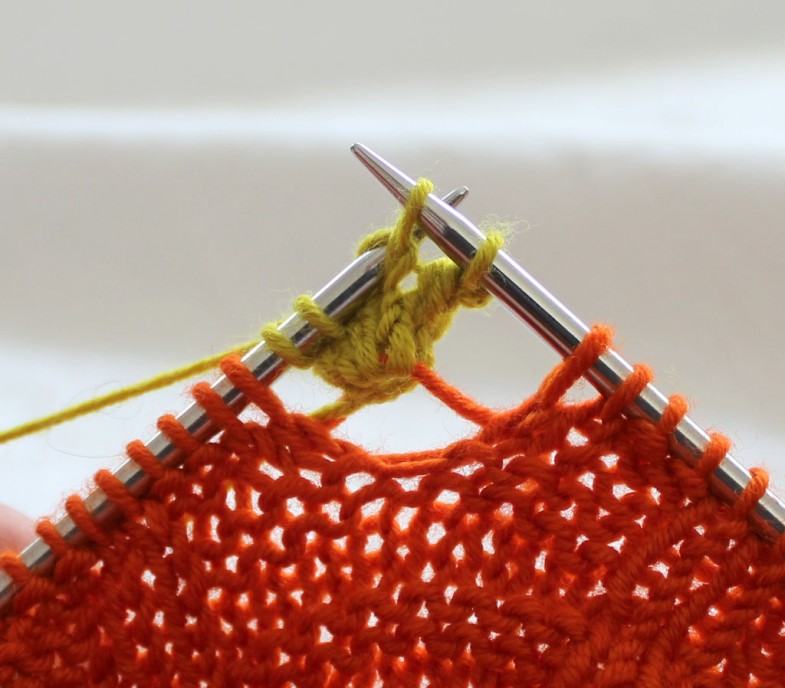 6b. Knit 1 stitch…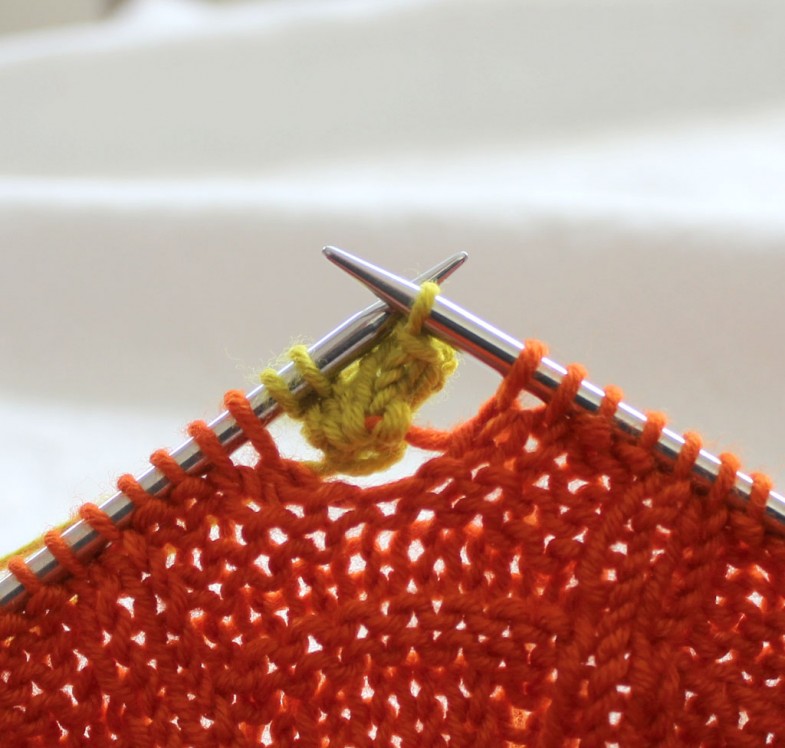 6c. …cast off 1 stitch.
That is, pass the ssk:ed stitch over the knitted stitch from right to left and off needle.
You have 3 BOBBLE stitches.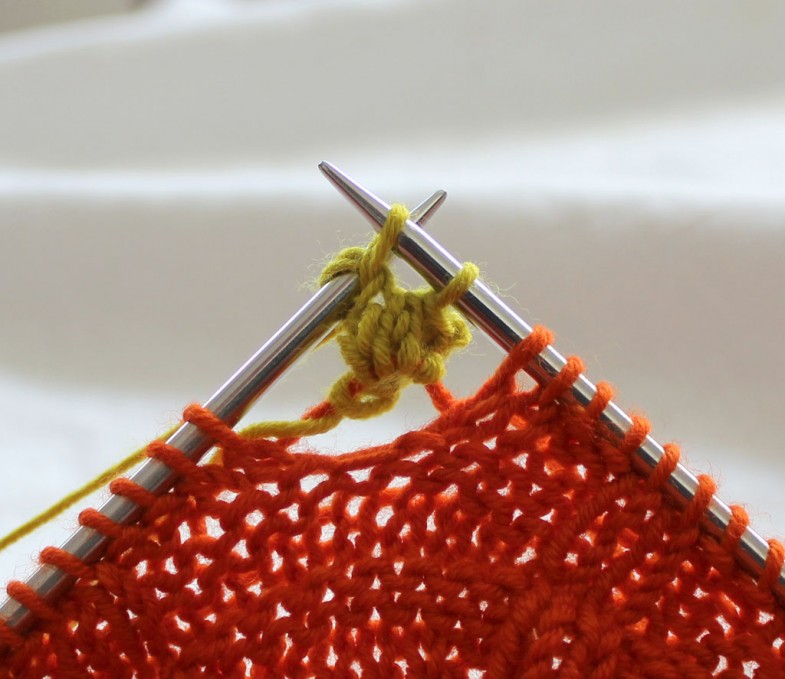 6d. K2tog (knit the final 2 BOBBLE stitches together).
You have 2 BOBBLE stitches.
6e. Slip the 2 BOBBLE stitches to Left Needle.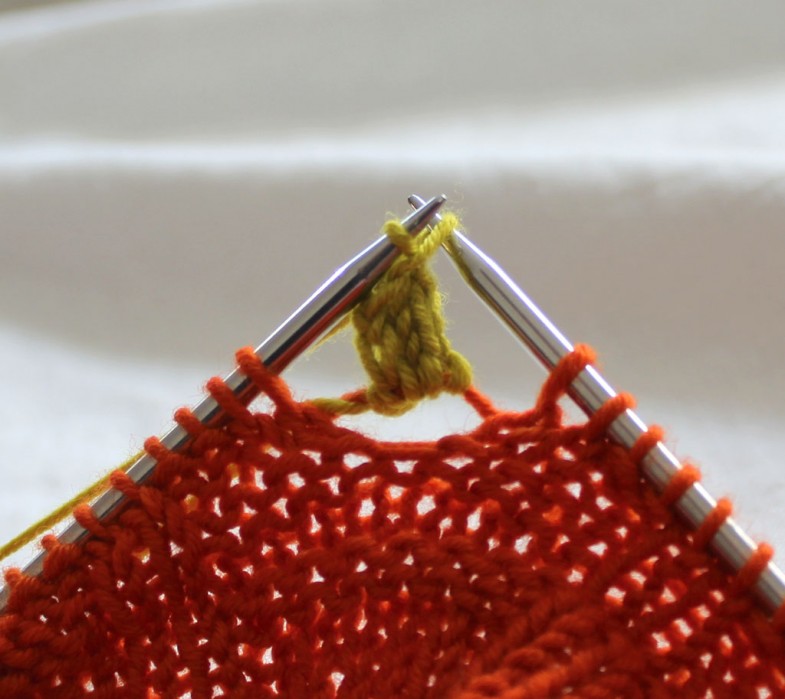 6f. Pass 2nd (the k2tog-stitch) over 1st stitch and off needle.
You have 1 BOBBLE stitch.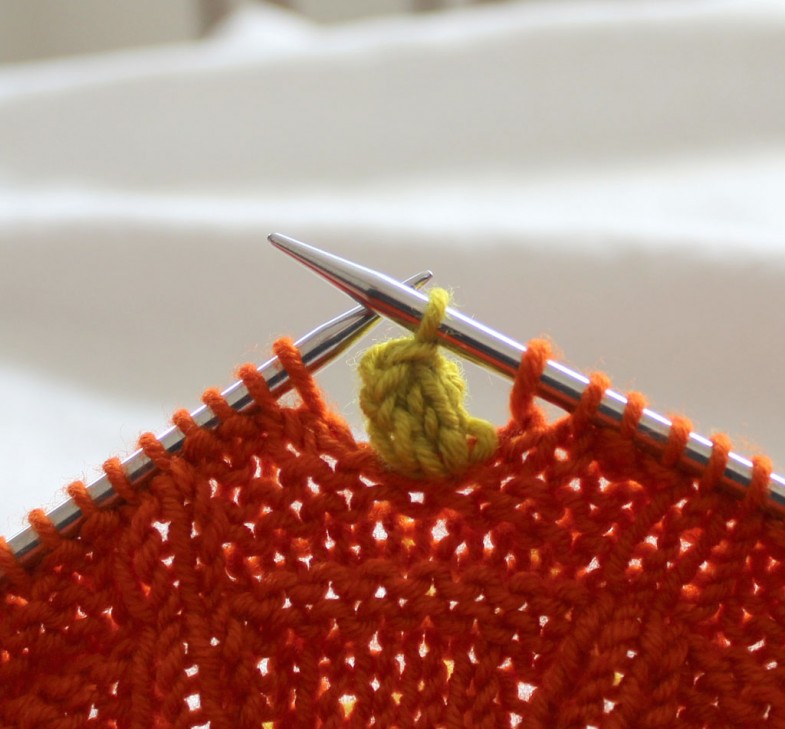 6g. Slip the single remaining BOBBLE stitch back to Right Needle.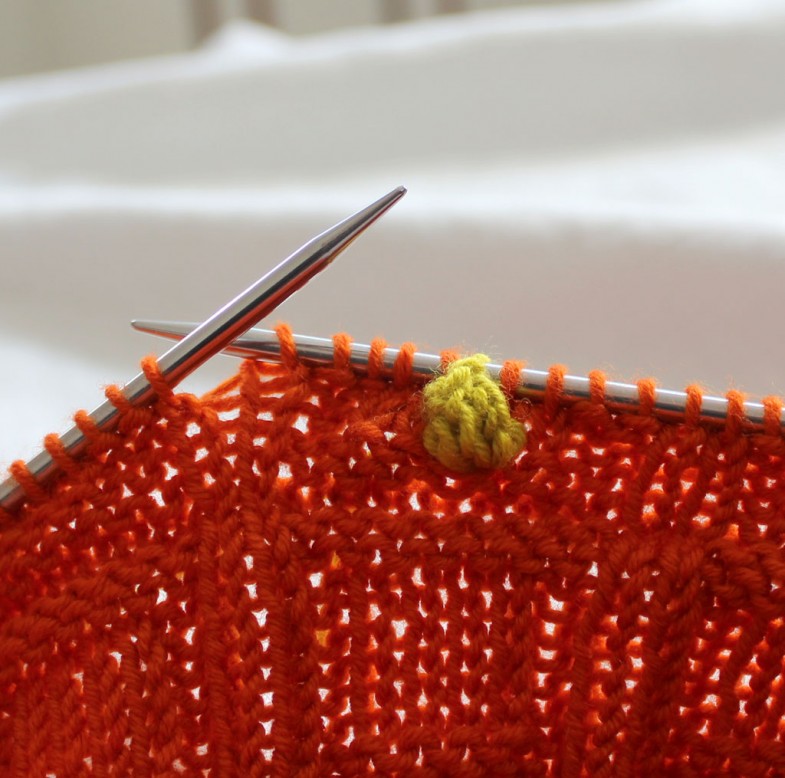 7. Continue your row or round with Main Colour.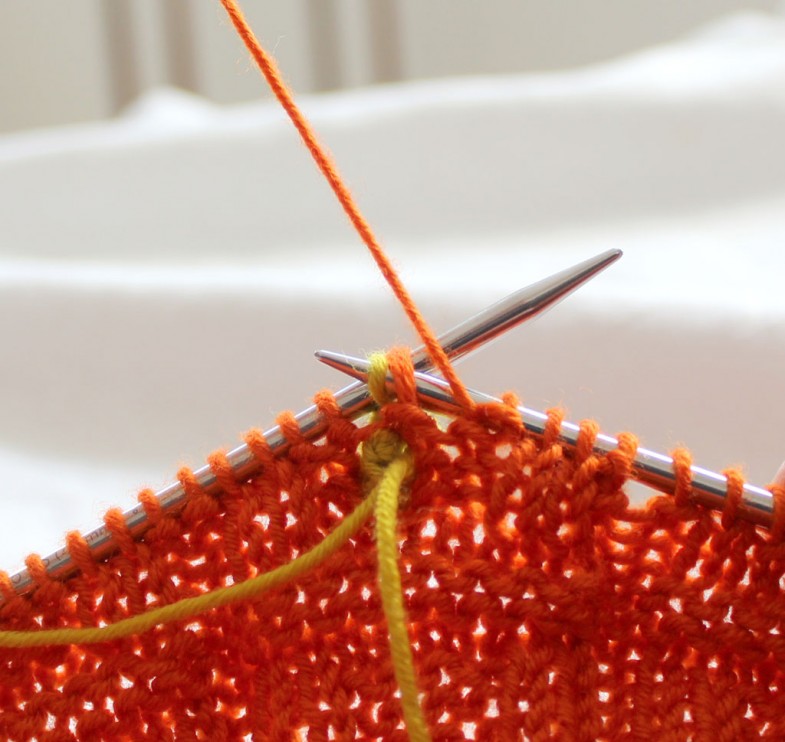 8. Next row (WS) – work to 1 stitch before BOBBLE stitch.
Purl 2 stitches together (main-colour stitch and BOBBLE stitch).
Note: if knitting in the round, on the next round work to BOBBLE stitch, k2tog (the BOBBLE stitch and the following stitch).
Done!
Small confession: the BOBBLES on Cecilia's grrrrreeeen Zigguratlet sweater at the top were made without slipping the first bobble stitch on each row. These BOBBLES are a bit plumper but also require a bit more fiddling when sewing in the ends, to prettify the bobble.
Oh, and the bobbles on my Quadratura Scarf too…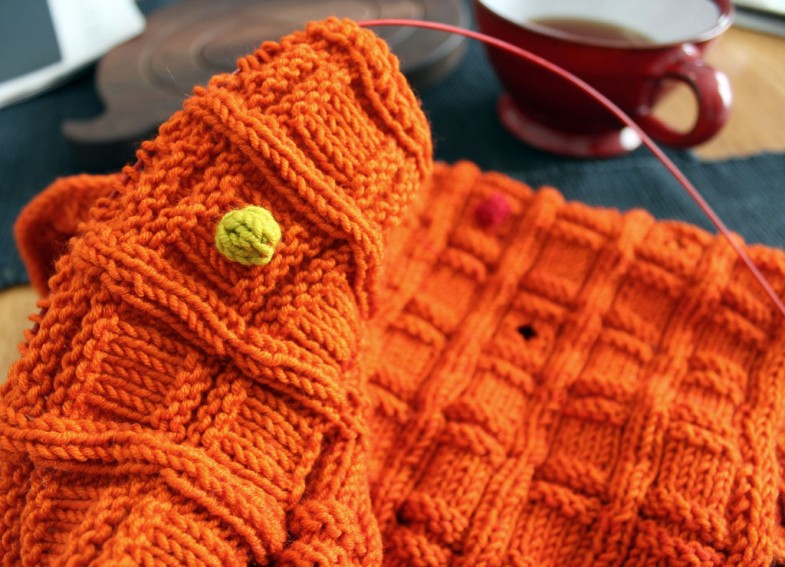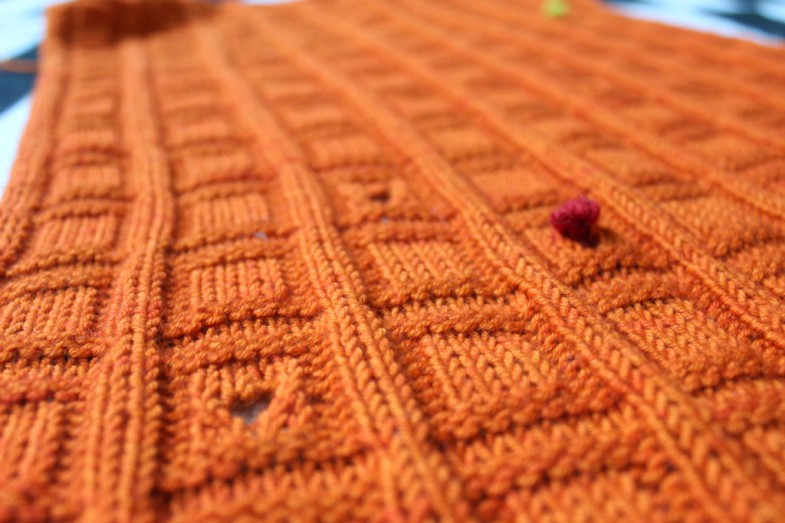 … but the BOBBLE instructions in the pattern are for the BOBBLES you see in the steps above.
You can also make smaller 3-stitch bobbles for a less…um BOBBLY effect.
Want to know what's up my knitted sleeve? Sign up for the occasional Åsa Tricosa Newsletter.