blending in
A clever way to transition from one colour or dye lot to the next
BAAAA
BBAAA
BBBAA
BBBBA
Hand dyed yarns are of course –  hand dyed. That is what makes them so attractive. But what makes them attractive also means that sometimes they are a bit… unpredictable in their behaviour. Knitters love that unpredictability; the subtle shifts and surprises that emerge add considerably to the pleasure of already pleasurable knitting. However, it can sometimes spell trouble for larger projects – unexpected,  unwanted sharp transitions in the middle of a sleeve, or across a chest or midriff.
Dyers usually suggest that we alternate skeins to avoid this trouble.
Well, I don't particularly fancy alternating skeins. So I usually wing it and knit happily along until trouble (sometimes) appears.
There is a solution also for lazy knitters like myself, a clever way of gradually introducing a second skein or colour.
(I was first made aware of this brilliant little trick by fellow Raveler and knitter charliesumx. Thank you, Charlie!)
It has saved at least two of my sweaters from having to be entirely reknitted. First, Messing About in Boats, where the fifth of four skeins was rather radically lighter than the others.
And now, my latest Wollmeise sweater. The sharp(ish) transition (below, left) was sharp only in certain lights and at specific angles, so I knitted about 3/4 of the sleeve before I noticed… On the right you see the striped blending of the reknitted sleeve.
What you do:
Knitting with skein A, gradually introduce second skein B using the following striping sequence.
BAAAA – 1 round of B, 4 rounds of A
BBAAA – 2 rounds of B, 3 rounds of A
BBBAA – 3 rounds of B, 2 rounds of A
BBBBA – 4 rounds of B, 1 round of A
Each section of the sequence can be repeated once or more times.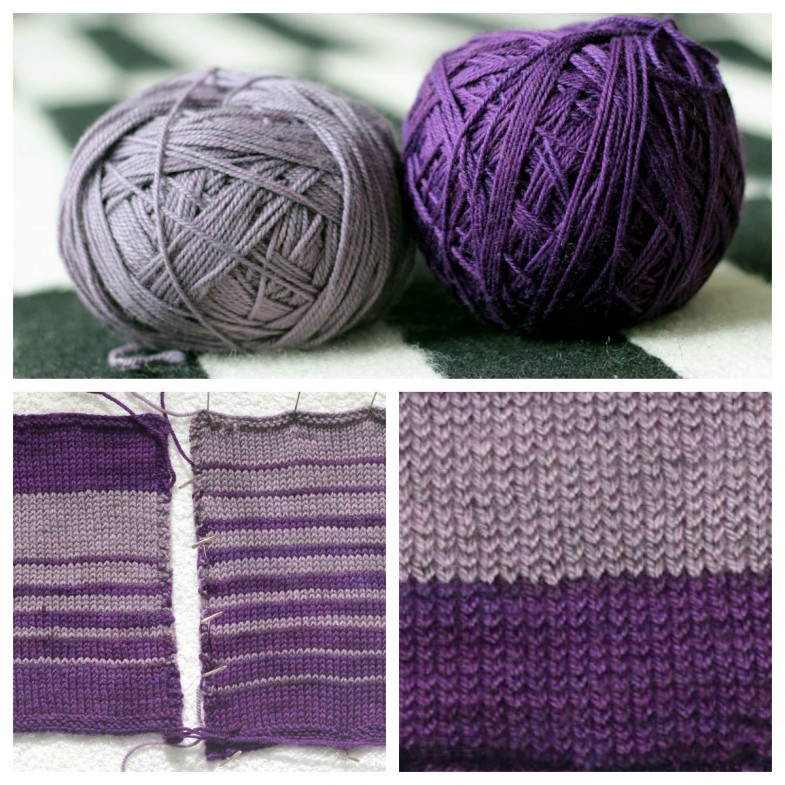 Far left the sequence was worked once, second from left twice.
On Messing About in Boats I repeated the sections which is quite obvious.
On my current darling, the Wollmeise sweater, I worked the entire striping sequence only once. The transition could be smoother but I'm happy with it as it is (and was possibly also too lazy to rip back the body further to gain more transitional power for the sleeves).
I'm particularly happy with the finished and blocked sweater.* Even if it looks much better on Greta (my dummy) than on me. I'm ever thankful, if just a little bit envious, to Greta for showing off my knitting with such panache.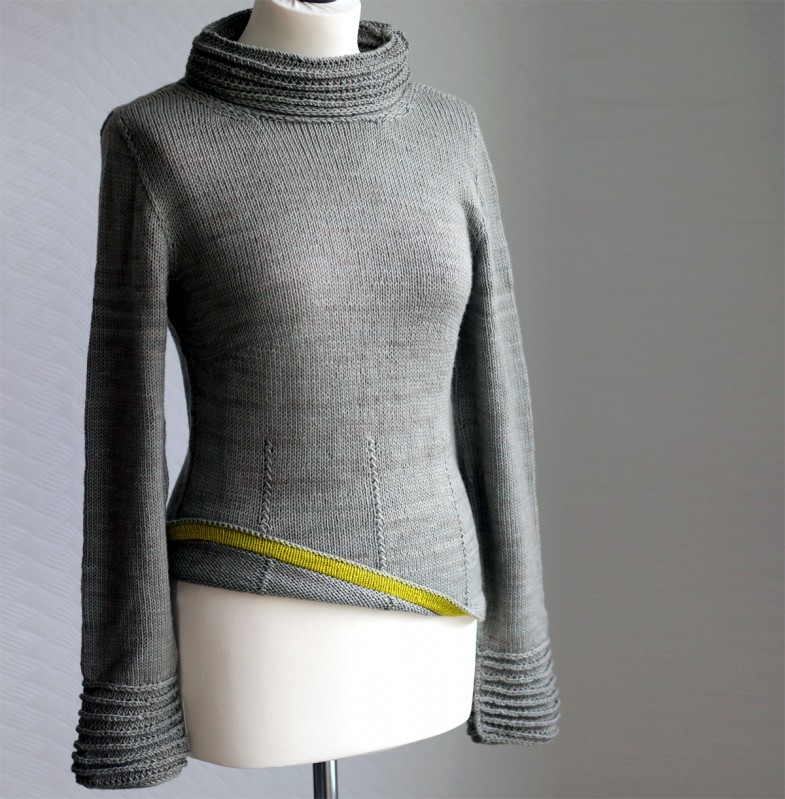 There are ways to vary the sequence.
Here is  particularly satisfying example of blending in a different dye lot by Raveler SusiJB. For her Simple Aran sweater, Susi first swatched to find a pleasing blend of two lots of gorgeous Madelinetosh Worsted.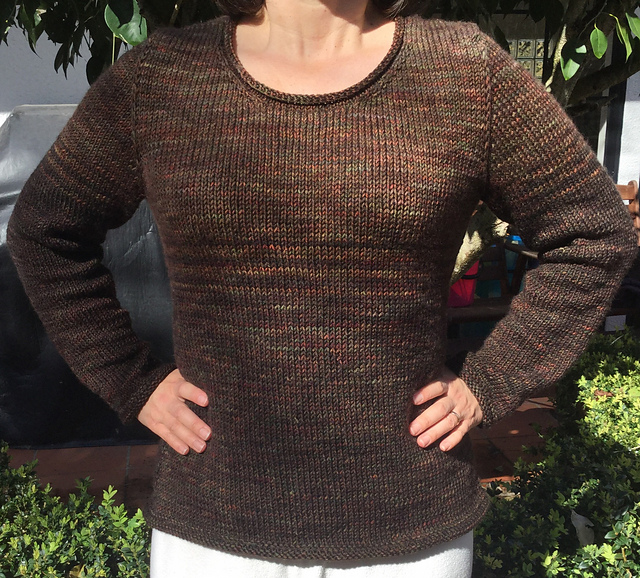 She used an abbreviated transition sequence:
BAAA
BBAA
BBBA
Another virtue of knitting the sleeves before finishing the body
Of course, with the Ziggurat method the set-in sleeve caps are knitted along with the body and then left to their own devices while you're finishing the body from the underarm cast on down to the hem.
Only after the body is done do you join yarn at the underarm to finish the sleeves. And by then you may be on to a second or third skein that perhaps doesn't quite match the cap.
Wherefore.
It is a very good idea to either set some of the body yarn aside to create a gradual transition for each sleeve – or finish the sleeves before you're at the end of your first skein.
I usually finish the sleeves before finishing the body on all my Ziggurats – that way I can safely knit the body without worrying about running out of yarn. This is good both when there's a limited amount of yarn available or when I'm undecided about the final length.
---
* This sweater will appear as in individual pattern soon, and also in my Ziggurat Book in 2017.
Want to know what's up my knitted sleeve? Sign up for the occasional Åsa Tricosa Newsletter.
Save