Åsa Tricosa Ziggurats :: BOOK pre-orders
Pre-ordering opens MARCH 15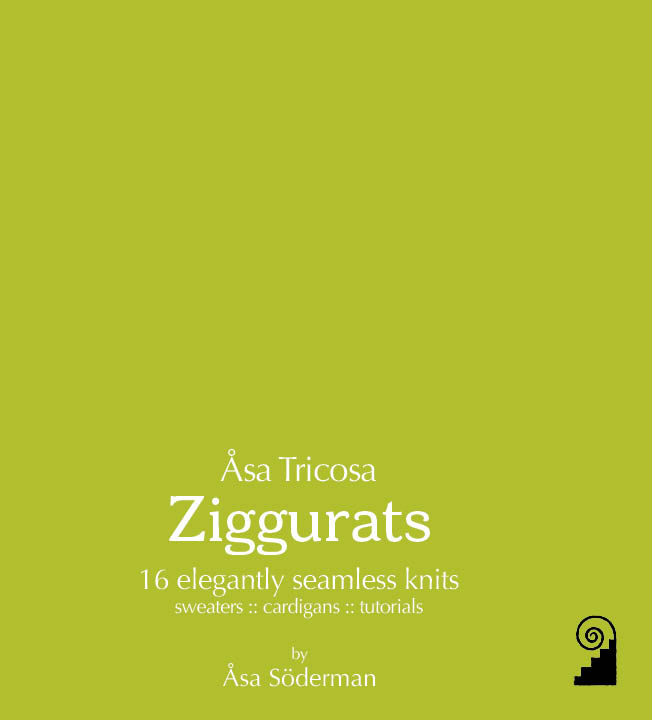 16 designs :: 244 pages :: £35
Published April 2018
~ includes the eBook with 2 bonus patterns~
pre-orders
 THURSDAY March 15 – 17
Purlescence @ the Edinburgh Yarn Festival
www.purlescence.co.uk (from March 15)*
*The printed book will in all likelihood also be available from my web page but not for pre-orders; the (included) eBook to follow soon after the printed edition
There will be more information including photos of many but perhaps not all the patterns on the
Purlescence
web page once it is open for pre-orders. Until then, the designs are (mostly) under wraps.
Those of you who have followed
the making of the book on Ravelry
have seen a few disappearing reveals of selected sweaters, and so may have somewhat of an idea what to expect.
After the pre-launch (and after the Edinburgh Yarn Festival) I will introduce one pattern at a time with details of yarn requirements and many photos. Probably too many…

If you are one of the lucky knitters attending EYF, you can sneak a closer look at the designs: Eight of the dyers and vendors who generously support Åsa Tricosa Ziggurats have booths at EYF, and will have the cardigans, sweaters, and tunics from the book on display.
So please come say hello to me, to Coucou, Rabalder, Sammelsurium, and all the rest of them. I will be there to answer any questions about yarn choices, yardage requirements, and offer unsolicited opinions about colours and sundry. See schedule below for specific times.
Of course, not every knitter will be there even if seems so:
Find updates and previews of the designs and the book, its makers, the yarns, the dyers, final candidates for book jacket design – all of it – here, and in the Åsa Tricosa Newsletter and occasionally on Instagram.
So yes, I am bringing all the knitted samples  to Edinburgh. Well, as we're speaking they are probably bobbing along on the water somewhere between the west coast of Holland on their way to Newcastle safely ensconced in the Rohrspatz & Wollmeise van.
(Incidentally, these are exceptionally well-travelled samples… last time a few of them were on their way to a trunk show in Pfaffenhofen via an unintended detour to New York. Don't ask… I aged about three years in the one week the box was considered lost.)
Schedule @ EYF
THURSDAY
11 – 11:45 Rauwerk
12:30 – 1:15 Walk Collection
2:30 – 3:15 Ripples Crafts
3:30 – 4:30 Purlescence
FRIDAY
11 – 11:45 Ginger Twist Studio
12:30 – 1:15 Purlescence
2:30 – 3:15 Ripples Crafts
SATURDAY
11 – 11:45 Purlescence
Jo & Mica who think of everything and more have provided venue maps for downloading here.
Their maps are crucial for not getting lost. Then again it's a very nice place in which to get lost… even as detours may turn out to be expensive… for … oh, shiny yaaaarn… and things! Perhaps detours is the whole point.
Also, all the thanks to the Magical Team of Book Conjurers:
Ewa Opalinska Shephard
Maria Skrzypiec
Charlotte Monckton
Of course many more capable women were involved in the making, and one or two stray men. You can find out about them in the book.
---
Want to know what else is up my knitted sleeve? Sign up for the occasional Åsa Tricosa Newsletter.