Ziggurat Book Posse
 
THANK YOU to…
It is not possible to make a book alone. I depend on so many knitters and other members in our yarn and fibre community. You'll find some of them highlighted in future posts. Here is my collective THANK YOU.
Yarn Makers & Dyers 
First of all a huge THANK YOU to the patient and generous sponsors of my first book, Ziggurat, the Art of Seamless Knitting.
Cascade
dibadu
Dye for Yarn
Ginger Twist Studio
The Little Grey Sheep
Malabrigo
Midwinter Yarns
Nature's Luxury
Outlaw Yarns
Purlescence (UK)
Rauwerk
Rohrspatz & Wollmeise (a standing collaboration)
Ripples Crafts
The Uncommon Thread
Walk Collection
I encourage knitters to browse and peruse the wonderful yarns while impatiently (surely…) waiting for the Book. You can always swatch and make plans!
Personally, I work mostly with hand dyed yarns by independent dyers – American, Canadian, German, British. I do realise that not all yarn budgets allow for this luxury. Wherefore I have made an effort to include also commercially available and more affordable alternatives. You will find that many of the designs in the book are featured in both an indy and a commercial yarn.

Above: Malabrigo Silky Merino & Ripples Crafts Burras
Technical Editor Kitty Wunder
Without whom no knitting pattern of mine would ever see the day. I think Kitty's favourite word is "consistency". I'm starting not to love this word so much but agree wholeheartedly with its importance. You can learn more about her work here.
Special Mention Stephanie Boardman (aka chemistrydiva)
Steph edited the first Ziggurats to see the day – we both learned (lots and lots) on the job. Steph's enthusiasm for my odd solutions and her inventive spreadsheets helped me translate my knitting ideas into proper instructions in the first place. She also taught me useful words such as divot, strengthened my love for the Oxford comma, and quite successfully weened me off over-hyphenation.
Translation Katharina Sokiran
The intention is to provide the patterns also in German. I have not yet decided exactly how and when. But when it happens, it is in the übercapable hands of Katharina. She is a master of both technical jargon and inventive prose. I am particularly fond of her translation and interpretation of bust dart sizes. Katharina's translations are trusted by many of my designing colleagues, and for good reason. Katharina is Manfredovna on Ravelry.
Book Layout & Production Ewa Opalinska Shephard
Ewa makes the patterns and photos sing. In tune. And presents them in a way that makes them easy on the eye, and for knitting minds to follow.
Test Knitting
Any and every Ziggurat knitter has much to thank my test knitters for. Without them there would be more typos, more inscrutable instructions, more pockets mistakenly placed in back.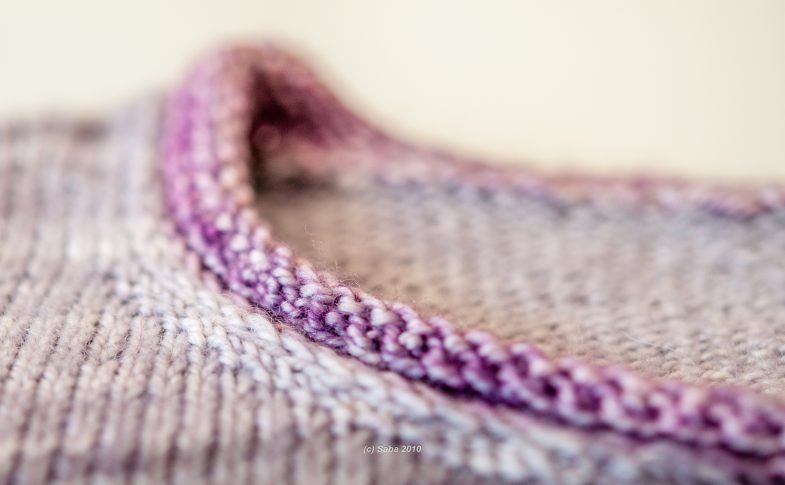 Above: Saba's test knit in Dibadu Twisted Fifties
Not only do test knitters find errors,  politely query my mistakes, or ferret out hidden intentions, their beautiful test knits, colour choices, and interpretations also buoy me when I'm stuck in the slough of neverending pattern editing.

Above: Gabriele's test knit in Wollmeise Pure
And occasionally they make me feel clever.
THANK YOU!
Sample Knitters
Alexis
Ursula
Test Knitting Posse
Alexis
Annabel
Catherine
Chantal
Charlotte
Gabriele
Helen
Helen
Elaine
Jacqui
Jo
Kim
Liesel
Marianne
Moira
Rike
Saba
Sarah
Susan
p.s. I'd like it noted that I've used just two exclamation marks. So far. Feeling most restrained!!!
---
Want to know what else is up my knitted sleeve? Sign up for the occasional Åsa Tricosa Newsletter.