marja-stina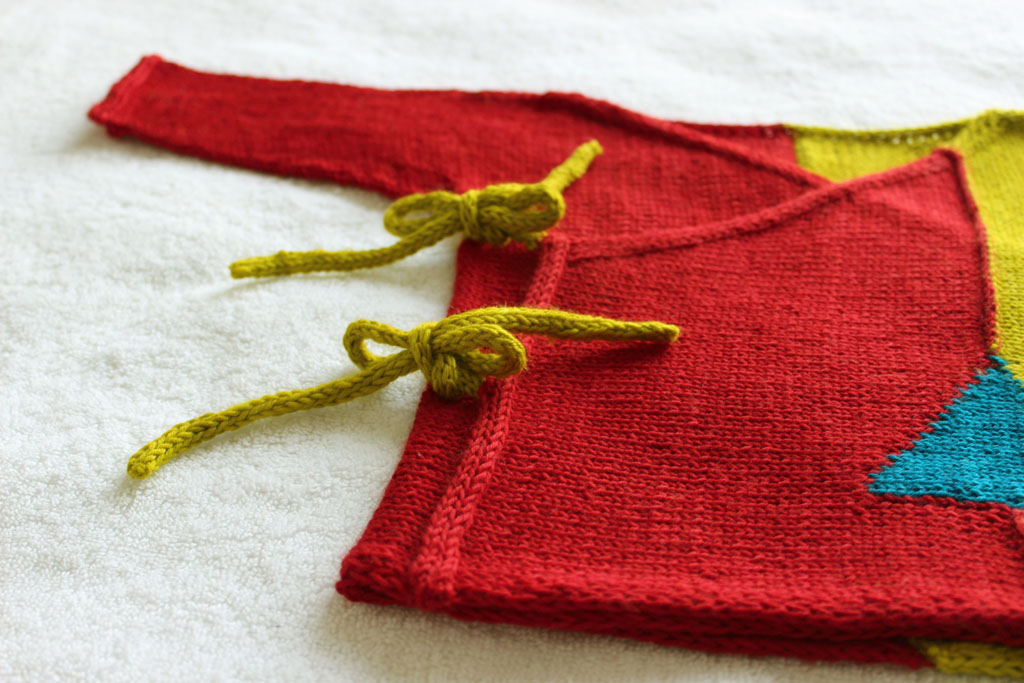 Marja-Stina is a funky little kimono, worked in two pieces from provisional cast ons centre back and then sideways with edges and hems worked as you go.
An intarsia triangle provides a splash of colour on the front.
The sleeves are knitted in the manner of afterthought pockets or thumbs on Scandinavian mittens – you pick up stitches on either side of waste yarn that has been knitted into the fabric, then knit the sleeves top-down in the round.
What I particularly like about this little sweater is how neat and trim it looks after blocking but with no finishing work left to do – just look at that neat i-cord cast off along the flap! And the trim neck edge and hem.
(OK, nothing apart from the four i-cord ties and the two skinny ties on the inside).
Nothing wonky about it. Just funkiness.
Sizes available: 0 (3, 6, 12, 18) M [2, 3, 4, 6, 8, 10] Y
The kimono in the first photos is knitted in Wollmeise Pure (100% merino; Vamp/red, Zarte Knospe/yellowish green, Frizzi Frizzante (?)/blue).
The second kimono is knitted in H.B. Regnbågen (Rainbow), an organic 100% cotton yarn from Sweden (black, grey, white, red, yellow).
---
Want to know what's up my knitted sleeve? Sign up for the occasional Åsa Tricosa Newsletter.