The Magnificent Ziggurat Book KAL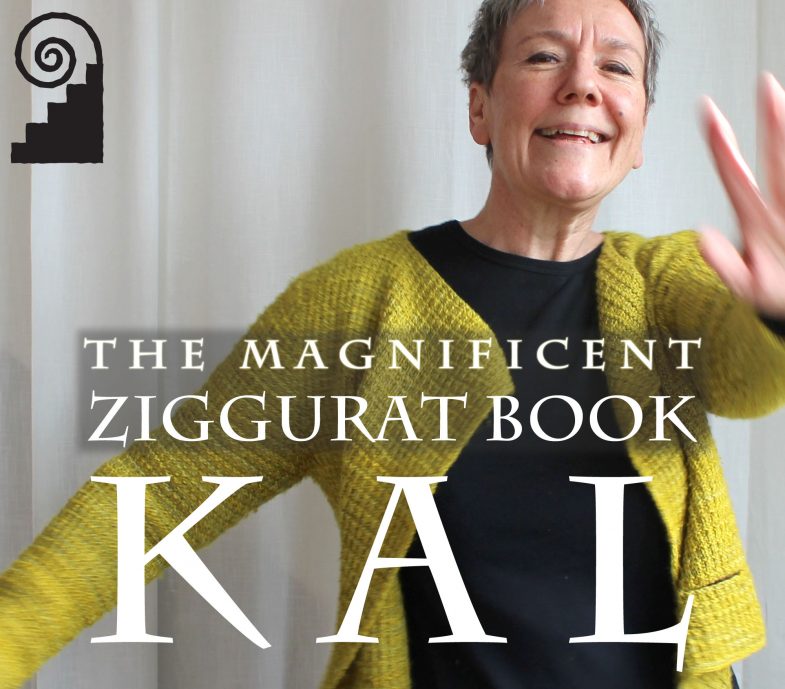 Join our fun and magnificent Ziggurat Book KAL!
~gorgeous prizes, lots of fun & support~

WHEN
September 1 –  February 28, 2019 at midnight local time
WHERE
On Ravelry where your hosts are Helen stickeri and Kim (KimDenise)
The Magnificent Ziggurat Book KAL
WHAT
Knit any sweater from The Book!
Variations and combinations very much encouraged.
WIPs are allowed as long as they are less than 50% completed on the start date.
MAGNIFICENT PRIZES!
Post your finished sweater in the designated FO thread so it can be considered for prizes.
Post on Instagram (WIPs and FOs – WIPs that transform into FOs are eligible posts in the drawings)
TAGGING
On Ravelry: tag your project(s) zigguratbookKAL
If you're sharing on Instagram:  #asatricosa and #zigguratbookkal

WIN SWEATER QUANTITIES OF BOOK YARN!
Yes, you can win a sweater quantity of book yarn.
A selection of the yarns featured in the book are in the prize pot.
Feel free to browse!
PRIZE YARN & NEEDLE BASKET
Dibadu :: Funnies – Alpaka Walk
DyeForYarn :: DyeForYarn Sport Merino
Ginger Twist Studio :: Masham Mayhem DK
The Little Grey Sheep :: Gotland DK (gone)
Nature's Luxury :: On Stage
Outlaw Yarn :: Bohemia Worsted
Purlescence :: Complete Set of Chiaogoo Interchangeable Needles
Rauwerk :: Rauwerk
Ripples Crafts :: Suilven (gone)
Rohrspatz & Wollmeise :: Wollmeise Pure :: Wollmeise Merino DK ::
Wollmeise Lace-Garn :: Wollmeise Blend (gone)
The Uncommon Thread :: Silky Merino Lace :: Everyday Singles
WalkCollection :: Cozy Merino (colour: Royal Blue)
(TWO lots of yarn & some mini skeins are already on their way to winners of the My Book Has Landed posts)
Annabel whose photos had most likes both on Instagram and on Ravelry picked Wollmeise Blend (colour: Gipfelsturmer).
Cathrine who is our  RANDOM winner, chose Ripplescrafts Suilven (colour: Lewisian Gneiss).
Beautiful yarns, beautiful colours. I'm sure it will be transformed into beautiful sweaters, whether Ziggurat sweaters or something else!
Congratulations also to mini skein winners ahraitte, rainbow1907, Tmesis, Eiske!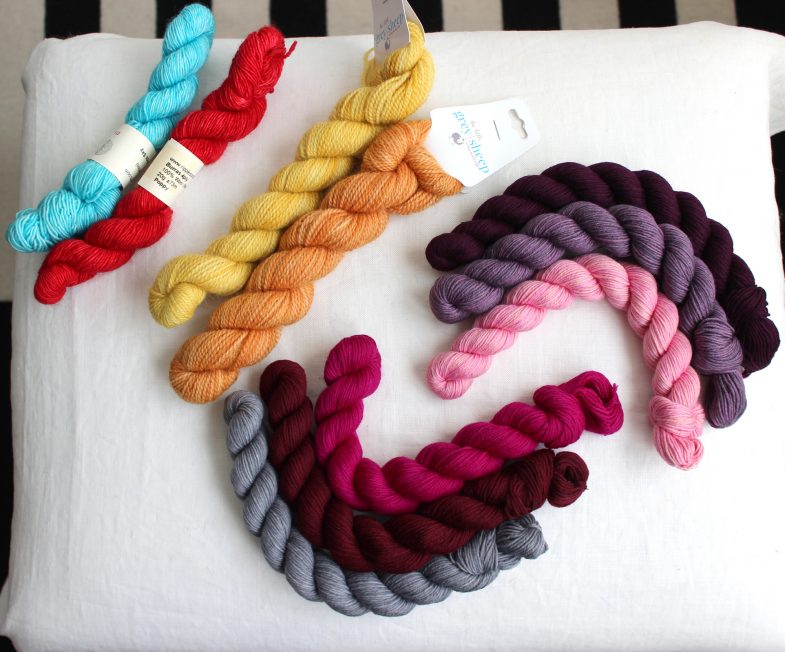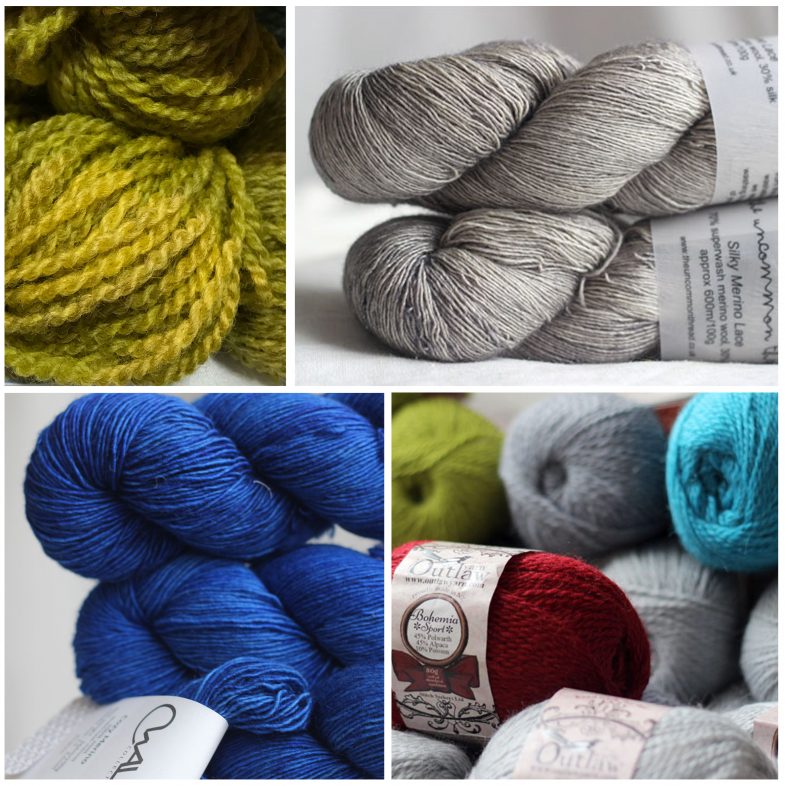 PRIZES & AWARDS (in more detail)
1st Prize:  sweater quantity of yarn from the yarn basked filled by our wonderful sponsors
2nd Prize: sweater quantity of yarn from the yarn basked filled by our wonderful sponsors
3rd & 4th & 5th Prize:  a set of Wollmeise Birdies –perfect for accents and trim
UNTERWEGS (ALONG THE WAY) PRIZES
ADDITIONAL PRIZES
Sigiwu has offered one skein of WM Lace or two skeins of Pure from among a selection from her stash. Thank you!
Natalia at Black Forest Yarn is donating one skein of her hand-dyed fingering 100% merino superwash. Thank you!
Sundry Small Surprizes
Non-random PRIZE category
still being determined – suggestions welcomed!
Size Matters Prize
awarded to a sweater that uses at least 1800 yards of yarn DK weight or heavier, or 2000+ yards in a weight lighter than DK.
Knitters of size and/or perseverance are encouraged to apply!
Book Prizes!
Michael Chabon's Moonglow
For… let me ask you, just how many novels will mention 'ziggurat'??! (top of page 378 – UK edition)
Natalie Fergie's (theyarnyard) The Sewing Machine (2 copies, one with slightly torn back cover – how did that happen?
Sebastian Barry's The Whereabouts of Eneas MacNulty
Miranda Emmerson's Miss Treadway & the Field of Stars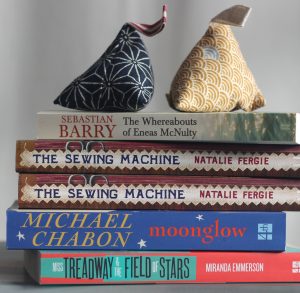 As with the yarns, winners will get to choose their book prize – and anyway, books can be passed on.

If you'd like to contribute a prize, let us know in the Ravelry KAL thread!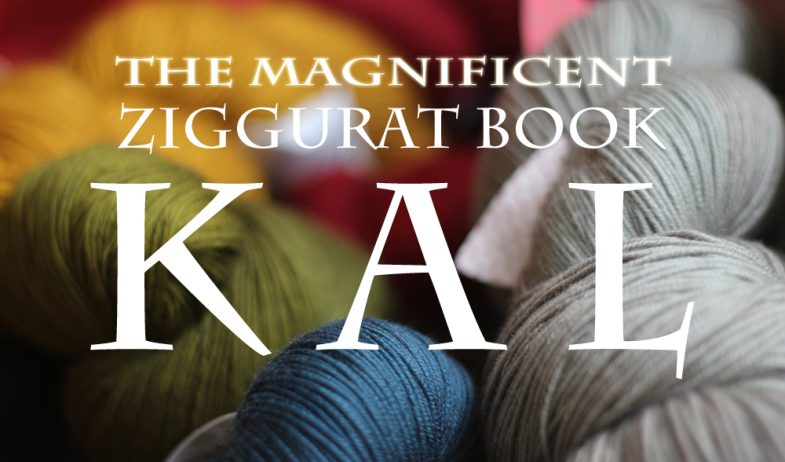 ---
Want to know what else is up my knitted sleeve? Sign up for the occasional Åsa Tricosa Newsletter.