The A-Side
Shawl Kit from Nature's Luxury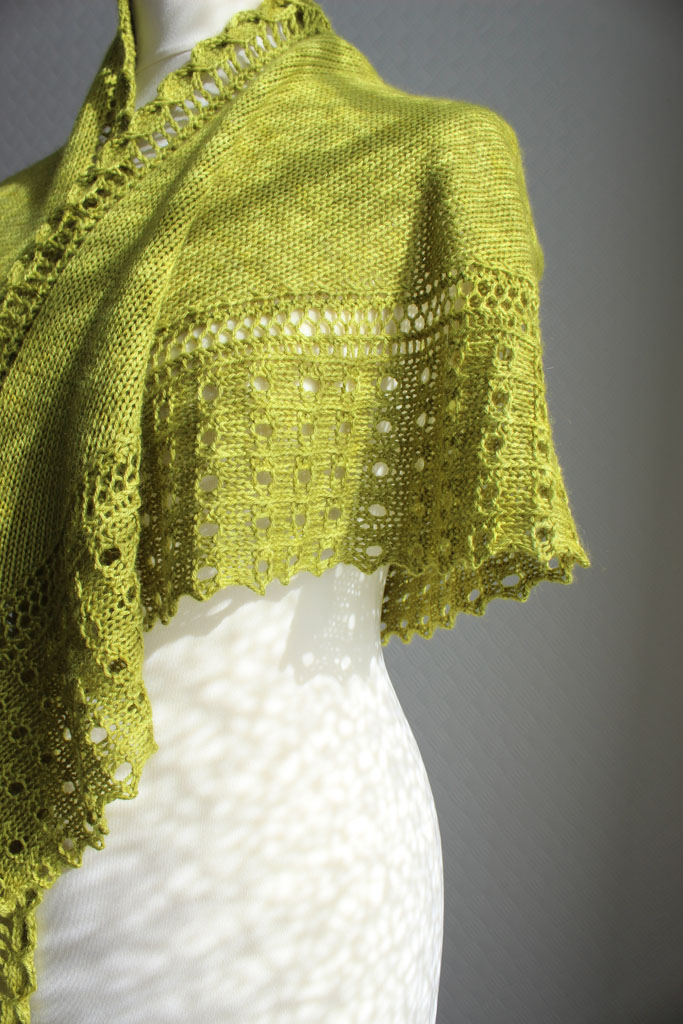 The A-Side, a new Åsa Tricosa shawl, teams up with On Stage, a new yarn from Nature's Luxury, for an exclusive performance.
The A-Side is an elegant and simple shawl with a modern (read: simple) lace border that knits up to a soothing beat — find your own groove among the enticing colourways Danica has dyed. Scroll down to see the names and be inspired!
This shawl was designed especially to bring out all the extravagance of the gorgeous new yarn, a luxurious blend of finest merino, silk, and baby camel. It's the sort of yarn that makes you a better knitter than you are. (Or at least makes me a better knitter than I am.) This was precisely what Nature's Luxury intended as they worked with experts at the mill to create On Stage. The merino wool provides elasticity and volume, the silk gives the fabric a wonderful sheen, and the baby camel drinks in the intense colours and lends a special suppleness. Everything together makes an incredibly soft yarn, very easy to work with and with a fantastic stitch definition.
The pattern is also available on Ravelry.

(Both versions become available for download to your Ravelry Library when you buy the kit – or download to your computer if you are not a member of Ravelry. But if you are a knitter, you should be!)
The A-Side
Size: 45 cm x 200 cm (18″ x 80″)
Yarn: Nature's Luxury On Stage (50% fine merino, 30% silk, 20% baby camel; 300 m per 100 g)
Needle: 4 mm (US 6)
Gauge/Tension: 21 sts x 26 rows over stocking stitch
Approx yardage: 580 – 600 m (635 – 660 yds) – 2 skeins of On Stage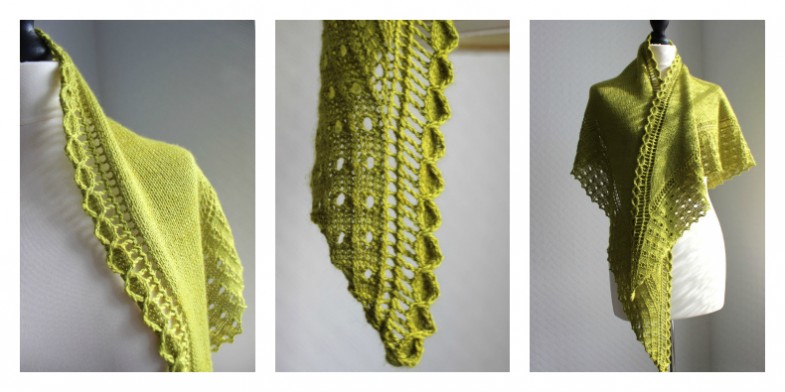 The A-Side is knitted sideways in one piece from end to end with border and edging worked as you go; a plain stocking stitch centre is surrounded by interesting textures allow the luxurious hand dyed yarn to truly shine.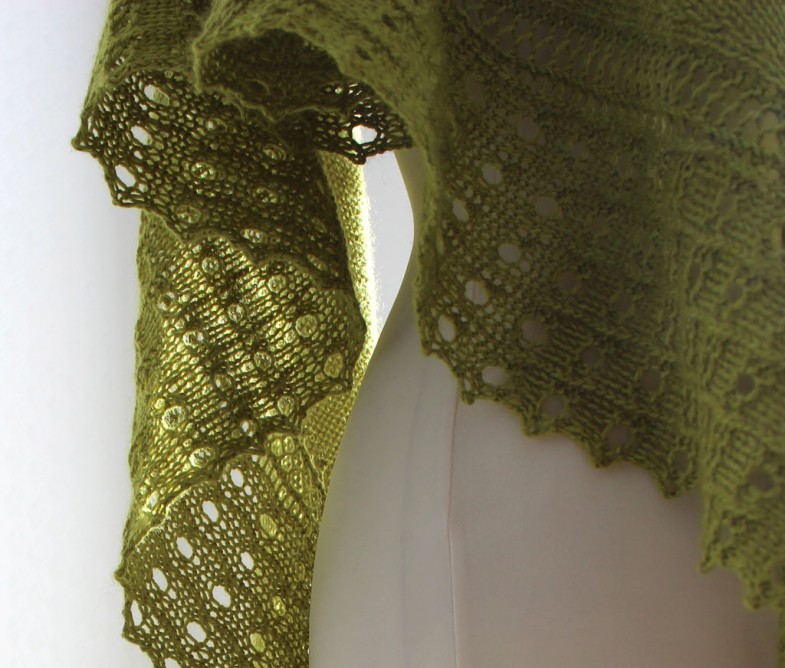 The shawl features some (intended)  holes but I almost hesitate to call it lace – the 6-row repeat has just 1 row of  yarnovers and decreases, which technically makes it LACE. This is definitely beginner-friendly lace.
The sweet, little textured cable along the upper edge is also quite  straightforward. Unlike many smaller cables, this one does require a cable needle (or a double pointed needle).
The instructions (charted and written out) are written for a generous shawl, but the size is easy to adjust.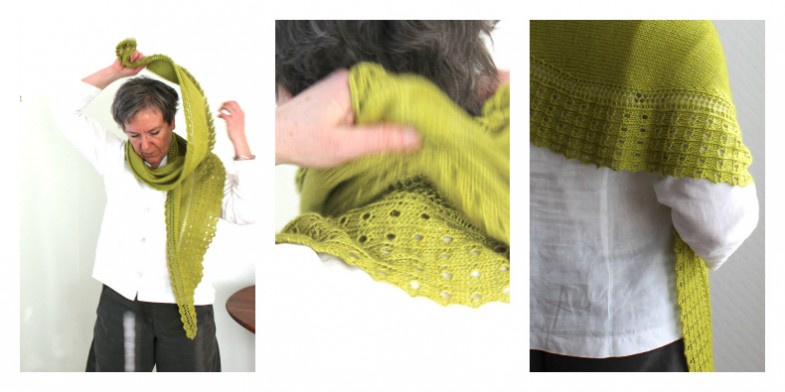 Find your own groove among the many tempting colourways dyed by Danica at Nature's Luxury:
The Reds
Elegantly Wasted
Dancing Queen
Addicted to Love
Skandal um Rosy
The Blues
Blue Hotel
Father Figure
Windswept
Love is Like Oxygen
Breakfast in America
The Mauves/Greys
Angel
Slave to the Rhythm
Tu M'as Promis
Wish you were here
Harley Davidson
The Greens
*Macarena* – colour of the shawl in  photos
Mountains
Boy of Summer
Head over Heels
The Browns/Yellows
Goodbye Yellow Brick Road
September
Wild Horses
Love on the Beat
---