(sleeve)LESS is more – Caesura x 4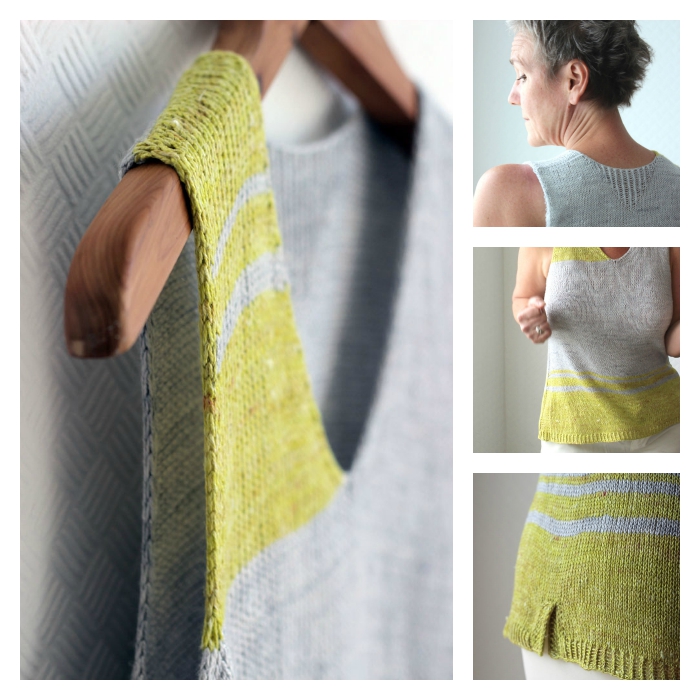 Caesura Redux, Caesura PaperSilk, Caesura V (above), and Caesura Tuck make up a (late) summer bouquet of sleeveless ziggurats.
You can buy them (on Ravelry) for €6 each or as a Set of 4 for €15 (+VAT)
The construction is slightly mad. And fun!
Like all Ziggurats, Caesuras are worked seamlessly top-down  – there's an added twist here for the first bit is actually knitted bottom up from a provisional cast on from about half the armhole.
Then there's another cast-on as at the shoulder as an extension of the work and onto the working needle – this one goes in what seems to be the absolutely wrong direction, extending out from the shoulder into space.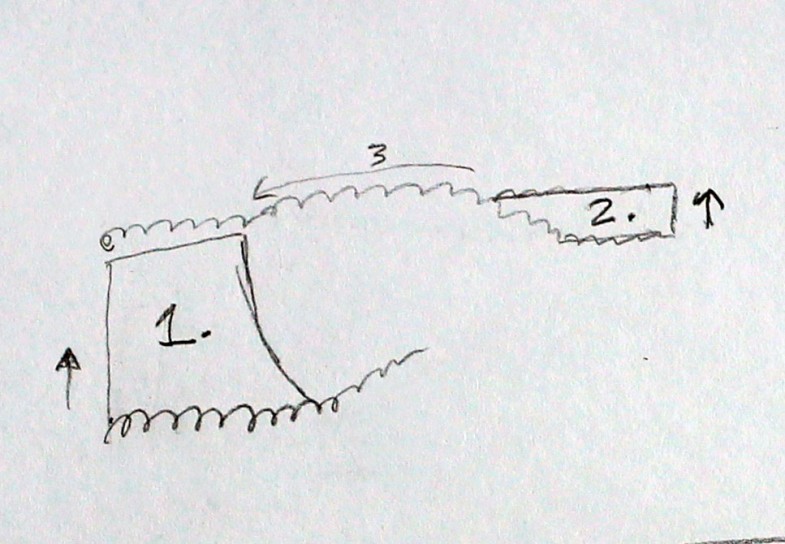 Trust the pattern. Just do as it says. No, really. And you'll end up with a neat nice shoulder "seam" just a little bit later. Like this: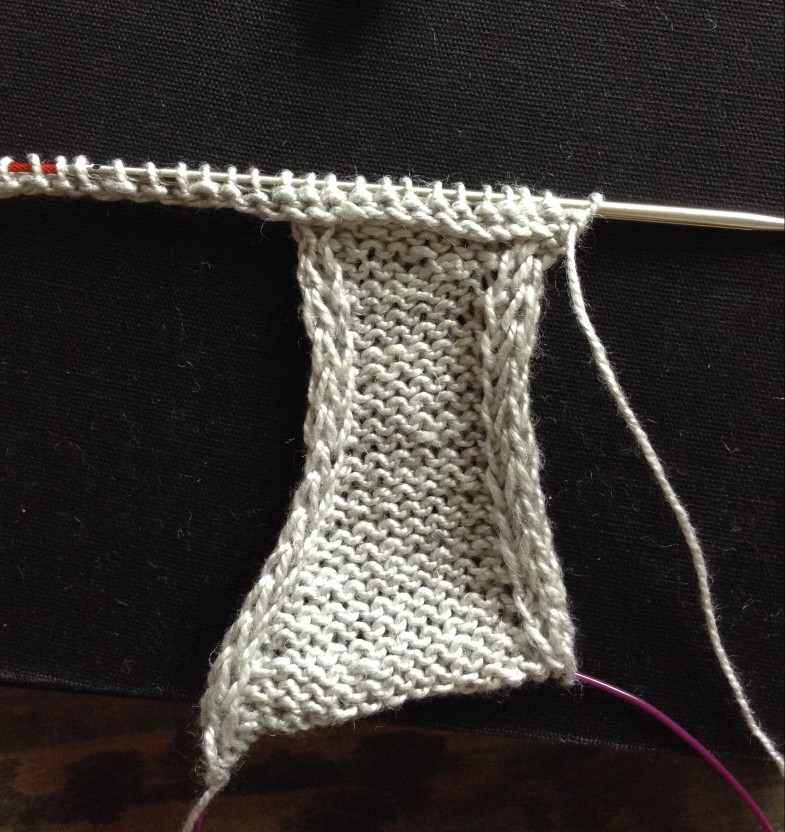 After the usual zigging and zagging associated with my Ziggurat method, off you zoom toward the hem – apart from a small pause, a Caesura. Here we stop for an uncharacteristic snipping and joining of yarn. Just once.
When the knitting is done, your top is done. There is no additional finishing except for weaving in of very few ends.
The Caesura collection
Choose the neckline that pleases you most, V-neck or not, high or lower, waist shaping or not, bust darts or not, back tuck or not,  back slit or not, a small pocket or not.
You could also choose a design detail from one Caesura to work with another.
How about…
…a back tuck and a garter stitch triangle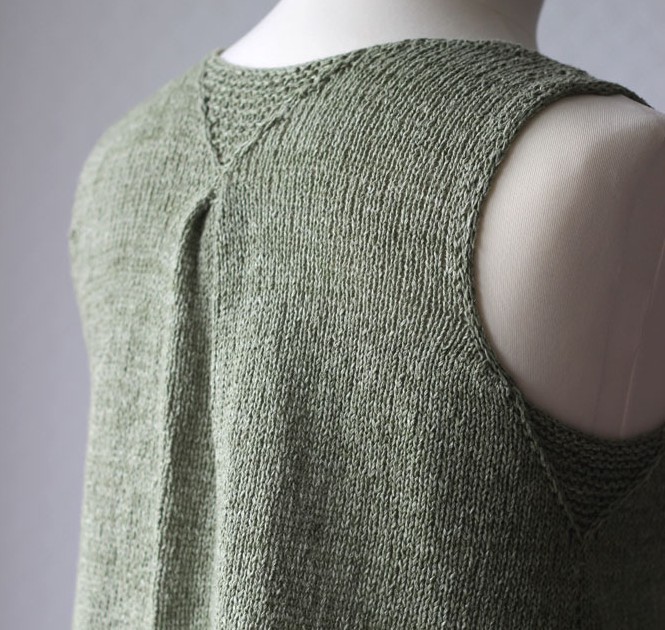 (Caesura Tuck knitted with 2 skeins of DyeForYarn Fingering Silk/Linen)
Note how the armhole gets its finished look with the help of a slipped-stitch edging. No finishing is required after knitting is done.
… an attached hem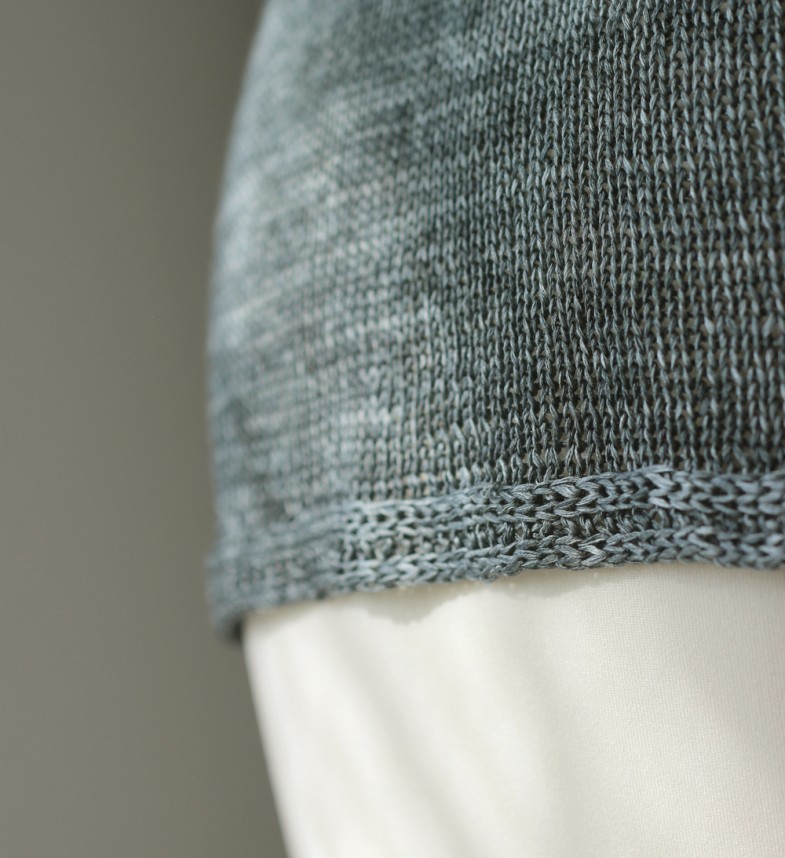 (Caesura PaperSilk knitted with DyeForYarn PaperSilk)
… a ribbed hem
(Caesura Tuck knitted in DyeForYarn Fingering Silk/Linen – knits up like a DK weight  yarn)
… a fold in the back neck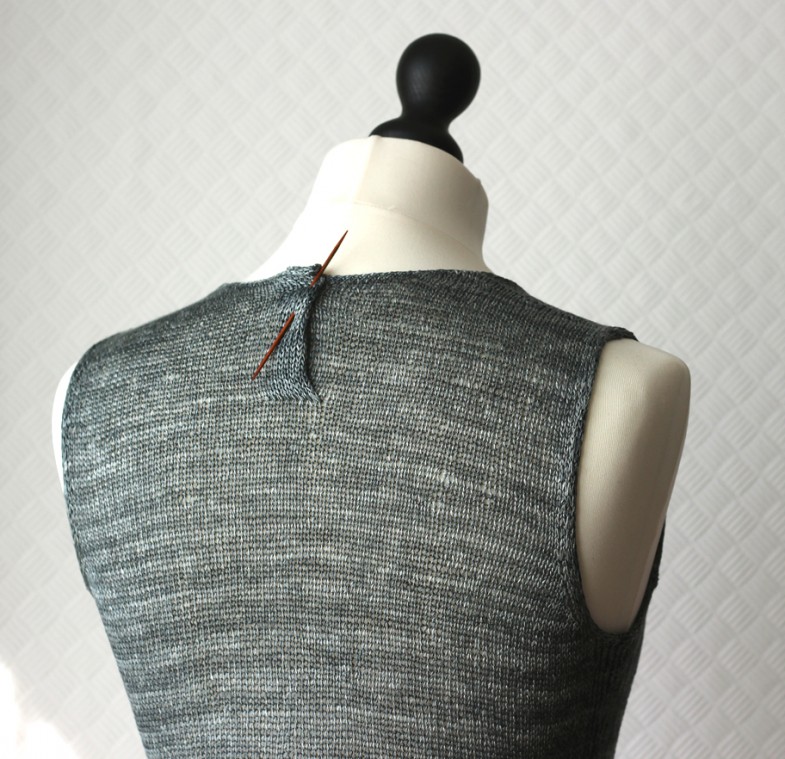 (Caesura PaperSilk knitted in DyeForYarn PaperSilk)
… a twisted rib triangle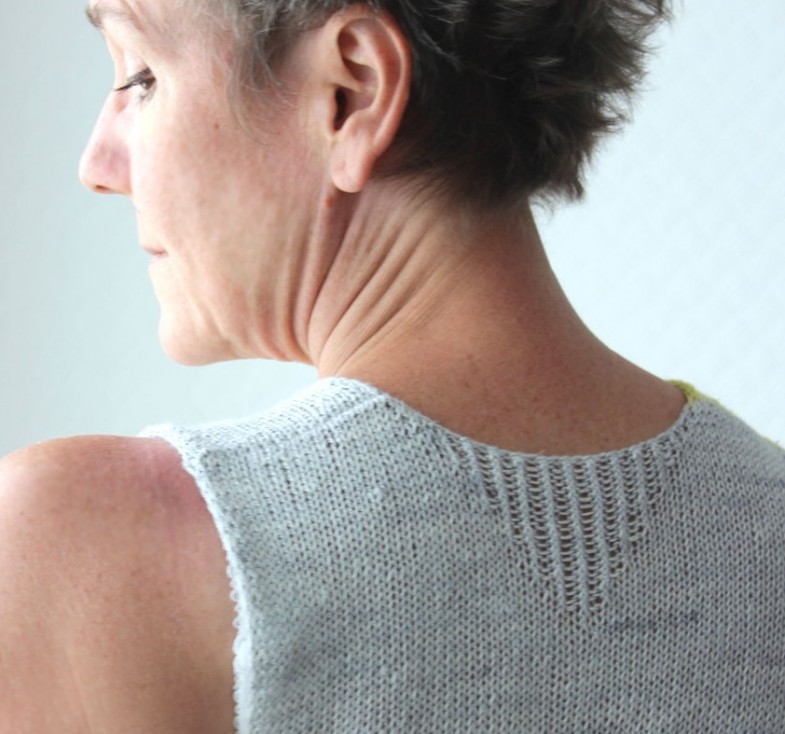 (Caesura V knitted with Dibadu Yarns Seda de Campo, a DK-weight Silk/Linen)
… some stripes and a bum-friendly back slit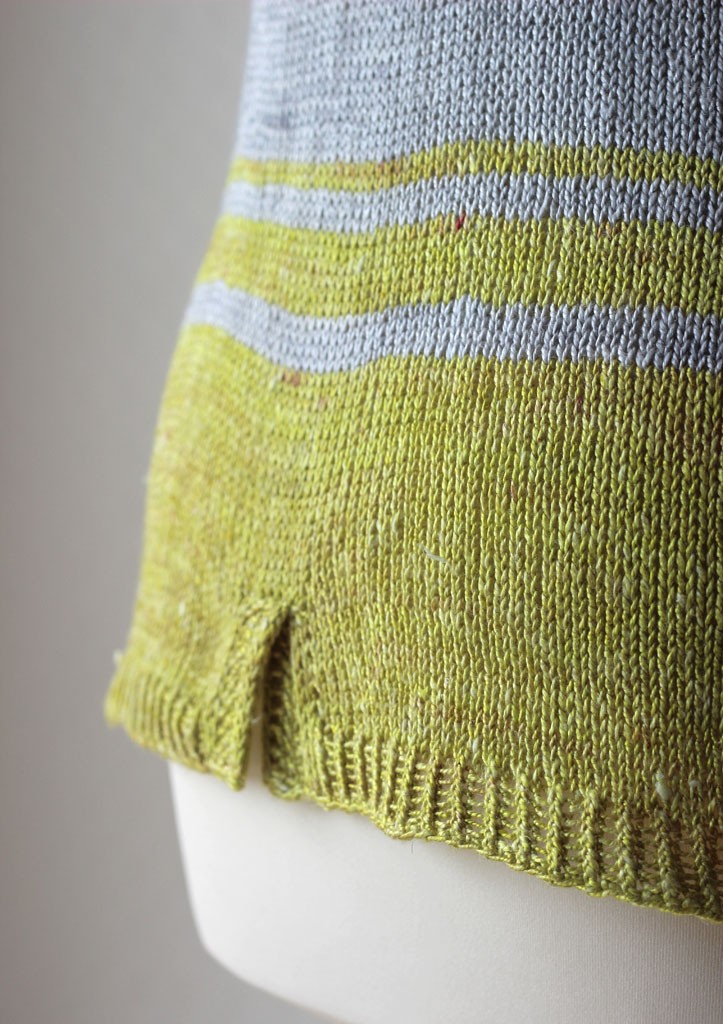 (Caesura V knitted with Dibadu Yarns Seda de Campo)
… a pocket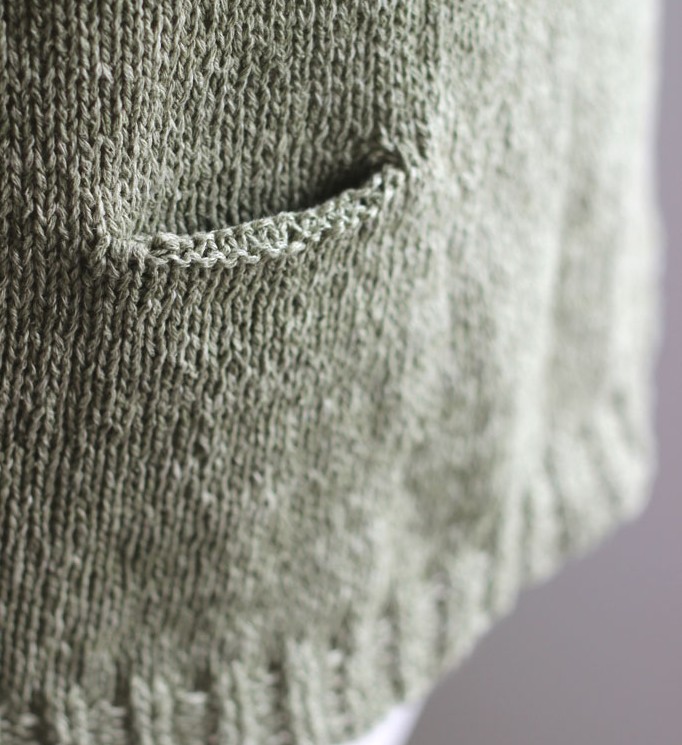 (Caesura Tuck knitted in DyeForYarn Fingering Silk/Linen)
Or make up your very own bouquet.
Brief description of each:
Caesura V
Caesura V is a summery, sporty sleeveless top with a generous A-line shape and stripes – A-line-ish anyway. There are no waist decreases, only increases.
Worked in DK weight it knits up fast so you may need a few in different colour combinations. The sample is knitted with Dibadu's Seda de Campo in colours Mondlicht (Moonlight) and Erdbeeren auf Pistazieneis (Strawberries on Pistachio Ice Cream). Seda de Campo, a silk-linen blend has such a beautiful sheen and drapes very nicely.
Caesura Redux

Caesura Redux has a relaxed crew neck, a little waist shaping, a twisted rib detail along the sides, and an attached hem. Like Caesura V it is knitted with Dibadu's Seda de Campo (Mondlicht/moonlight).
Caesura Tuck


Caesura Tuck is knitted with DyeForYarn Fingering Silk/Linen which has an interesting, almost rustic texture. That is, it looks rustic but is soft against the skin and is gentle on the fingers when knitted. Fingering Silk/Linen knits up to DK gauge so many DK yarns would work as a substitute. Some suggestions: Dibadu's lovely, drapey Silk/Linen yarn, Seda de Campo, or Giverny a supple Merino/Silk from Nature's Luxury — or a pure wool yarn such as Wollmeise's Merino DK.
The TUCK in the back is quite advanced knitting, so I've added an alternative mode of creating movement and room in the back; more of a gather than a tuck.
But do try the tuck! It's fun. And it will definitely show up in future Åsa Tricosa patterns. In fact, it's already a feature in two upcoming designs… no, three now.
Caesura PaperSilk

Caesura PaperSilk is knitted with DyeForYarn PaperSilk, a band-like pure silk in heavy lace-weight that  knits up to a fabric with quite a bit of stretch. Therefore, if you substitute a yarn with less give and stretch you may consider going up a size. Caesura PaperSilk has slightly set-in shoulders and an accordion-fold in the back neck.
Alternative yarn suggestions: Crujido de Seda from Dibadu and Geisha from Nature's Luxury are both quite similar to PaperSilk and excellent substitutions. I haven't tried (yet) any of the exciting Habu Textiles yarn apart from a superfine mohair lace yarn. I imagine there are several Habu yarns that would work for Caesura PaperSilk.
Enjoy some leisurely late summer knitting & knit with abandon!
---
Want to know what else is up my knitted sleeve? Sign up for the occasional Åsa Tricosa Newsletter.