Nondaily Tip No. 4: Frog or Tink?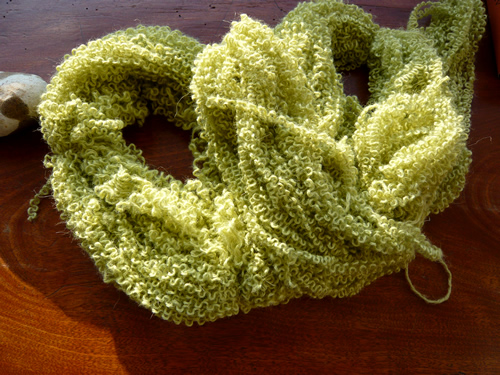 Yes, it happens, the need to undo, frog, or un-knit – or as it is sometimes known, to TINK (k-n-i-t backwards), undoing stitch by stitch.
Tinking (unknitting) a row or round stitch by stitch can be quite tedious. So I tend to prefer the more satisfying rrrrrrrrripping in large swathes, yanking the needles out and frrrrog.
But sometimes it's crucial to maintain the integrity of the fabric, or keep proper track of increases, decreases or special stitches that are difficult to read or recreate. And sometimes it's also very tedious to pick up all the stitches again (even if you're using – as of course you are! – a much smaller needle than you knitted with). The solution?
Tink several rows or rounds in one go
For each stitch tinked, undo 1, 2 or 3 rows…or more – I've tried up to 5.
How?
Easy peasy!
Insert Left Needle 1 (2, 3, 4 or 5) rows/rounds below the first stitch on Right Needle: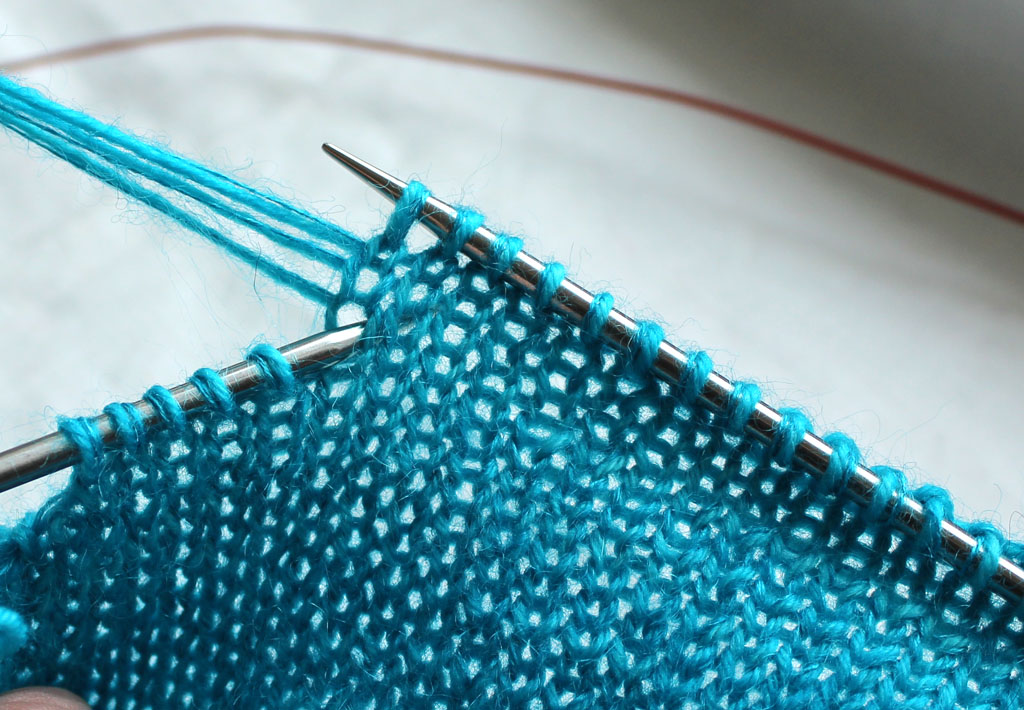 Here, I'm tinking 3 rows in one go. Pull to loosen yarn from all rows above. The first few tinks will require a little fiddling to loosen or free the yarn, but after that it's easy. Just wind all strands around a suitable finger or fingers on your left hand, and pull at them in tandem (if only two!) or jointly.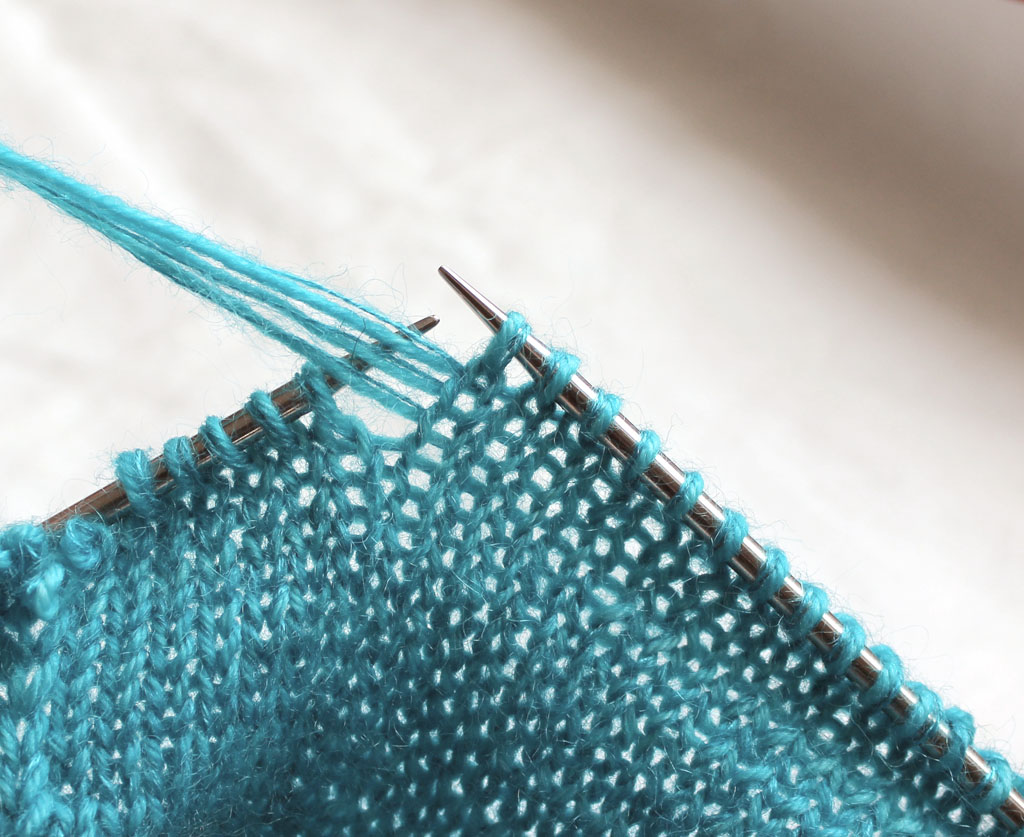 This can work particularly well with lace that has rest rows. You simply tink back to a rest row that doesn't have any complicated stitches or combinations of yarnovers and decreases.
And then there are those times when things just gotta be rrrrripped…
While this Nondaily Tip isn't about pooling, sometimes an unintended beneficial consequence of frogging is the disappearance of unwanted pooling. I was unhappy with the too-low waist of my sweatrrr. It was also too long and hugged my hips in an unflattering and uninvited sort of way. So I decided to frog back to raise the waist line (before writing up the pattern):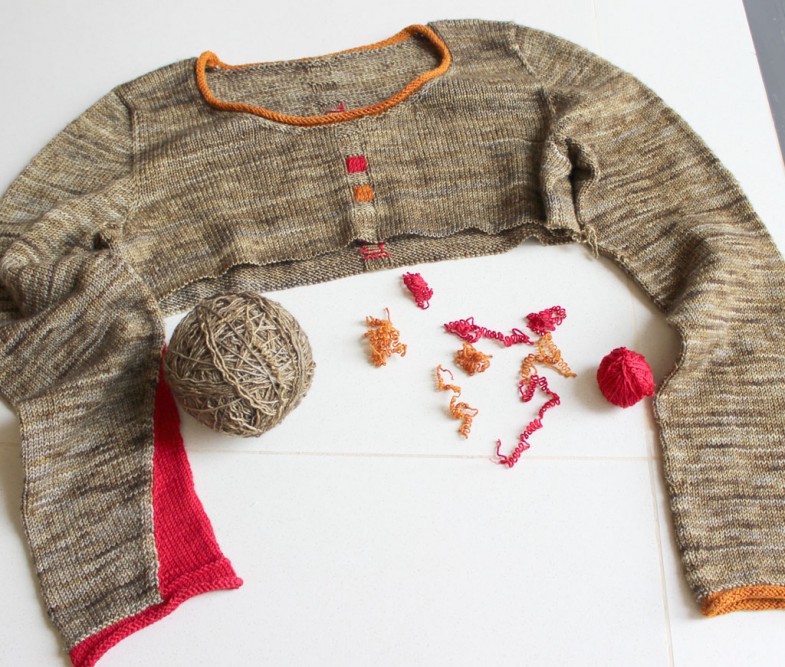 And the zig-zaggy band (below) disappeared.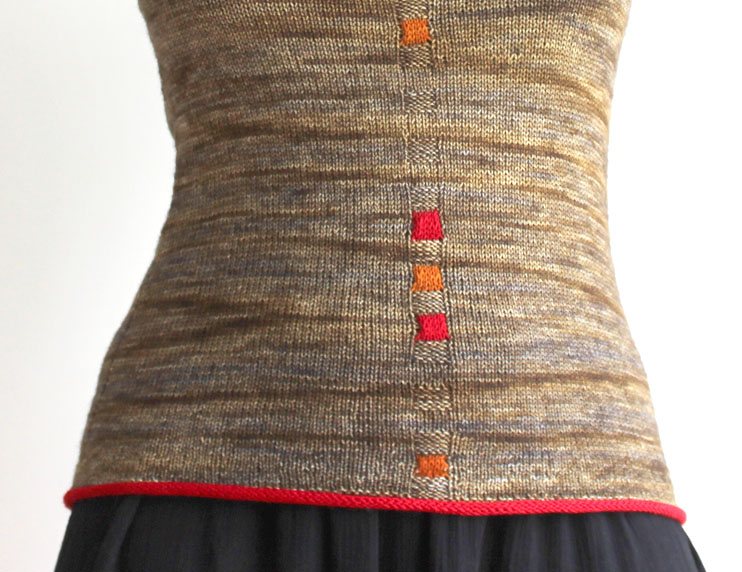 (The thing is… that now that I saw it again, I kind of like it…) Shortened and with horizontal variegation rather than zigzaggy: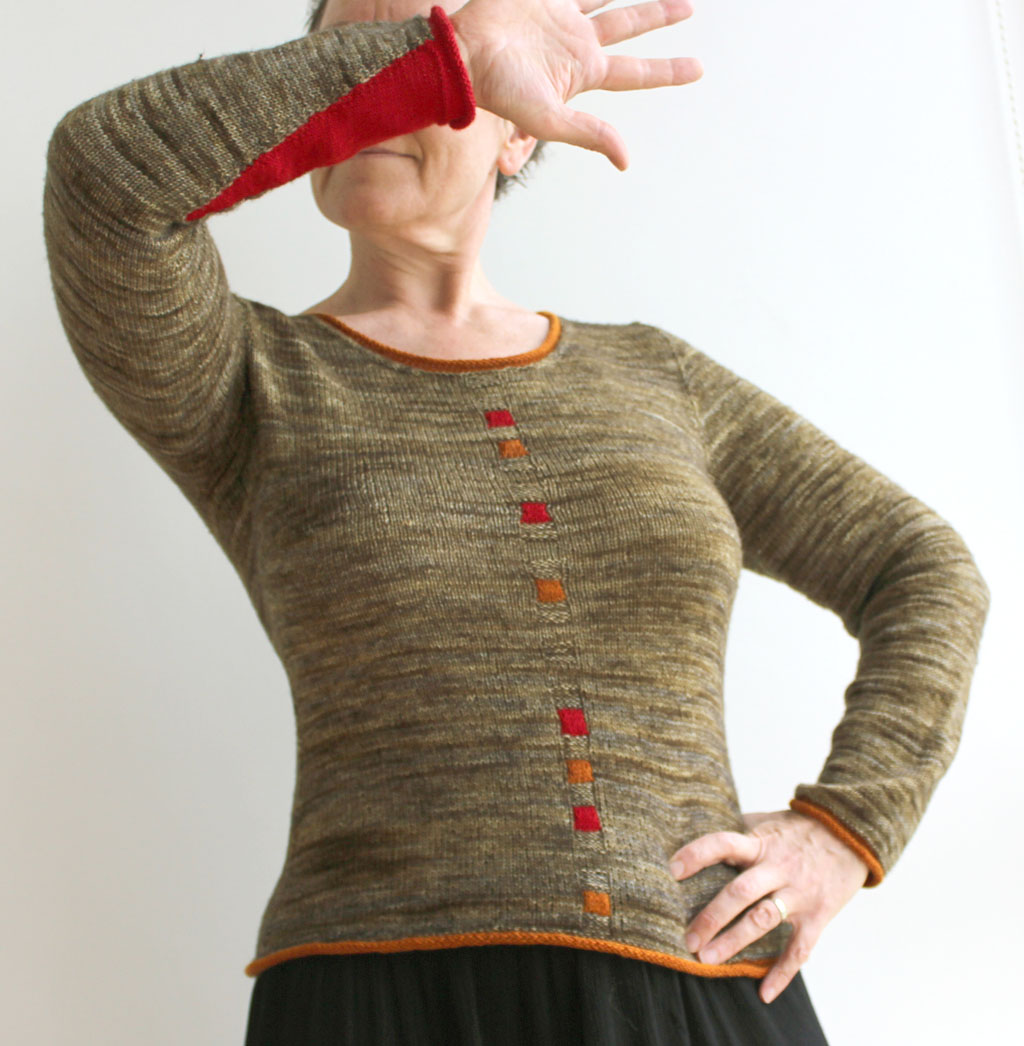 I have more thoughts on correcting mistakes.  And about froggging, too – how to avoid that snag at the ends.
Another day…
Note: to FROG… sources seem to agree that it's  a play on rip it! – ribbit!
Yarns in photos
Frogged green: Drops Alpaca
Frogged grey: Fyberspates Faery Wings
Frogged orange & grey: Knitlob's Lair Ilmarinen
Tinking photos: one strand of Drachenwolle Ein und Alles and one strand of Ito Sensai
Sweatrrr: Fyberspates Vivacious 4ply (accent colours: Wollmeise Pure)