Giveaway: Macaba kit
Win a Macaba KIT – yarn & pattern book!
Here is what you need to do for a chance to win a sweater quantity of Berroco Ultra Wool + Berroco Portfolio, Volume 4:
Post a comment on Instagram (on this giveaway post) by the end of Friday September 1.
That's it!
Done.
If you like, let us know which Berroco Ultra Wool colour you would like to use for your Macaba (not a requirement) – there are 64 (!) colours to choose from, wherefore choosing may take longer than a day or two.
Try a new colour?
This giveaway could be a nice opportunity to try colours you perhaps tend to shy away from or avoid just to play it safe – and without risk or cost.
The pattern book
Portfolio, Vol. 4, is a collection of 14 caringly curated patterns with a lovely mix of garments and also quicker, smaller knits. The careful curator: Amy Christoffers (Thank you, Amy – and the other Amy for the other stuff! (this is Media coordinator, Amy Palmer).
Lentil and Verbena
The Macaba sample is knitted in the colour Lentil. I loved knitting with this natural, herbal, mushroomy hue. I also very much like the colour I swatched with –  Verbena – and plan to knit some fingerless mitts, wrist warmers or even a hat with this colour: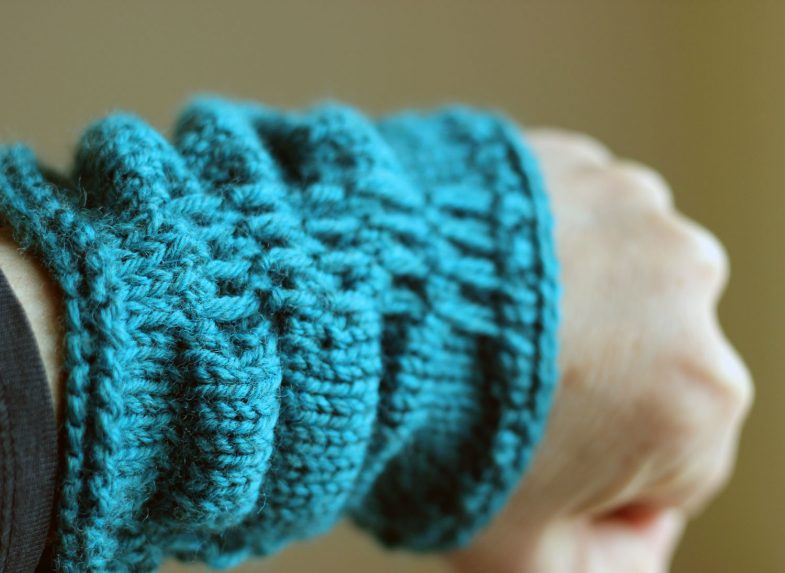 Don't dawdle!
You have until 11:59 pm EST on Friday, September 1 to leave a comment on Instagram.
Please note: Only comments replying to the linked Instagram post are eligible.
KAL
Whether you enter to win or not, don't miss out on Berroco's Fall Knit-A-Long.
Any of the 14 patterns in Berroco Portfolio Volume 4 is eligible, and there really is something for everyone in this carefully curated mix of garments and accessories – thanks to the great job of Amy Palmer. (Thank you, Amy!)
Cast on: Friday, September 15
End date: Friday, November 17
More on the yarn
This is how Berroco describes the pattern collection and the new yarn:
Our new workhorse yarn, Berroco Ultra Wool, is the showcase of this collection. Featuring 14 patterns from some of our favorite independent knitwear designers, Berroco Portfolio Volume 4 is filled with timeless pieces you'll love knitting in our new 100% superwash wool yarn.
The soft and supple fabric created by this new yarn was a pleasant surprise; and knitting on 4.5 – 5 mm (US 7 – 8) needles makes the knitting quite a breeze.
As some of you may know, I tend to knit mostly with hand dyed yarns from independent yarn makers so I was honestly a little worried that I'd find what is described as a workhorse yarn in solid colours dull and a bit boring. Instead, I am really pleased to have made the acquaintance with this lovely yarn and it will find its way into more of my projects.
More details
Join your fellow knitters in the Ravelry KAL here.
Read more about Macaba here.
Read more about the Knit-A-Long here
(and find another chance to win Portfolio, Vol. 4)
Find out more about Berroco Ultra Wool and all the colours (64!) here.
---
Want to know what else is up my knitted sleeve? Sign up for the occasional Åsa Tricosa Newsletter.