Ja Ja
This pattern is also available as part of the Drift Collection, fabulously curated by Eden Cottage Yarns.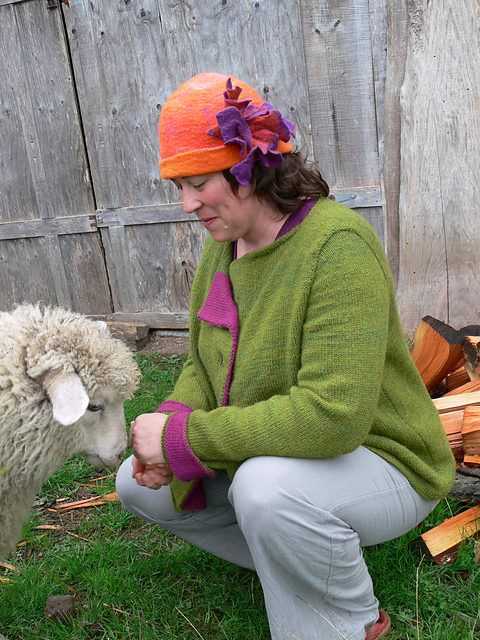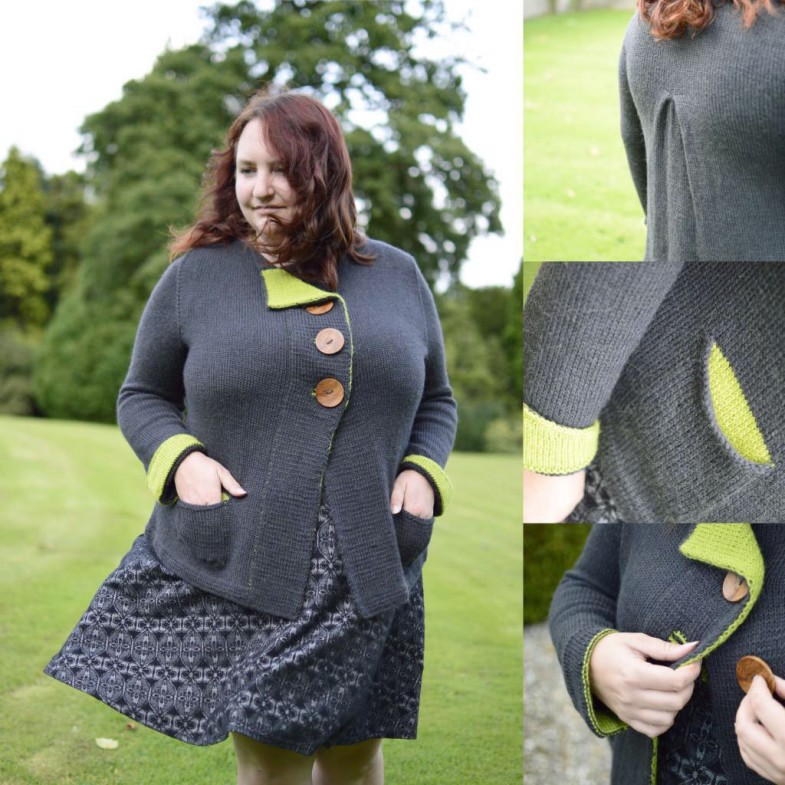 The Drift Collection is available both in print and as an eBook from Eden Cottage Yarns
You can also buy Ja Ja as a standalone pattern (pdf download)
Large buttons, structural tailoring and a pop of eye-catching colour makes Ja Ja a perfect piece for every occasion, or at least most – perhaps not entirely suitable for beach wear…
It was a joy for me to work with Eden Cottage Yarns and with Victoria.
And the yarn…. well, what can I say? Whitfell DK is a luxurious, soft, elegant and cosy baby alpaca. It was dreamy to knit with – surprisingly so, for it looks rather unassuming in the skein.
Ja Ja is (of course) knitted with the Åsa Tricosa Ziggurat method: all in one go from top to bottom, not a seam in sight. The Ja Ja jacket is also a rather challenging knit, involving some new Åsa Tricosa manoeuvres — I decided that it was time for some proper double knitting. And therefore made up some Ziggurat double knitting on the go (well, it took a few reknits…). Ja Ja involves some tricky bits at the beginning in order to set things up. Just so you know. So yes, it  is a challenging knit but it's also a fun knit where you'll learn a few new techniques and which will be oh-so-satisfying to wear.
I'm especially fond of my buttonhole through the double layer.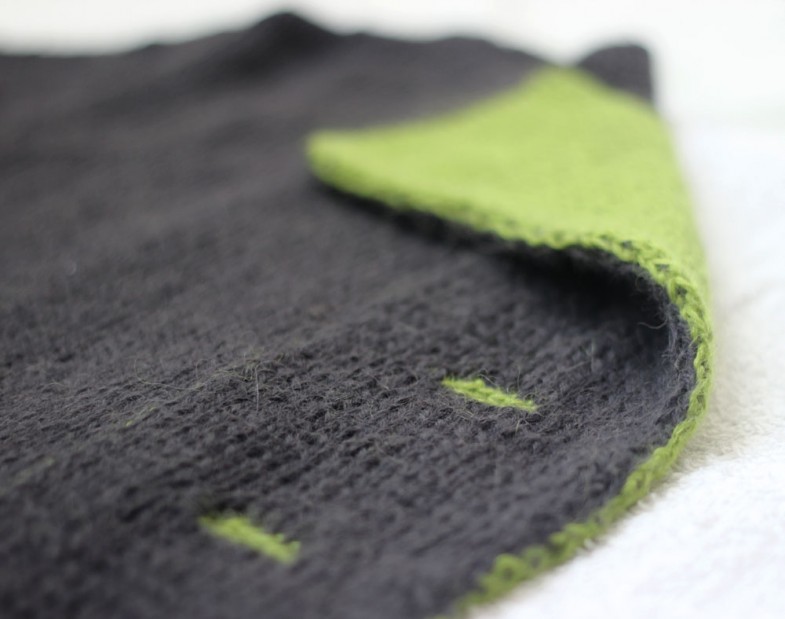 Oh, and the hem! So very neat and pleasing (if I may say so).
And the tuck, too.

I made up this tuck or box pleat for another cardigan (which  will appear in the Ziggurat Book) and the same tuck features also in Caesura Tuck. It creates a swingy, relaxed shape — and was serious fun to figure out. As was the double knitted hem.
Whenever you need a break from the double knitting why not cast on for one of the lovely accessories in the Drift Collection?! There are also other garments: a lovely cardigan for autumn  by Justyna Lorkowska and a simple elegant sweater by Dieuwke van Mulligen.
Yes, I'm a firm believer in having several projects on the go – my knitting mood and mojo changes, so I like to have something for each (well, maybe not quite) flavour of the emotional palate. So what are you casting on next?
Materials
Eden Cottage Yarns Whitfell DK (DK; 100% baby alpaca; 100m / 109yds per 50g ball)
MC Shade: Charcoal; 11 (12, 13, 14, 15) 16, 17, 18, 19, 19 x 50g balls
CC Shade: Lichen; 2 (2, 2, 2, 2) 3, 3, 3, 3, 3 x 50g balls
Sizes
XS – 2XL
To fit: 81 (86, 91, 97, 102) 107, 112, 117, 122, 127cm / 32 (34, 36, 38, 40) 42, 44, 46, 48, 50in
Please refer to detailed schematic at the end of this pattern for more sizing details.
Gauge
22 sts and 28 rows to 10cm (4in) over stocking stitch on 3.5mm needles after blocking.
---
Want to know what else is up my knitted sleeve? Sign up for the occasional Åsa Tricosa Newsletter.
Save
Save
Save
Save
Save
Save
Save
Save
Save
Save