It's all about the yarn (again)
About the yarn, textures, and about stripes.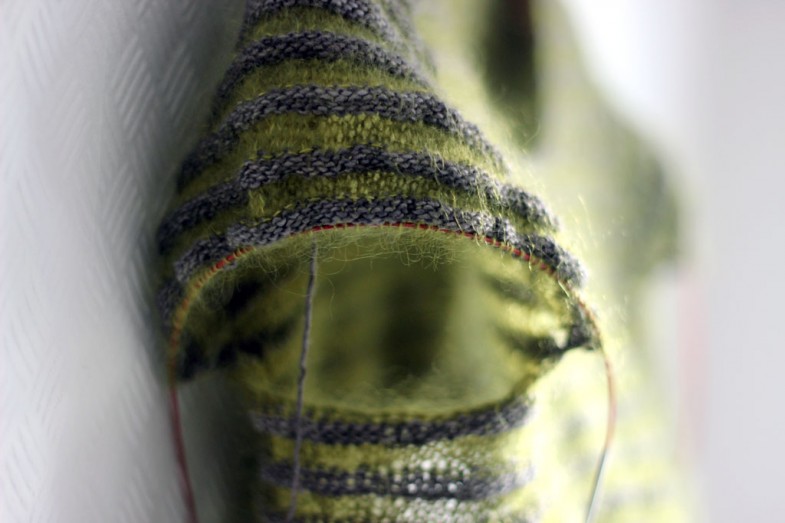 There was this quite irresistible yarn.
And there was this idea about textures playing off each other, a yearning for elegant stripes, and then the spectacular collar that has been simmering along in my head for a good couple of years.
But it started, as it always does, with the yarn (and possibly the need to knit a special birthday present for a discerning recipient).
Cathrin of Walk Collection invents the most alluring colourways that she dyes on carefully chosen yarn bases.
The yarns I'm working with here, were sold as sets of two contrasting textures and quite close in colour. They seemed to be made for striped Ziggurats.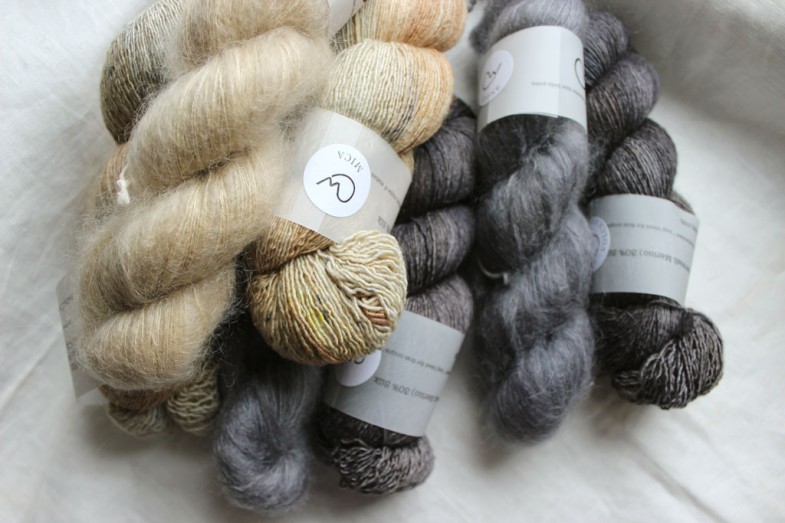 Now, plans are one thing.
My plan was to knit two sweaters, one from each yarn set – one beige/beige for the birthday present and a grey/grey for myself.
Or rather, as the colours are more pleasingly named by Cathrin, Sand/Mica and Stone/Vulcanic Sand.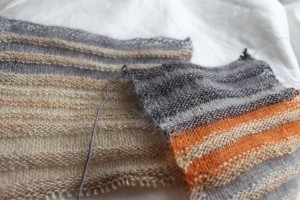 However, while swatching I thought the beige on beige was too… beige. The screamy orange I misguidedly tried (Ito Sensai) was a no go. The lighter grey (also Ito Sensai) worked with the darker grey Delicate Silk but by now I was already spoiled by Cathrin's subtly variegated skeins. Anything else just looked flat.
So I pilfered the KidMohair Lace in Stone from the grey set and – yes!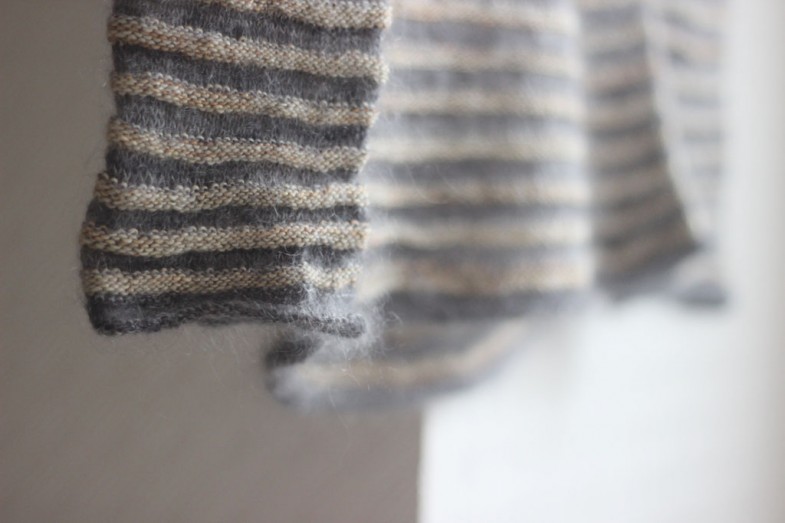 The textures of the soft, more plump single-ply wool-silk and the airiness of the mohair-silk lace really do play off each other. To emphasize the inherently different textures and weights – the wool-silk is a Heavy Lace (600 m per 100 g) and the mohair-silk is a Lace weight yarn (840 m per 100 g), I've chosen to alternate reverse stocking stitch with plain stocking stitch.
The fabric is so light and pleasing and has a gentle springiness due to the alternating purled and knit stripes.
Having pilfered the grey mohair from the grey/grey set left the grey Delicate Silk without a partner.
Fortunately Cathrin custom dyes, and fortunately she already had just the colour I was after in her palette, which was rather handy given how difficult it is to describe and then translate a certain wish for a colour into an actual skein.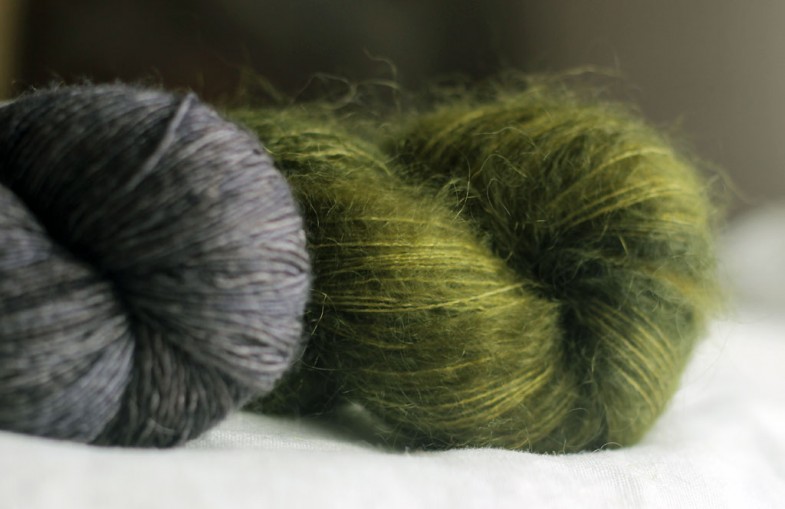 Vulcanic Sand Delicate Silk with Moor KidMohair Lace. Perfect.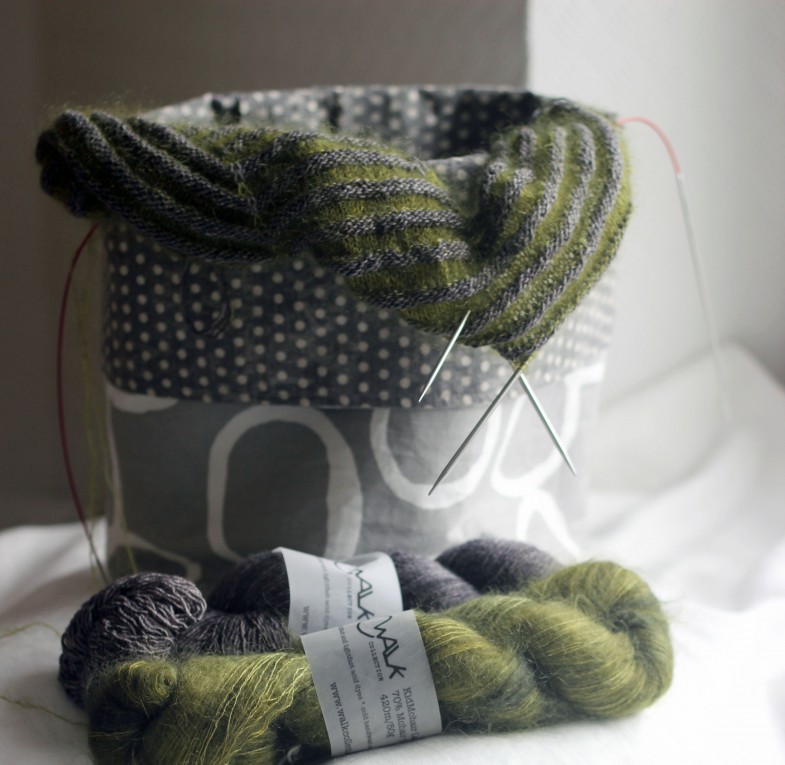 The two yarns together would also make spectacular shawls. Luckily I have more than enough leftovers from the birthday pullover for a large shawl – for the pullovers I didn't want to risk running out of yarn, and also had only a vague idea of how much yarn I'd need or even how long the pullover would be, maybe I'd want a tunic. One doesn't know these things beforehand. Wherefore I secured two sets of each colour combination. When in doubt, buy two!
There was also the question of  the spectacular collar.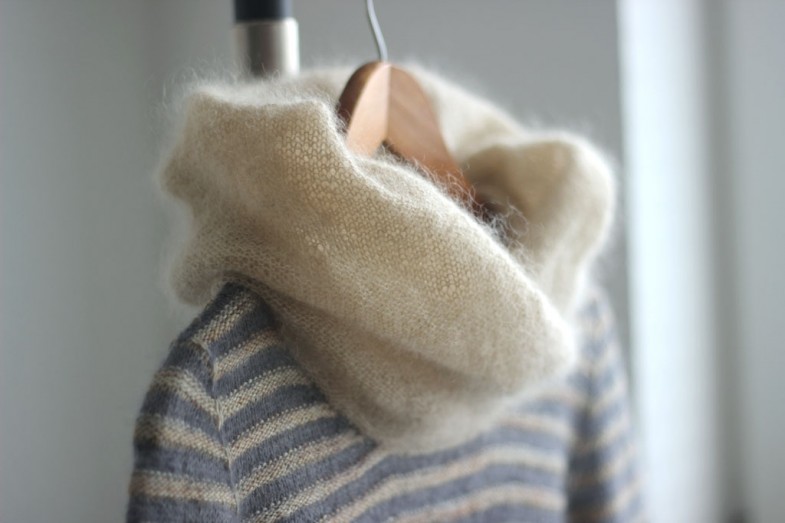 I love this puffy cloud of a collar. Grey looked a little lugubrious, so I plumped for the Sand KidMohair Lace.
Yarn quantities required for the size 34 pullover:
540 m Delicate Silk (Mica – the purled light stripes) – almost a full skein
505  m KidMohair Lace (Stone – the knitted grey stripes) – 1.2 skeins
315 m KidMohair Lace (Sand – collar) – 3/4 skein
---
Want to know when this becomes available as a pattern and/or what's up my knitted sleeve? Sign up for the occasional Åsa Tricosa Newsletter.