Hatalogue — 3 hats
Three top-down hats with hattitude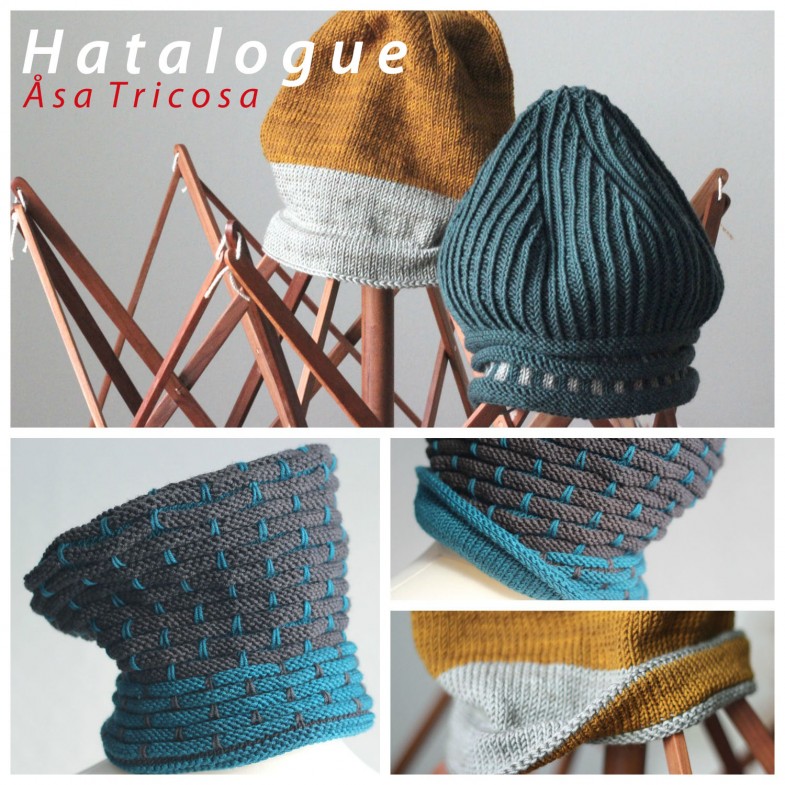 Three Hats riffing on existing Åsa Tricosa designs (a cowl, a sweater, a glove)
Meet Kaul.
Kaul Toque riffs on Kaul Cowl and makes a brimming trio with Simple ZiggurHat and Callisto Hat in the Hatalogue eBook.
Kaul stays with me. ZiggurHat and Callisto Hat are going to refugees feeling cold in Munich (Knitting for Munich).
Not that I will look any better in Kaul Toque than in other hats.
Hats are not my thing, they just don't suit me. But they are so much fun to knit. And they do suit other's heads.
(I still harbour a vague hope that Kaul Toque will make me look a bit less deranged than most other hats do. So I'm going to try it on the moors — well, they're not really moors, more farmers' fields, but it sounded good).
Callisto Hat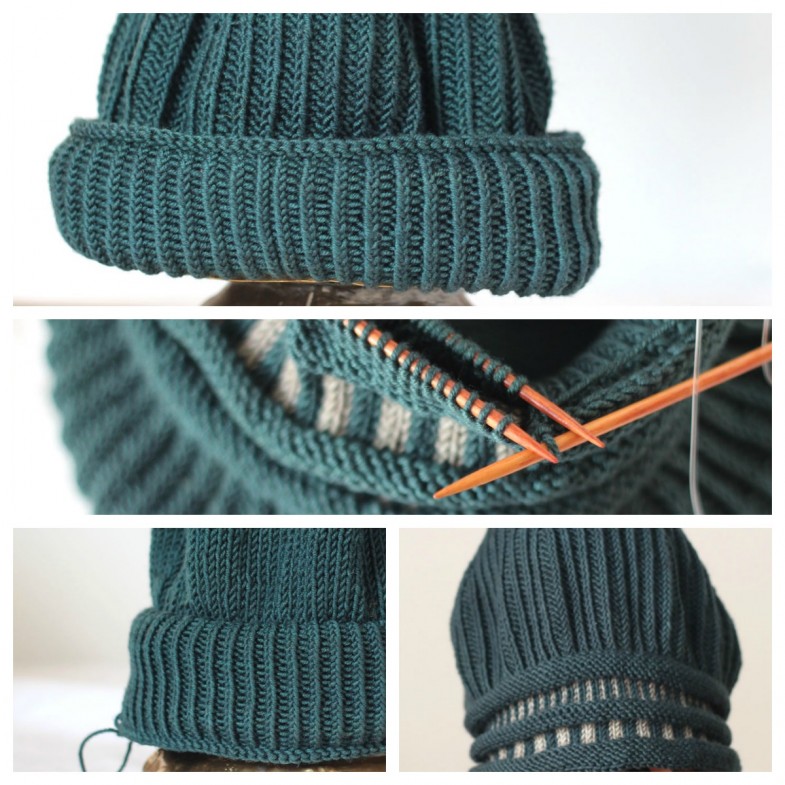 Callisto Hat, a riff on Callisto Gloves/Mitts, is a completely reversible hat. A twisted rib on one side makes a smooth fabric on the other. The brim has colourwork on one side and a smaller twisted rib on the other.
Simple Ziggurhat
Simple ZiggurHat is … simple. As in sparse and rather stylish. Or simple as in plain and eminently wearable. A ski hat. A go shopping hat. Brim up. Brim down. Slouchy or beanie.
(Ziggurhat borrows style from Simple Ziggurat sweater.)
Raison d'être & inspiration
The hats came to be when I wished to knit a hat or two for Knitting for Munich. And then there were three – two for Munich one for me. I think there will be more.
The three hats look quite different but have several features in common. They all…
• start with Winding Provisional Cast On
• are knitted top down
• feature increases for which there are photo tutorials (raised increase – M1L/R raised, bar increase – M1L(p) & M1R(p))
• are knitted in the round (I use the magic loop method but two circulars or double pointed needles would also work)
• are seamless
• have cleverly (no-sew) lined brims (for which there is also a tutorial)
• are knitted with and inspired by Wollmeise Merino DK – a squishy superwash merino in fantastic colours
The lining for the brim is a lining I've been using lately for sweaters and cardigans. It's double but not double knitted when worked in the round. It could be. The picking up is both invisible and very easy — I'll need to revise my double cuff tutorial to reflect this development! For the cuff I created the double layer with kfb:s (knit front back) and two circular needles held parallel. Much more fiddly.)
For the cardigans the hem was double knitted but that is due to the particular construction of those cardigans (they have double knitted button bands). This hem or brim (or cuff) has become a favourite so I've put together a little photo tutorial.
I really hope knitters will like the lining tutorial. This lining is just so… simple. And elegant.
For even more elegance, one could graft the two layers in lieu of the 3-needle bind off. I'm going to try that on my next Simple Ziggurhat. Yes.
THE PATTERNS (from my Ravelry Pattern Store)
The eBook is €9 (+VAT); single patterns are €5 (+VAT)
Kaul Toque




Simple Ziggurhat




Callisto Hat




Hatalogue eBook



---
Want to know what else is up my knitted sleeve? Sign up for the occasional Åsa Tricosa Newsletter.