Goldtau cowl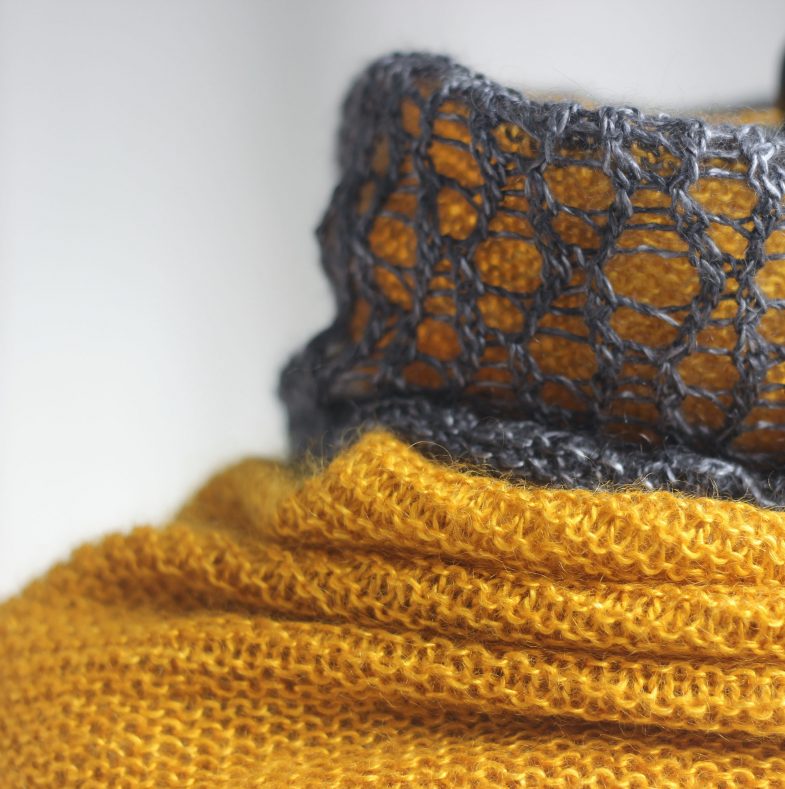 Goldtau is the first design in my new Tuvstarr Collection, celebrating the rebirth of a favourite yarn and the continuous beauty its siblings.

Goldtau is a pleasing union of functionality and elegance.
A simple mesh pattern is layered over an even simpler and comfortable garter base, mixing practicality with a little superficial flair.
Faery Wings from Fyberspates, and  its siblings, Curly Silk from Dibadu and DyeForYarn's MoFluff, is a silk/mohair blend yarn that is curly and wavy in the skein and knits up to a smooth and drapey fabric.
The Tuvstarr Collection (eBook)
5 patterns released randomly  over the next several days (18–23 December)
2 shawls :: 2 cowls :: 1 mitt

Note: If you buy a single pattern from the collection and change your mind and wish to buy the collection, one pattern can later be applied toward the Collection and is deducted automatically.
Who is Tuvstarr?
Tuvstarr is a fairy tale princess with hair like Faery Wings. She has been beautifully painted by John Bauer, a Swedish artist. Bauer's illustrations for the book of fairy tales, Bland Tomtar och Troll, are wonderful and evocative, and perhaps especially so, his lovingly rendered Prinessan Tuvstarr.
You can read more about this early 20th Century artist and find more illustrations here.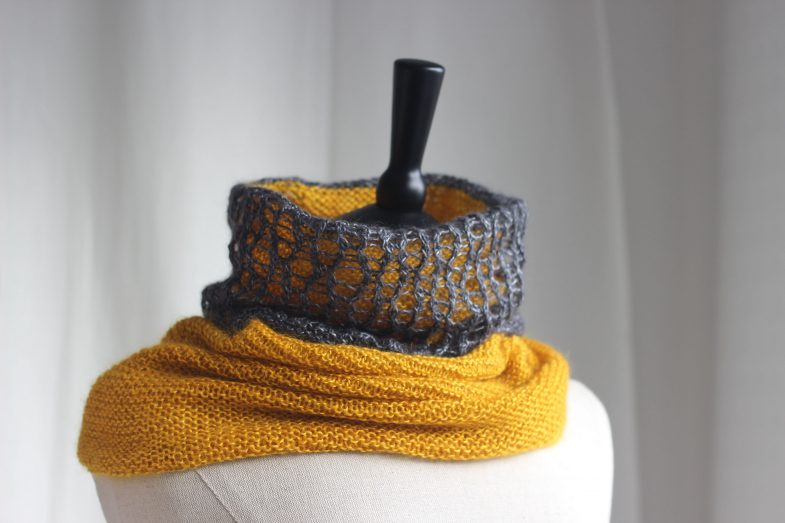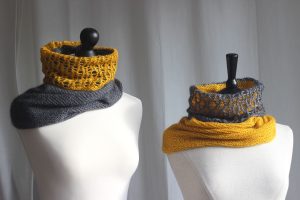 GOLDTAU cowl
S i z e
With mesh layer folded down:
39 cm tall by 70 cm circumf (50 cm around the top)
15.5″ tall by 27.5″ circumf (20″ around the top)
Y a r n
Faery Wings (67% Silk/23% Kid Mohair/10% Nylon, 175 m (191 yds) per 50 g); MC: 2 skeins, CC: 1 skein
Colours: Gold and Slate
alternative yarn suggestions 
Dibadu Funnies Curly Silk or DyeForYarn MoFluff
(67% silk, 23% mohair, 10% nylon, 350 m (383 yds) per 100 g)
approx yarn requirements
MC 275 m (300 yds) CC 75 m (85 yds)
N e e d l e s  &  N o t i o n s
4 mm (US 6) circular needle, 40 cm (16″)
Additional smaller circular for the cast on
Stitch marker
B l o c k e d   G a u g e
18 sts x 36 rows = approx 10 cm (4″) over garter stitch on 4 mm needle.
P a t t e r n  N o t e s
Goldtau is knitted in the round, bottom up in two continuous sections. Garter stitch makes for a squishy and comforting cowl that is wider at the base. A lacy mesh layer folds outwards to contrast nicely against a dark or light background. The garter rounds are worked back and forth with the help of a German short row turn; this allows for the entire base layer to be plainly knitted, eschewing all and any purls. Of course, you may choose to knit plain garter rounds and forget about the short row turns.
H E L P F U L   L I N K S
Abbreviations
German Short Rows
Stretchy Bind Off
Winding Provisional Cast On
---
Want to know what else is up my knitted sleeve? Sign up for the occasional Åsa Tricosa Newsletter.