Glove & Mitten Blockers in 10 min
Make your own!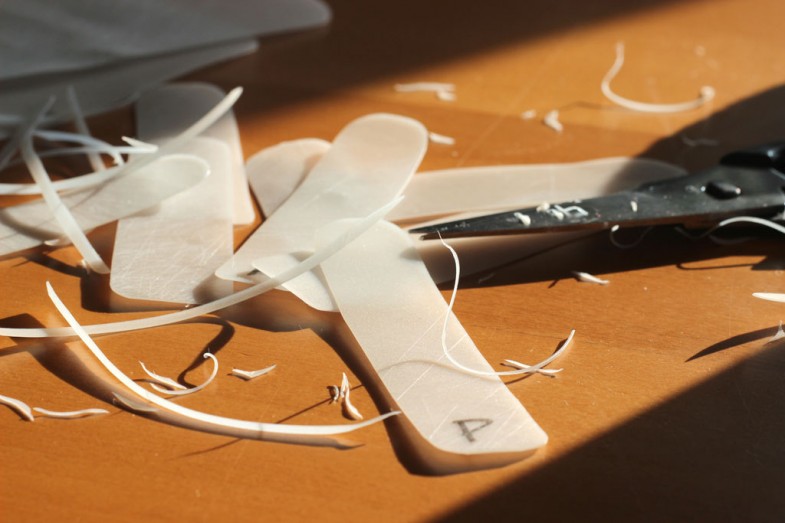 For the first time ever I have felt the need to block a pair of gloves.
Unilke other knitting, I usually simply wear gloves into shape (despite having discovered the magic of blocking some years ago and no longer dismissing it as a habit of pernickity and supercilious knitters). But here I had just knitted a pair as a gift. All scrunched up they didn't look much like a gift at all. Nor would they lie flat to be wrapped up nicely (I tried…).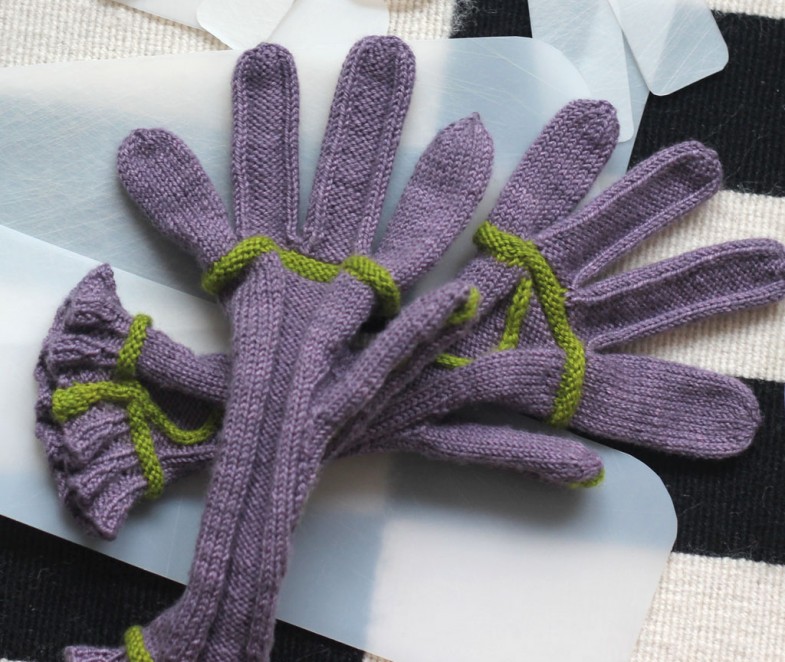 They obviously needed a good blocking.
So, as one does, I Googled for hand dummies and glove blockers, even hand lasts. No luck. Looking for them with limping German in Germany may have had something to do with this failure. Regardless, I needed them NOWnowNOW.
So I made a pair. And voilà.
From this rather scary-looking knitted pair: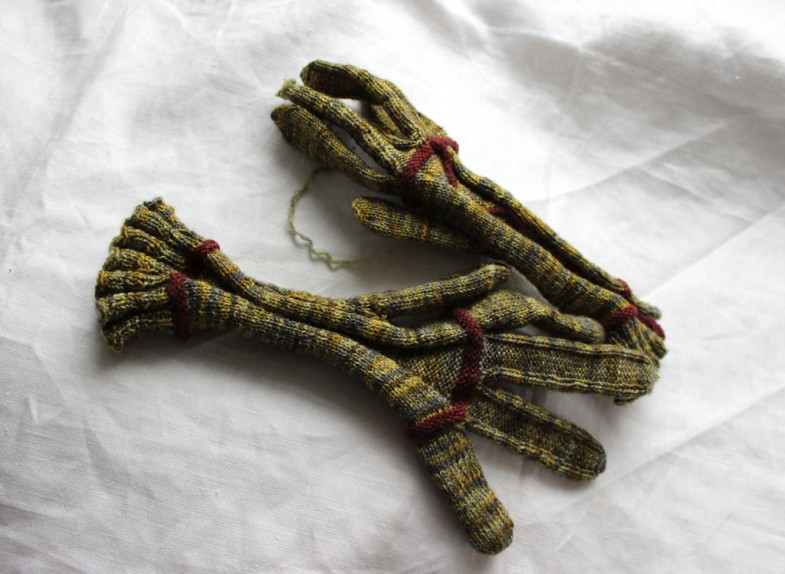 To this: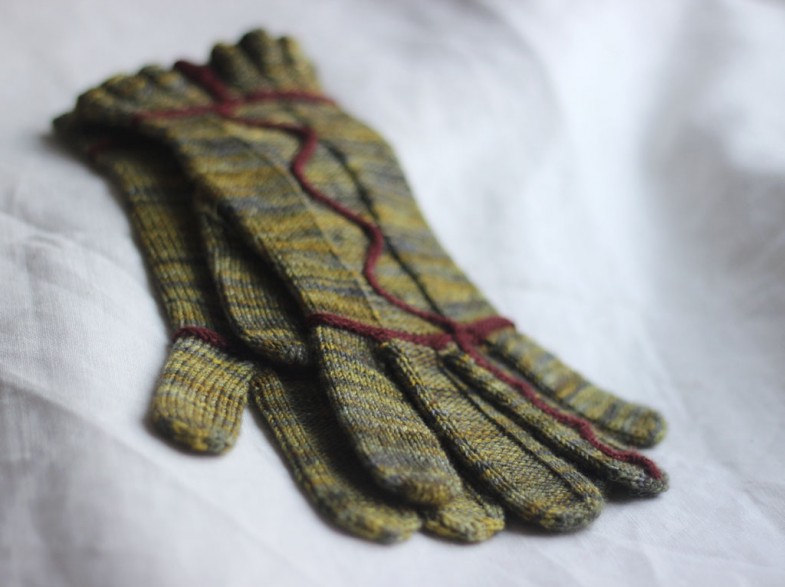 Refined. Almost elegant, even.
Now I want to knit more gloves to see this transformation again and again. And no, the same satisfaction will not materialize if I transform my pile of mateless left gloves. I could possibly knit their mates. Possibly. (It's not that I keep losing right gloves. It's more a matter of never getting around to knitting them in the first place.)
The blockers
They were surprisingly easy to make (and do not involve discarded hangers from the dry cleaner… yes, I wrestled with one of those (hanger, not cleaner) for about ten minutes before giving up that silly idea — it works splendidly for sock blockers (see this tutorial) but not so splendidly for gloves).
It all clicked into place when I realised that the fingers had to be separate from the hand (helped along by an insight (here) from someone who sawed her own blockers out of wood and pondered how we in fact  close our fingers to pull on a glove, and how wood blockers are… well, not as flexible as hands).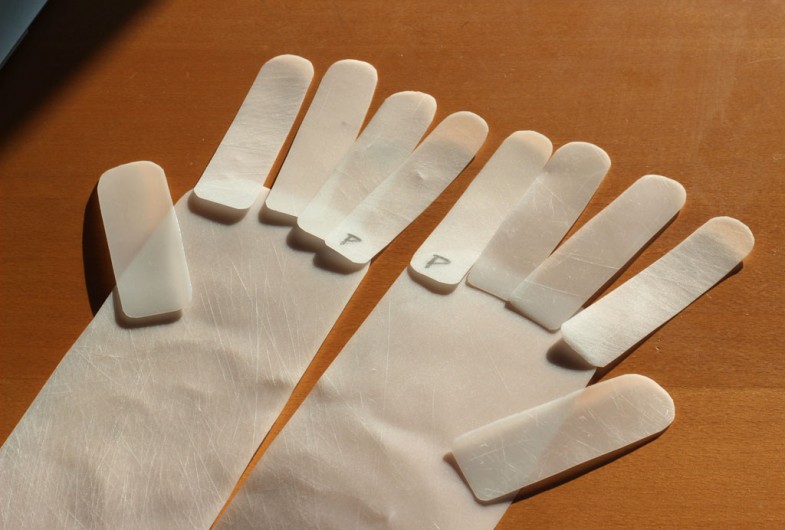 An unforeseen bonus with this insight: they work for mittens, too. Minus fingers: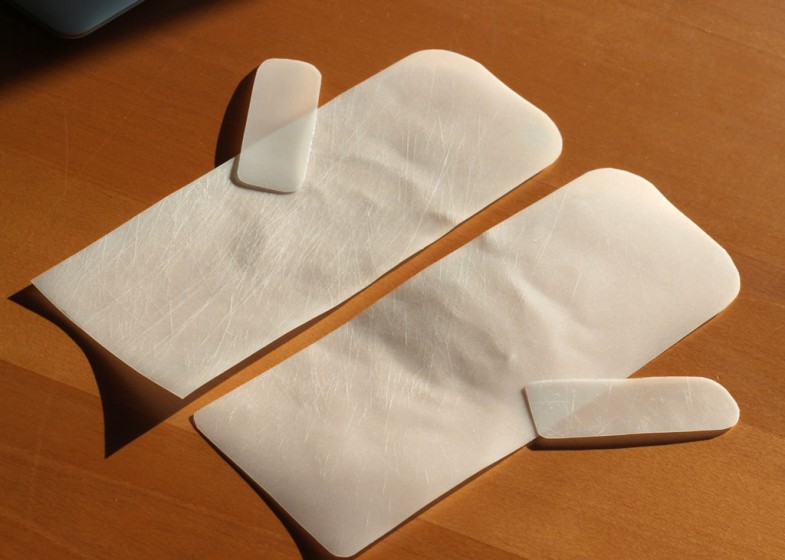 Here's how to make your own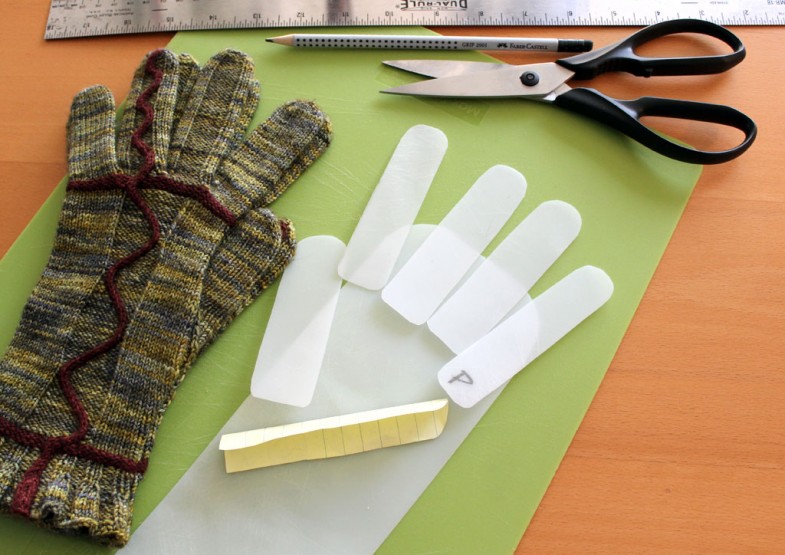 You need:
1 sheet of sturdy plastic – for example, a place mat or a thin, flexible cutting board/sheet (I used a cheap white cutting board, thinner than those colourful ones from Ikea (the green mat underneath my finished blocker) – one of those would work too)
Scissors
Ruler
Pen
A sheet of paper
Mark out and trace on your sheet of paper 4 rectangles: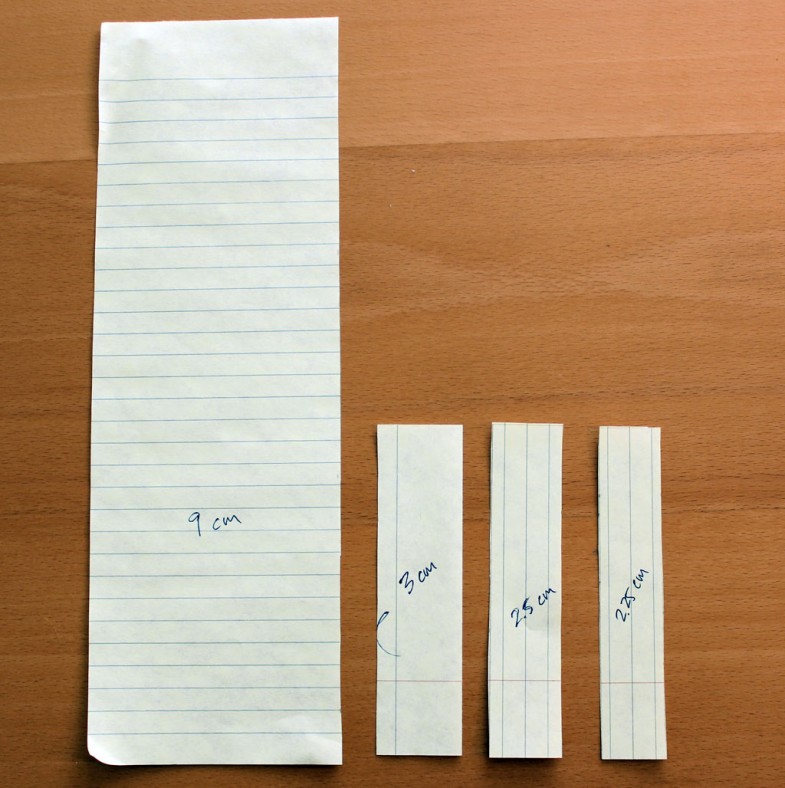 (hand) 26 cm x 9 cm (10″ x 3 1/2″) – length is not very important, but longer than most gloves or mittens you'll make
(thumb) 9 cm x 3 cm (3 1/2″ 1 1/4″)
(finger) 10 cm x 2.5 cm (4″ x 1″)
(pinky) 10 cm x 2.25 cm (4″ x 7/8″)
Fold each paper rectangle in half lengthwise.
Cut a nice-ish curve (freehand or trace it out first – if you're a bad draughtswoman, use a small round object such as a jar or a button to trace a curve) at one (folded) short end.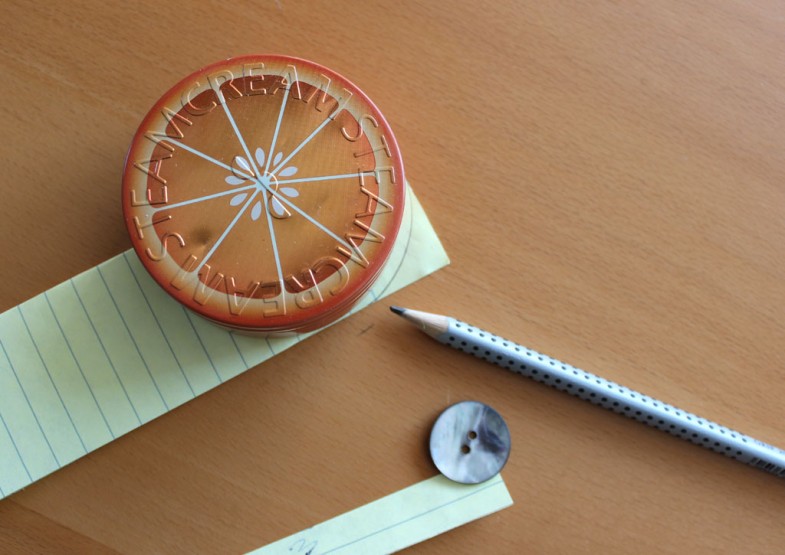 Now trace these shapes onto your plastic sheet.
You need:
2 hands
2 thumbs
6 fingers
2 pinkies
Cut along the traced lines.
Trim any sharp corners.
Done!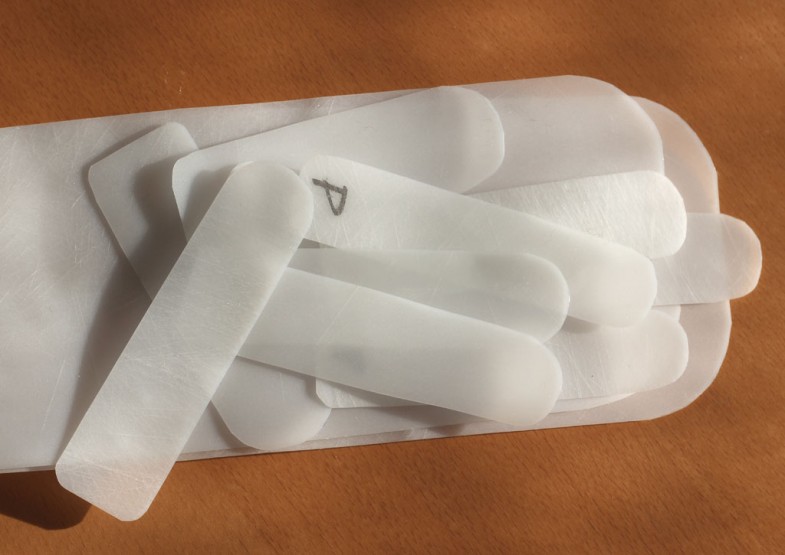 The fingers for mine were initially a little too wide, so had to be trimmed. Hence the schnipzels in the top photo.
Because I was worried about them being too wide for the smaller purple pair, I pulled the blockers out before the gloves were completely dry, so they could ping back a little. Here they're drying placed on a towel on a medium warm radiator (this is fine but don't fry the gloves):
A word on sizing: I wanted blockers that work equally well for medium and large hands. I also prefer a rather snug glove, wherefore it was better (for me) to make the blockers a little too small rather than too wide.
My hand measures 20 cm (8″) around.
My blockers measure 9 cm across (3 1/2″), which is good for a Medium or Large hand.
For a smaller hand I might make a pair of 8 cm (3″ – 3 1/4″) blockers later.
In other words, the measurements in this post are for my needs. You may want to make yours smaller or larger. Or make two or more sets.
If I can figure out how, I'll upload a pdf with ready-made templates to print and cut out.
Then I'll change this blog post title to Glove Blockers in 5 min.
Yarn used in photos:
Wollmeise Blend in the colours Meilenstein (purple) and Grünfink (green)
Malabrigo Sock in the colours Turner (greenish) and Boticelli (wine)
---
Want to know what's up my knitted sleeve? Sign up for the occasional Åsa Tricosa Newsletter.