Erline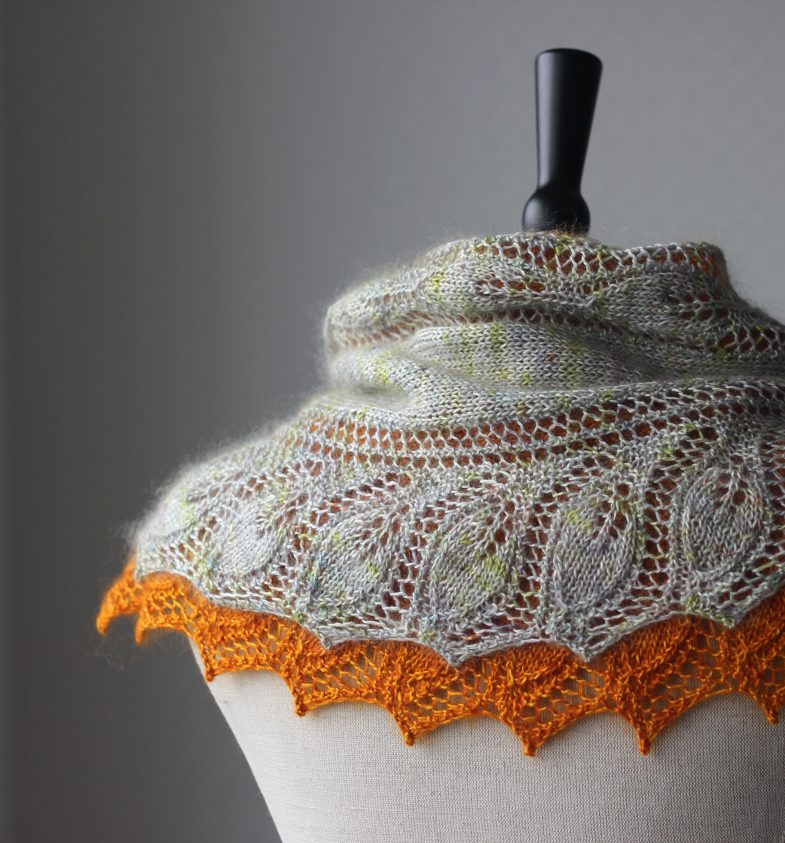 Erline is the fifth design in my new Tuvstarr Collection, celebrating the rebirth of a favourite yarn and the continuous beauty its siblings.

Erline is a reversible cowl with layers of leafy lace with a pleasing flare and flair. The lacy edging made its first appearance in one of my earliest designs, Semele. For Erline, I have reconfigured the charts to be more 'logical' rather than visually imitating the finished lace pattern. There are also some minor tweaks, such as changing a single purl column into knit. It is still a most glorious lace edging – Barbara Walker calls it Great Grandmother's Edging but it is sure to have other names as well.
For inspiration, questions, and maybe showing off your yarn choices, you are invited to stop by the Tuvstarr Collection in the Åsa Tricosa Group.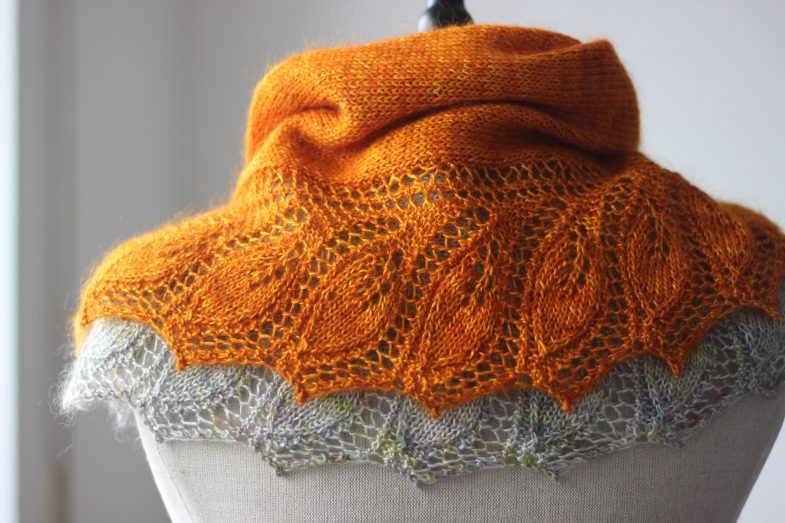 Construction
Erline is knitted sideways in one piece with side-by-side MC and CC sections.
The knitting begins with two cast ons; a longtail cast on and the simplest cast on ever, the Winding Provisional Cast On.
The finished cowl is closed either with a 3-needle bind off or by grafting.
Photo tutorials guide you through the setup and some particular methods such as the Reverse Bind Off for the leaf tips.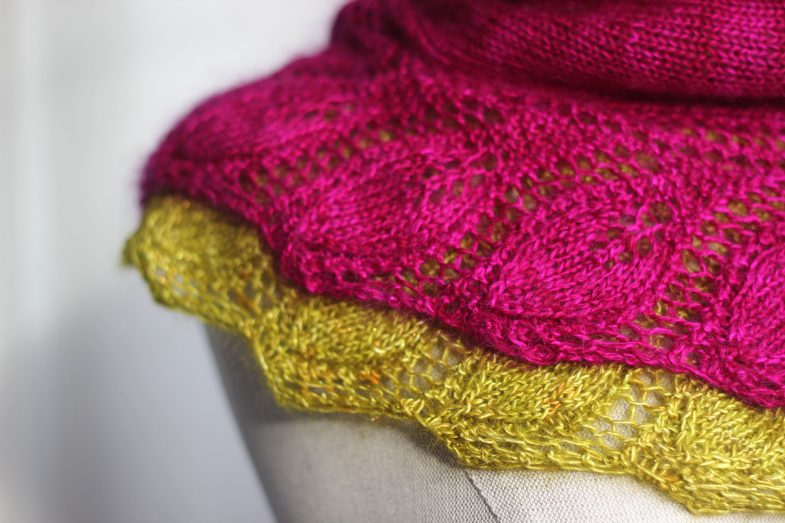 Faery Wings from Fyberspates, and  its siblings, Curly Silk from Dibadu and DyeForYarn's MoFluff, is a silk/mohair blend yarn that is curly and wavy in the skein and knits up to a smooth and drapey fabric.
The Tuvstarr Collection (eBook)
5 patterns released randomly  over the next several days (18–23 December)
2 shawls :: 2 cowls :: 1 mitt

Note: If you buy a single pattern from the collection and change your mind and wish to buy the collection, one pattern can later be applied toward the Collection and is deducted automatically.
Who is Tuvstarr?
Tuvstarr is a fairy tale princess with hair like Faery Wings. She has been beautifully painted by John Bauer, a Swedish artist. Bauer's illustrations for the book of fairy tales, Bland Tomtar och Troll, are wonderful and evocative, and perhaps especially so, his lovingly rendered Prinessan Tuvstarr.
You can read more about this early 20th Century artist and find more illustrations here.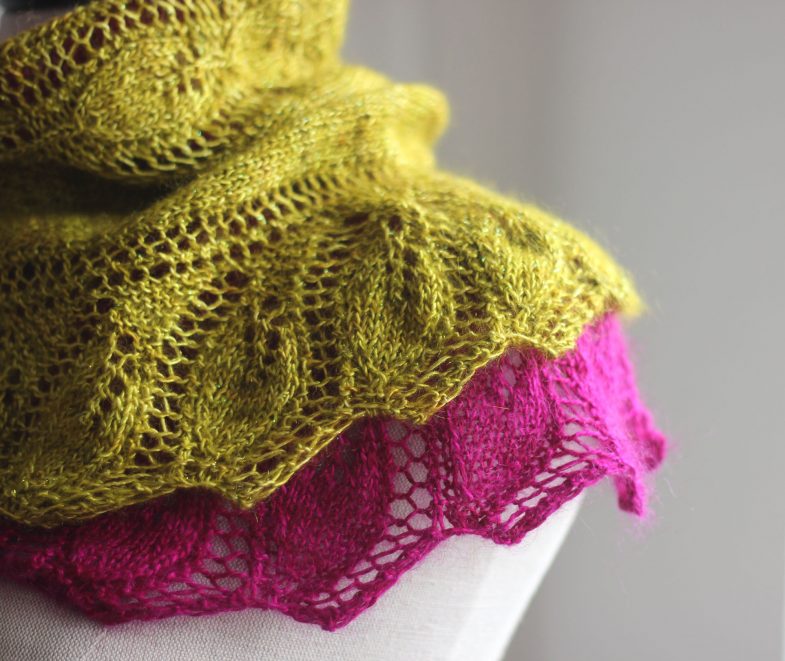 ERLINE cowl
S i z e
34 cm tall by 56 cm around the top, 100 cm around the base
(13.5″ tall by 22″ around the top, 40″ around the base)
Y a r n
Dibadu Funnies Curly Silk and Curly Irisé (with Stellina)
(67% silk, 23% mohair, 10% nylon, 350 m (383 yds) per 100 g) 
orange/grey:
MC: Kürbiscreme, 1 skein, CC: Bunte Kiesel, 1 skein
pink/green:
MC: DyeForYarn MoFluff Electric Light Purple, 1 skein, CC: Dibadu Curly Irisé Mistelzweig, 1 skein 
alternative yarn suggestions
DyeForYarn MoFluff or Fyberspates Faery Wings
approx yarn requirements
MC 280 m (300 yds) CC 260 m (285 yds)
N e e d l e s  &  N o t i o n s
3 mm (US 2.5) circular needle, 60 cm (24″)
Additional smaller circular for the cast on
Stitch markers
B l o c k e d   G a u g e
21 sts x 36 rows = approx 10 cm (4″) in stocking stitch
P a t t e r n  N o t e s
Erline folds to create a layered lacy edge in two colours. Starting with a longtail and a winding provisional cast on (the easiest cast on ever) the cowl is knitted sideways in one piece with a lacy border at each edge. The final row of the MC section is knitted (or grafted) to the provisional MC stitches. The short cast on of the CC section is stitched into the join to create a layered overlap. Gauge is not crucial. However, if your gauge is tighter than the recommended gauge, you may wish to add a pattern repeat. 
H E L P F U L   L I N K S
Abbreviations
2-into-2 stitch
Winding Provisional Cast On (the simplest cast on ever)
Prinsessan Tuvstarr by John Bauer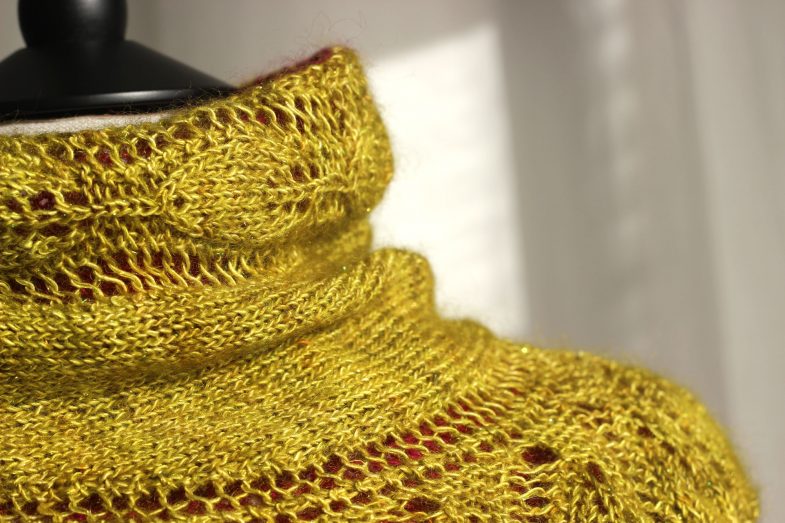 ---
Want to know what else is up my knitted sleeve? Sign up for the occasional Åsa Tricosa Newsletter.