Where to Find Wool in Fife (& Glasgow)
6 Local Yarn shops in and around EdinburghIf you have time before or after Edinburgh Yarn Festival 2016, you could make a mini tour of Yarn Shops within Striking Distance. Of course, the beauty of local these days is that it's available also on your very local computer screen — so these shops and their yarns are really within everyone's striking distance.
P I T T E N W E E M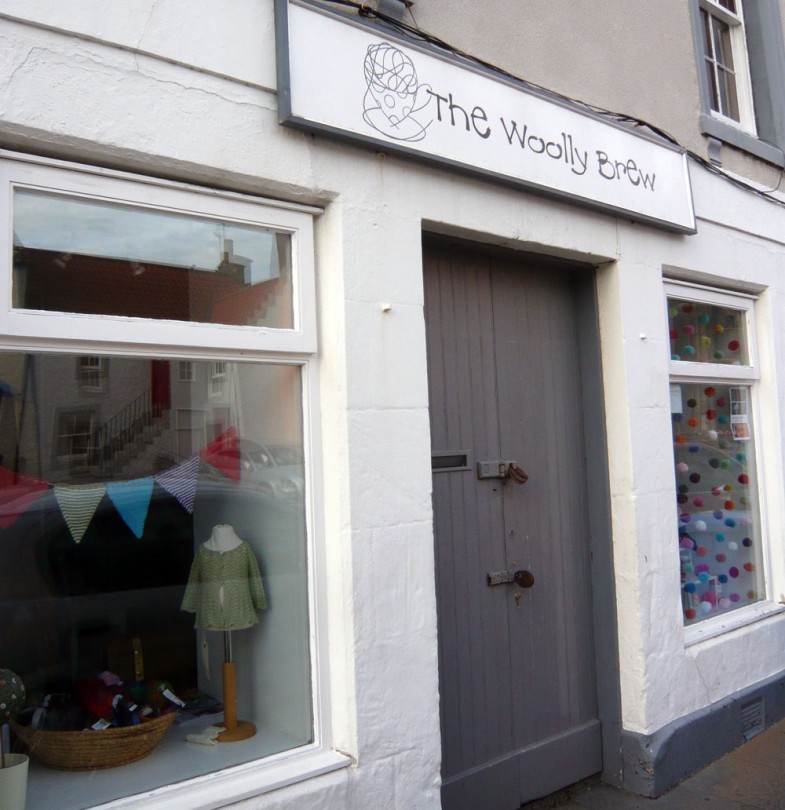 The closest shop to St Andrews (my current location) is in the small and picturesque fishing village down the coast, Pittenweem. The Woolly Brew is a lovely little yarn shop on the high street that is aptly named High Street and which doesn't really have very many shops apart from The Woolly Brew. So this one is a real find.
Fiona and Karen run it on enthusiasm and an obsession with good yarn. They opened shop in 2011.
In my stash from The Woolly Brew:
Fliskmillan Fibres DK, spun from Romney Sheep kept in North East Fife, Scotland. That's yarn terroir. I don't know the names of the sheep who offered up their wool to my particular skeins, but it feels quite personal nevertheless.
I stupidly bought only 1 skein each of mustard and natural. I have brought it along with me this time around, too, and am still thinking about what they can become. Maybe a headband for walks on the West Sands?
A pair of mittens or gloves? Maybe even in time for EYF??! (ha!)
I also bought my first ever Schoppelwolle Zauberball and a skein Rowan Felted DK for swatching –  and I almost bought a skein of Fyberspates Gleem in a fantastic grey (I think it was Pebble Beach). I do have a weak spot for Fyberspates yarn.
The Woolly Brew is open Tuesday – Saturday.
For knitters further away there is mail order service.
By the way, they make the perfect oatcakes in Pittenweem. Just the right balance of crumb and heft.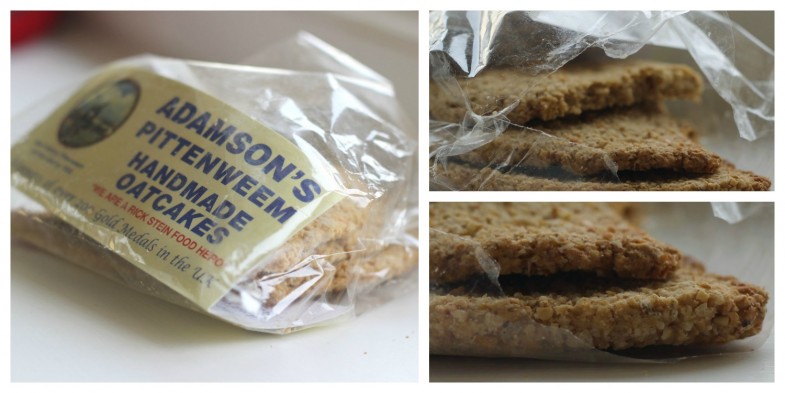 E D I N B U R G H
Last year Jo of EYF kindly introduced me to three Edinburgh yarn shops.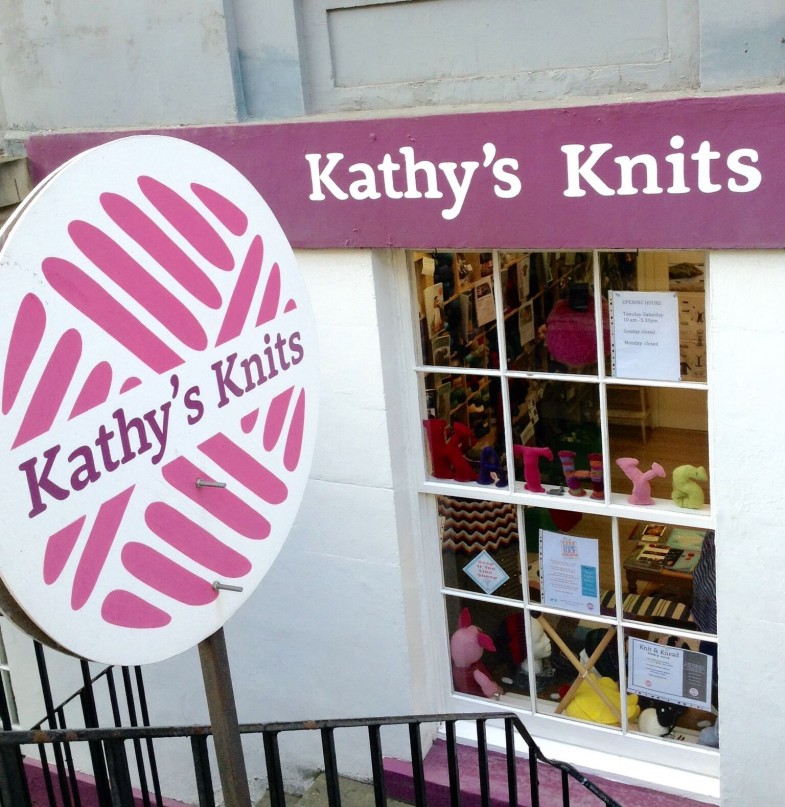 Cathy's, who runs Kathy's Knits since 2011,  sources yarns from British farmers and suppliers including Blacker Yarns, New Lanark, JC Rennie, Jamieson & Smith and Eden Cottage Yarns (another favourite of mine who will also exhibit at EYF).
In my stash from Kathy's Knits: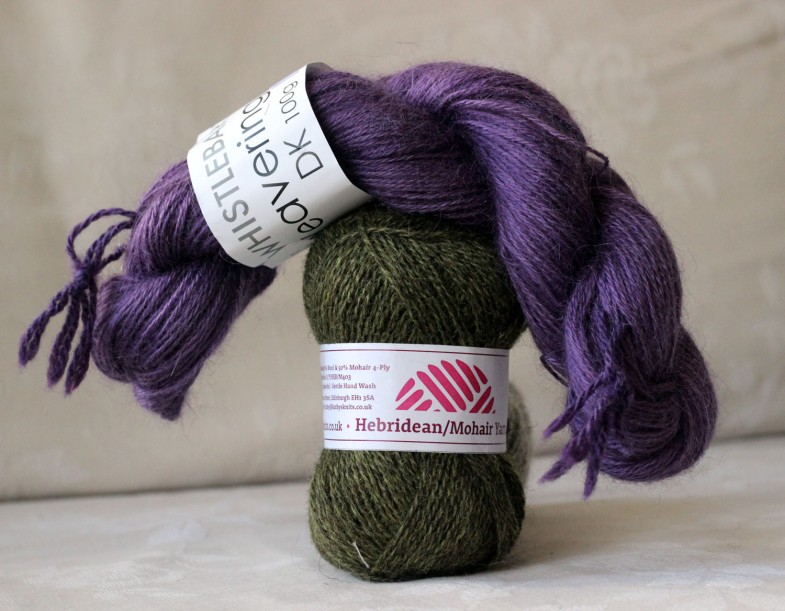 This is Cathy's own brand, Kathy's Knits Hebridean/Mohair (I'm swatching for a sweater with this) — and Whistlebare Yeavering Bell DK.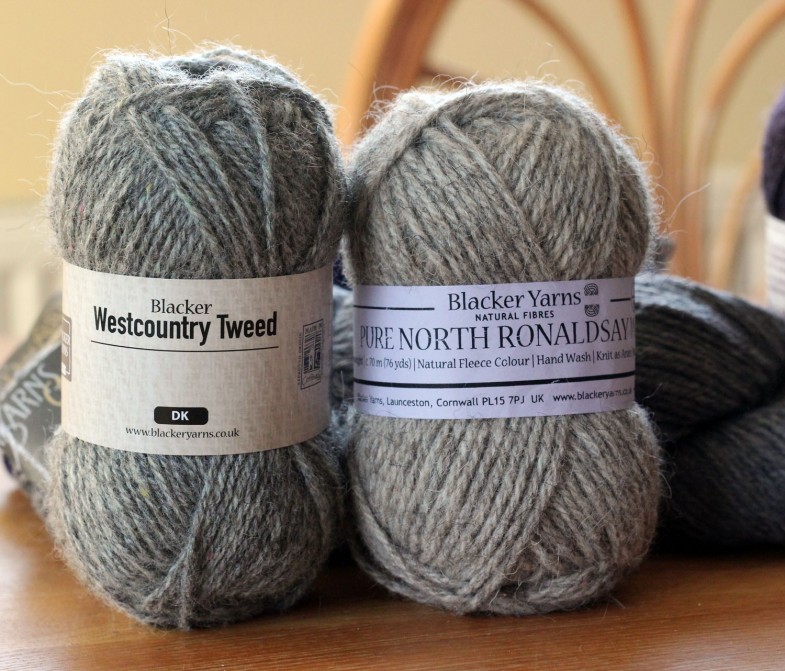 I seem to also have bought North Ronaldsay and Westcountry wool from Blacker Yarns. Not sure how that happened.
I'm a bit in love with the special hairiness of the two skeins of Whistlebare Yeavering Bell (DK and 4ply), another wool/mohair blend.
I had to be severe with myself in this shop, for I wanted to try just about every yarn in Cathy's floor to ceiling shelves.
Kathy's Knits is open Tuesday – Saturday.
NOTE: During EYF also open on SUNDAY
For knitters further away there is mail order service. If you don't have a chance to visit, why not take a virtual tour of Kathy's welcoming shop?
Mei is another yarn and knitting enthusiast who runs her own brick & mortar shop as well as an online shop.
In my stash from Be Inspired Fibres: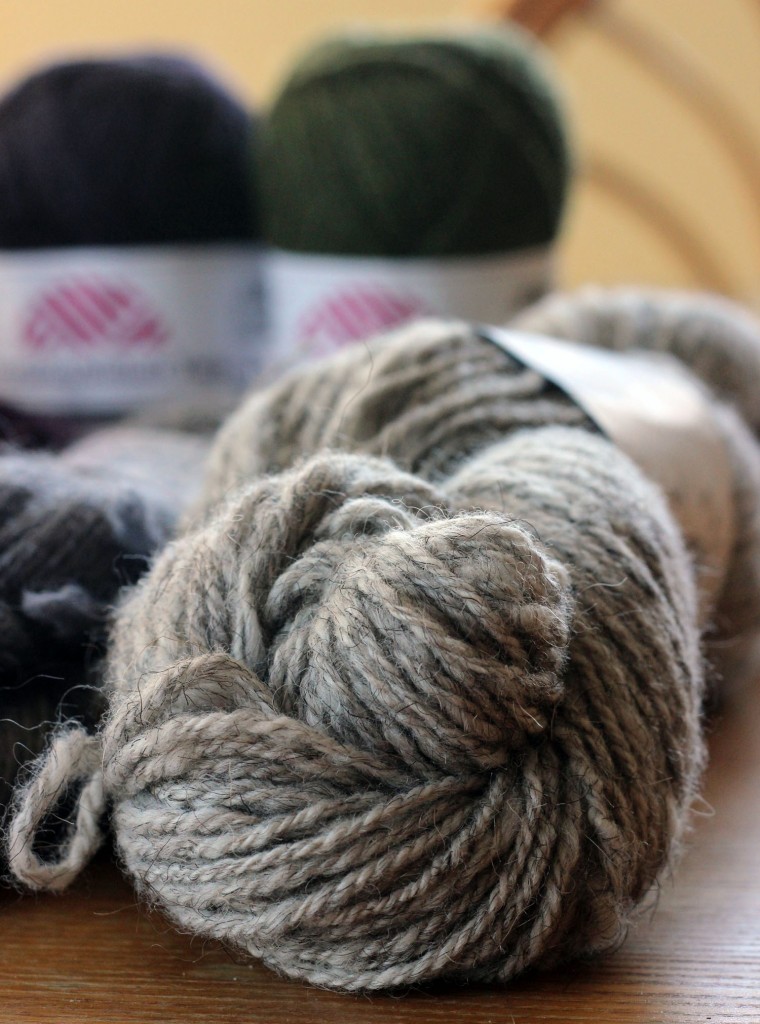 I bought a more pedestrian Cascade 220 here for swatching for my book (and was pleasantly surprised by the lovely fabric it makes) – and another Ronaldsay (Aran) skein. Mei offers a wonderful international and local selection of exciting yarns, such as Habu, Ito, madelinetosh, Holst, Orkney Angora and North Ronaldsay Wool. I'm especially curious about the organic Manx Merino Fine, spun in the UK from Patagonia wool.
I accidentally (no, really!) pilfered a Cascade skein Mei had wound for another customer… (I discovered this only when I got home and I did eventually pay up —  it's not entirely clear wehther my cash envelope actually arrived. I may have to send some other amends or bring something nice by way of apology Mei's stand at EYF.)
NOTE: During the Edinburgh Yarn Festival you can visit Mei and Be Inspired Fibres at her EYF stand.
Shop hours at her Marchmont shop during the festival week:
Monday – Thursday (until 1:30), and then from 2 pm on Sunday
(The shop is closed on Friday 18th and Saturday 19th March)
Last but not least in the Edinburgh trio (well, it is tiny…) is the cute almost hole-in-the wall shop, Ginger Twist Studio run by the rather stunning Jess, Jess of the porcelain skin and cascading red locks.
She is surrounded by gorgeousness to match — her own hand dyeds and a small selection of commercial brand yarns, pattern books, needles, and notions.
In my stash from Ginger Twist Studio: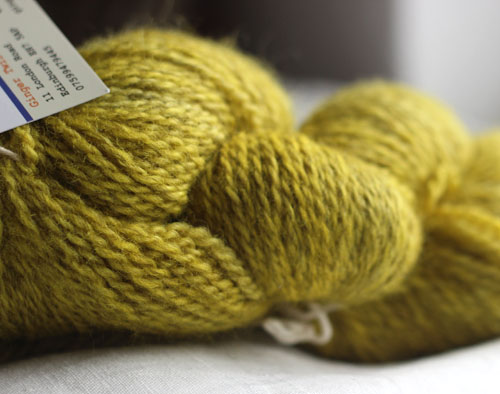 Ginger's Hand Dyed Masham Mayhem DK. I fell in love with this yarn and bought the three skeins that were available, and then had to order more. The threesome accidentally became the Mayhem Shawl.
I was actually swatching for a sweater or cardigan for my Ziggurat book. Jess contributes yarn for one of the designs in the book, and I'm chuffed to be featuring her gorgeous yarn.
Mayhem Shawl will be launched at EYF. You can find gorgeous yarn & the pattern at the stands of Ginger Twist Studio and at Purlescence during the Festival. Knitters who buy pattern & yarn receive also a set of Åsa Tricosa Tutorials Postcards.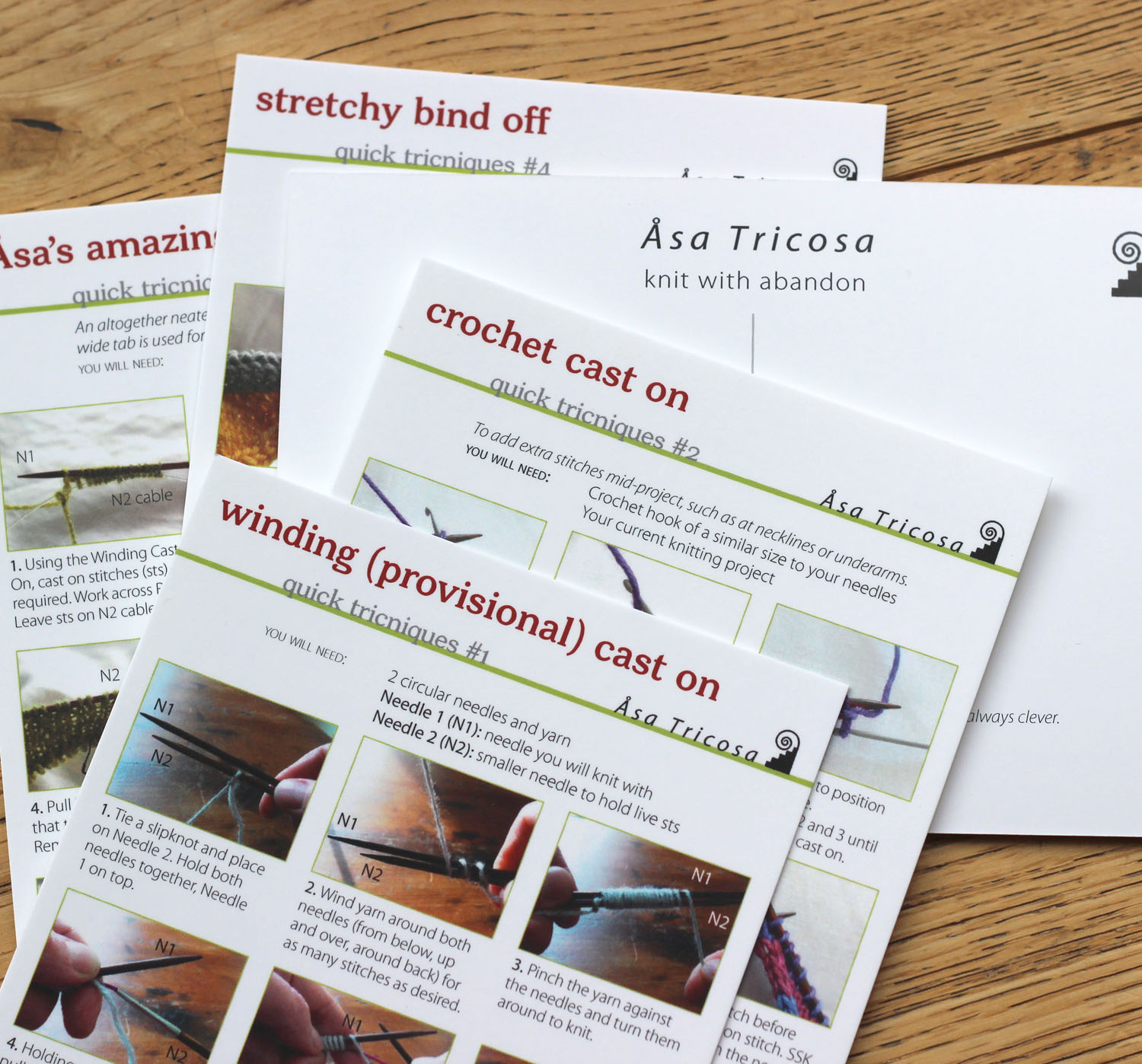 NOTE: During the Edinburgh Yarn Festival you can visit Jess at her Ginger Twist Studio stand
Shop hours at the London Road shop during festival week:
Wednesday & Thursday & Sunday
The shop is closed on Friday 18th and Saturday 19th March.
(Regular opening times: Wednesday – Monday (closed Tuesdays))
G L A S G O W
There is also yarn in Glasgow, of course. And cake. Hop on a train! It's just an hour's ride from Waverley Station in Edinburgh.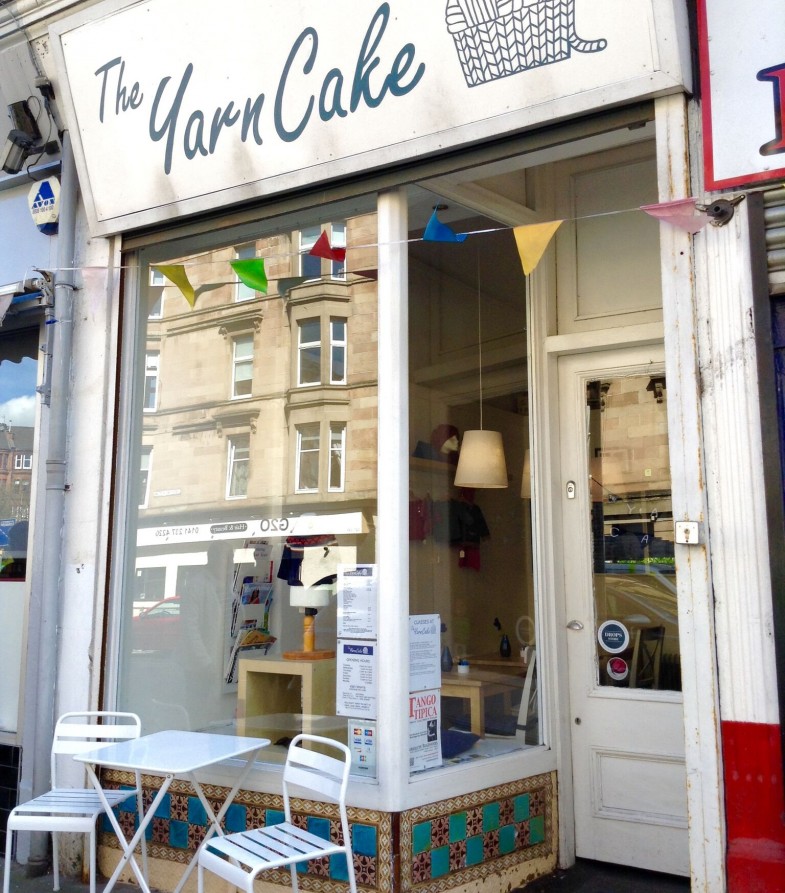 I did hop on a train to visit Antje at The Yarn Cake. As you can guess there is yummy (and rather dangerous) cake on offer here along with yarn and fibre. Antje offers "the best of local Scottish yarns, as well as providing a good range of quality budget yarns." You can also find a smattering of hand dyeds (Abstract Cat as for a beautiful example), other interesting yarns, and needles and notions. Antje also sells Ashford spinning equipment.
In my stash from The Yarn Cake: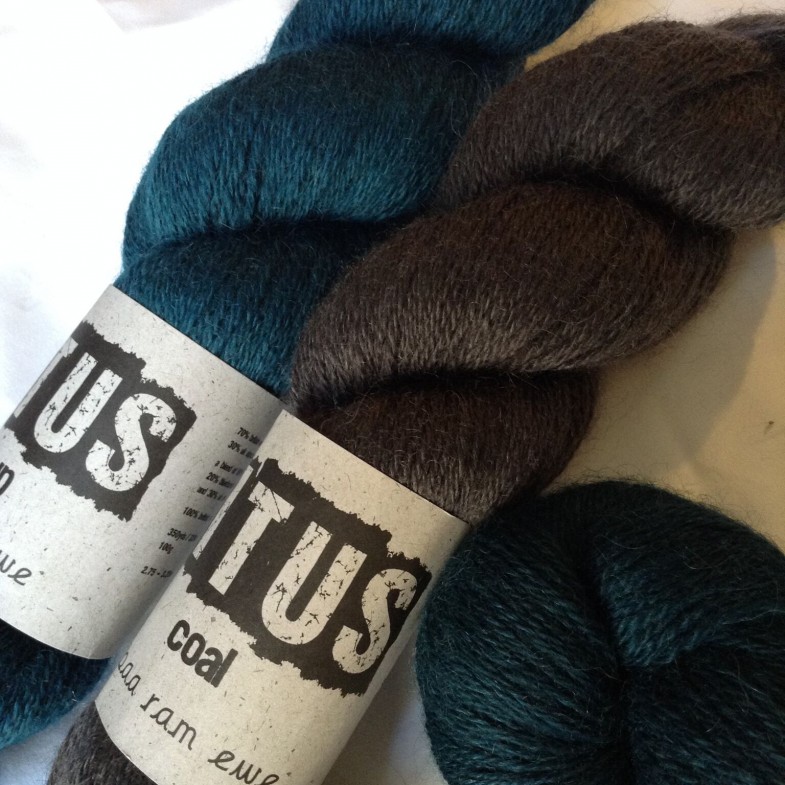 Baa Ram Ewe Titus. I have started a Mayhem Shawl with this yarn and the fabric is wonderful. I plan to find a new contrast colour for the border at the Baa Ram Ewe stand at EYF as I'm not entirely convinced by my teal/grey combination. Or maybe it rocks?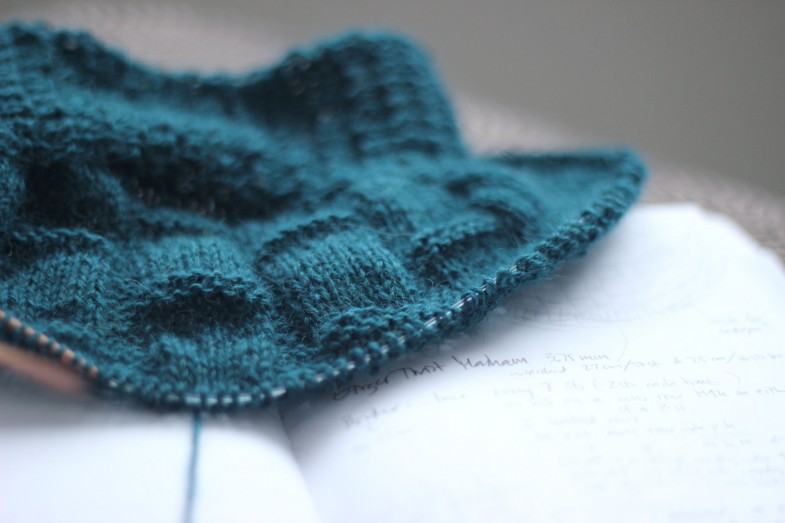 The Yarn Cake is open Tuesday – Sunday (closed on Mondays)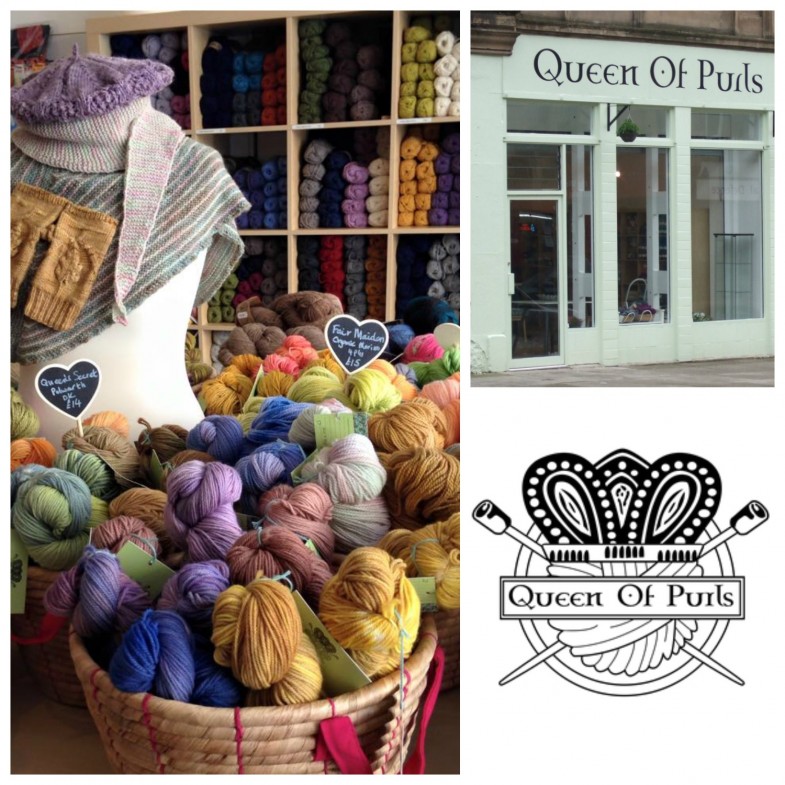 I didn't make it to Zoe's Queen of Purls in Glasgow — yet. I will! And you could.
In the meantime I asked Zoe to say something about her shop and her yarns – together they hold out the promise of helping you reach your crafting zen.
Zoe opened Queen of Purls less than two years ago. She aims mainly to stock a good selection of natural fibres and to support independent designers. What's not to love? There is also a big wall of fibres suitable for spinning, felting and dyeing, which is a first for Glasgow. In addition, Zoe is a dyer and stocks her own hand-dyed yarn and wool tops. One bonus of running a yarn shop is that many customers become friends. Zoe says they help keep her sane with their visits and support of the shop.  Her interesting window displays attract both regular customers and inspire novices to step into the world of fibre.
(You'll soon be able to buy The Queen of Purl yarns online as well.)
The Queen of Purls is open Tuesday – Saturday.
It's  so pleasing and inspiring that these entrepreneurs invest so much time and effort (and money) in brick and mortar shops. It's a lovely and welcoming meeting place for knitters of all skill levels. I think they are especially important for beginners and what one might call returning knitters — those who perhaps knitted many years ago when all these wonderful yarns weren't on offer. It's a feast to be able to visit these shop, to touch and see the colours in person, and to receive warm, friendly, and knowledgeable help and advice.
Three cheers for yarn shops!