dyeing for yarn
Please meet Cordula and Nicole!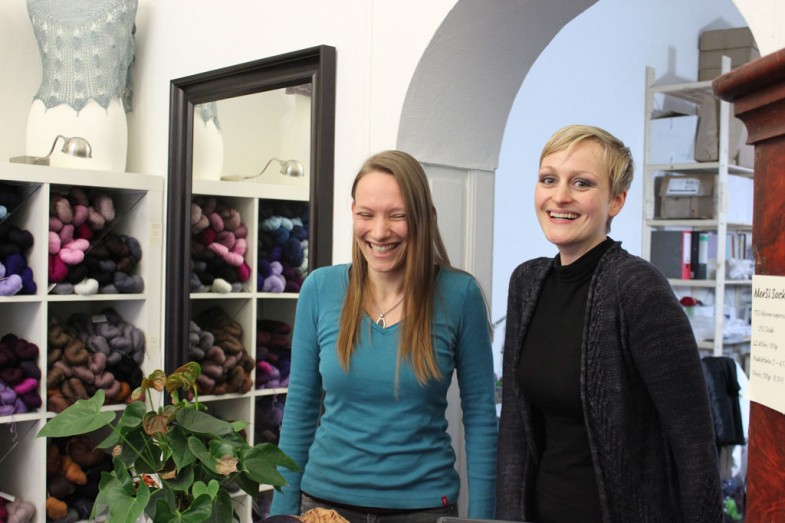 Dye For Yarn in Fürth needs no further introduction, I think.
You already know their colours… and ooooh.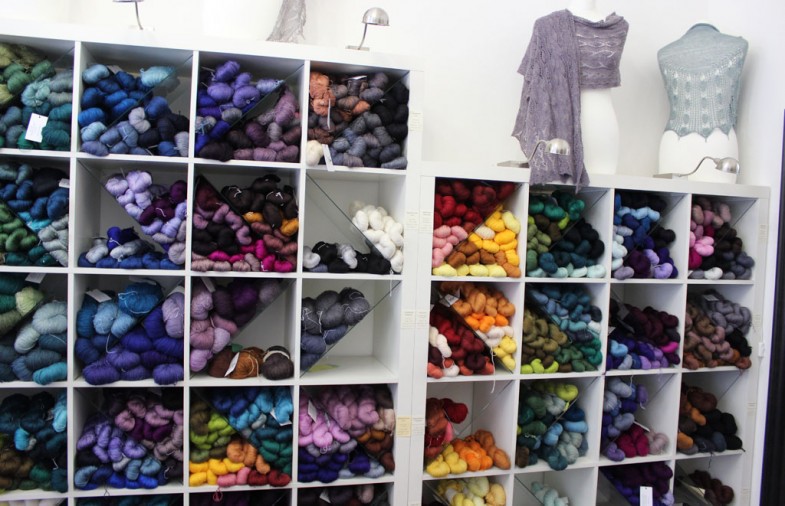 The colours…Withering Moss, Mankind's Last Hope, Giant Clam Closing Forever, Burning Haystack (and yes, I asked how they come up with these fantastic names, but we were so busy discussing so many vital matters (yarn, knitting, food) that the question fell by the wayside. I'll have to go back to ask again.)
The shop door bell tinkled prettily and incessantly even as Cordula and Nicole claimed that this was highly unusual and only an effect of them having been featured on television that week (there's a video on their homepage).
Obviously the local knitters have now discovered the genius of Dye For Yarn – good. Obviously this is going to create more competition at the updates – not so good. For the rest of us, at least.
The shop and workshop lie cheek-by-jowl on a funky street in Fürth.  Shop windows for both face the street so noses can be pressed against windows even when the shop isn't open. Lovely yarns are on display in the shop.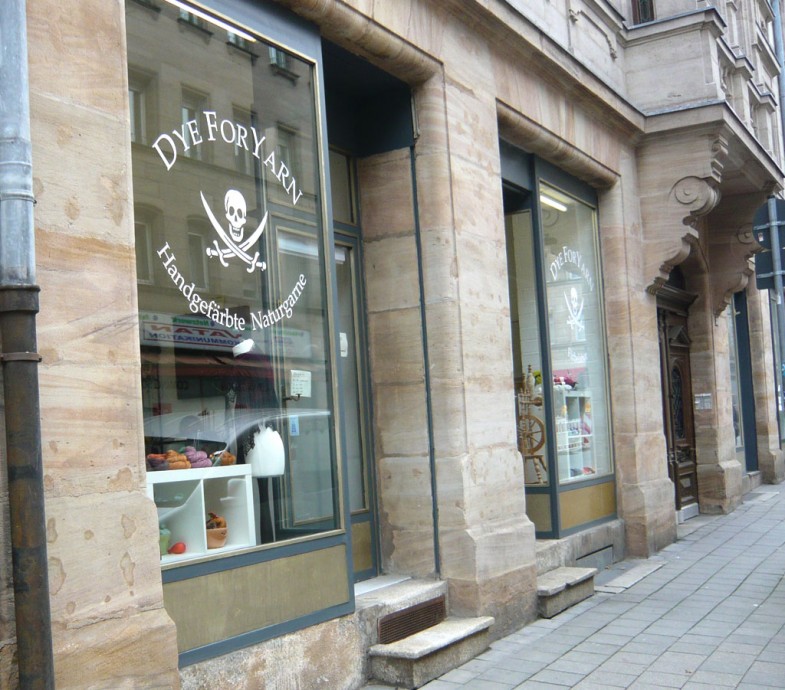 In the workshop there may be magic stirring in dye pots and pans.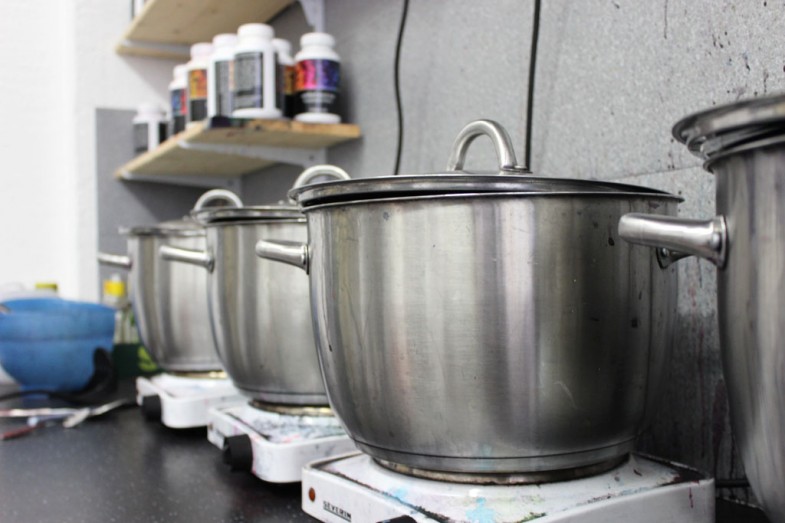 Or skeining.
The skeining machine looks like a museum piece but isn't.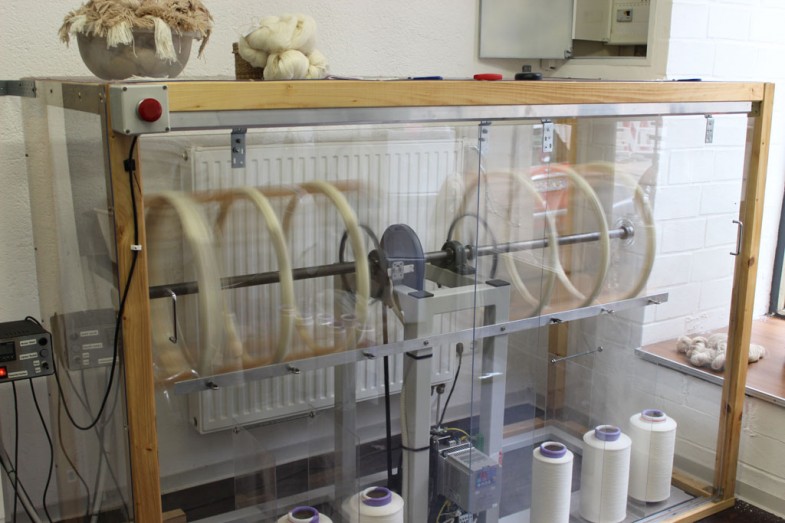 The visit was inspired by Jeannette who is a benevolent force behind the scenes (not only) on Ravelry, a knitter extraordinaire, and has, with her Hamburg friends, engineered Woolfest Hamburg 2014. (Jeannette bought yarn in a sensible, considered sort of way, and not only for herself but gifts and orders for friends, too.)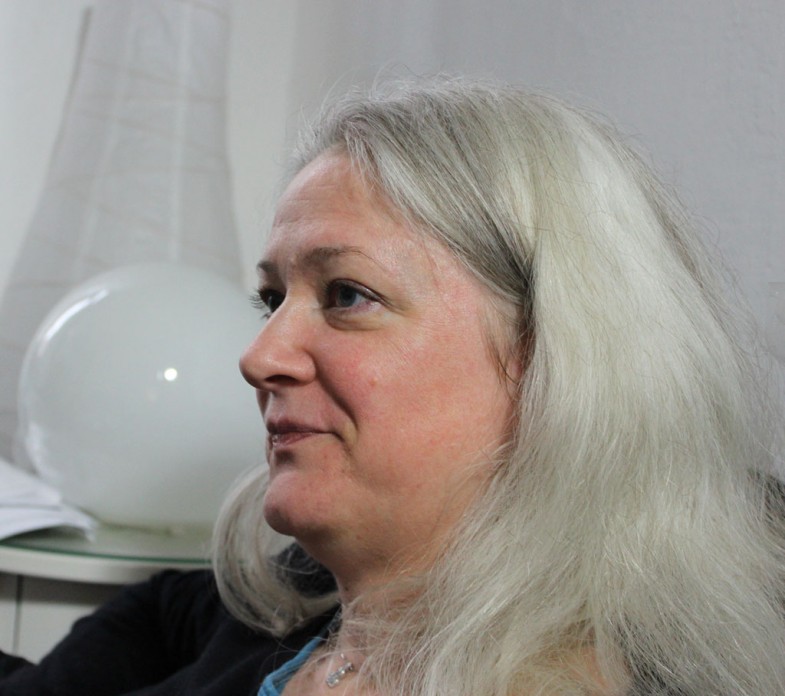 Unlike me.
I somehow walked out of the shop with an entire bag of yarn for myself. OK, maybe one or two gifts, but I hadnt' thought about taking orders.
I'll have to go back. With a shopping list. And my unanswered questions.
The yarn makes me happy, my bank account weeps. (A proper division of labour, I think. Possibly.)
And I do have some ideas for the yarn…
I could have spent the entire day, shopping, oohing over yarn, discussing the vicissitudes of the internet communities, the importance of (g00d) food.
In the end, the need for (any) food took over. That and art. It is, after all an anniversary year for Verdi. There is nary a German opera house that is not performing Verdi this year. So, my day ended with Nabucco. (I haven't graduated to Wagner whose anniversary it also is. I'm happy to wait to the next centenary…)
Oh, I encountered some moss, too. But that's another post.