Bento Boksy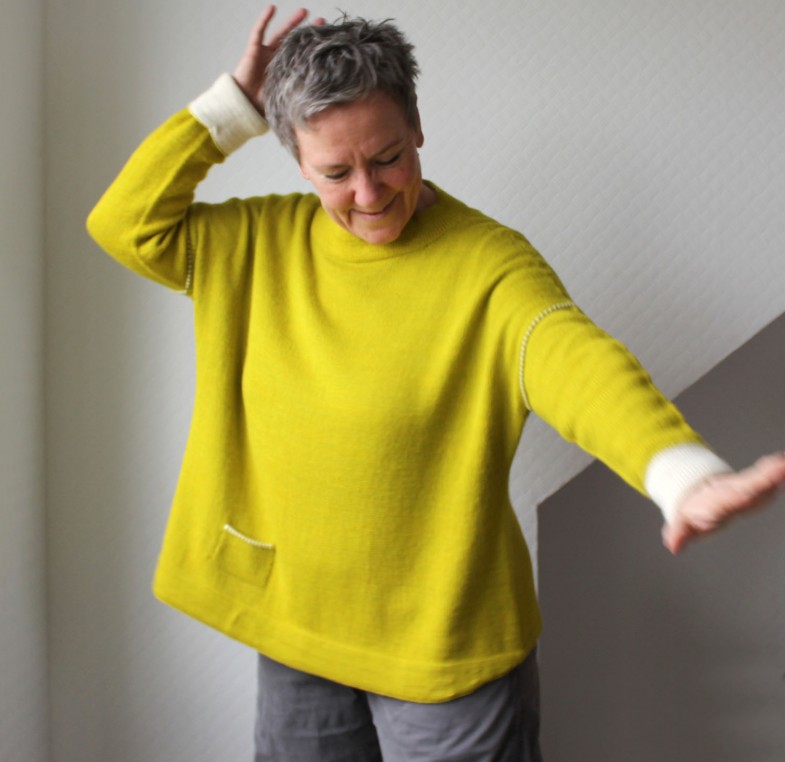 Bento Boksy is a boxy, stylish pullover with funky spots of colour detail. Like all Ziggurats, Bento is knitted in one piece and top down but with less zigging and zagging. It begins with a double funnel neck and ends at the curved hem and a contrasting lining. The drop shoulder sleeves are picked up and knitted last. They have optional striped piping at the join and end with an upturned cuff. The pocket with piping is also optional. As usual, there is not a seam in sight.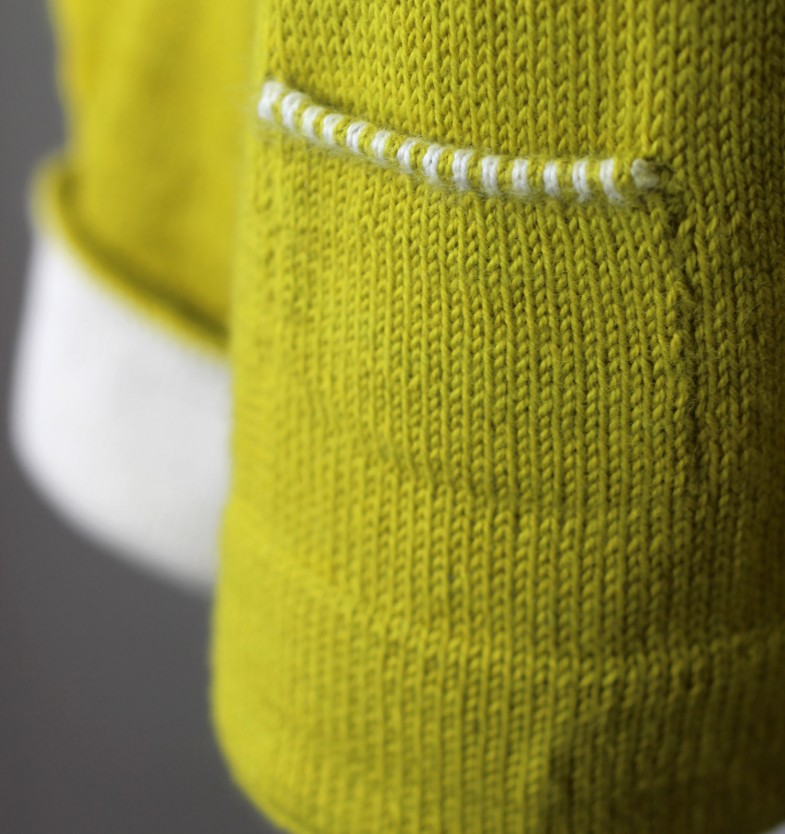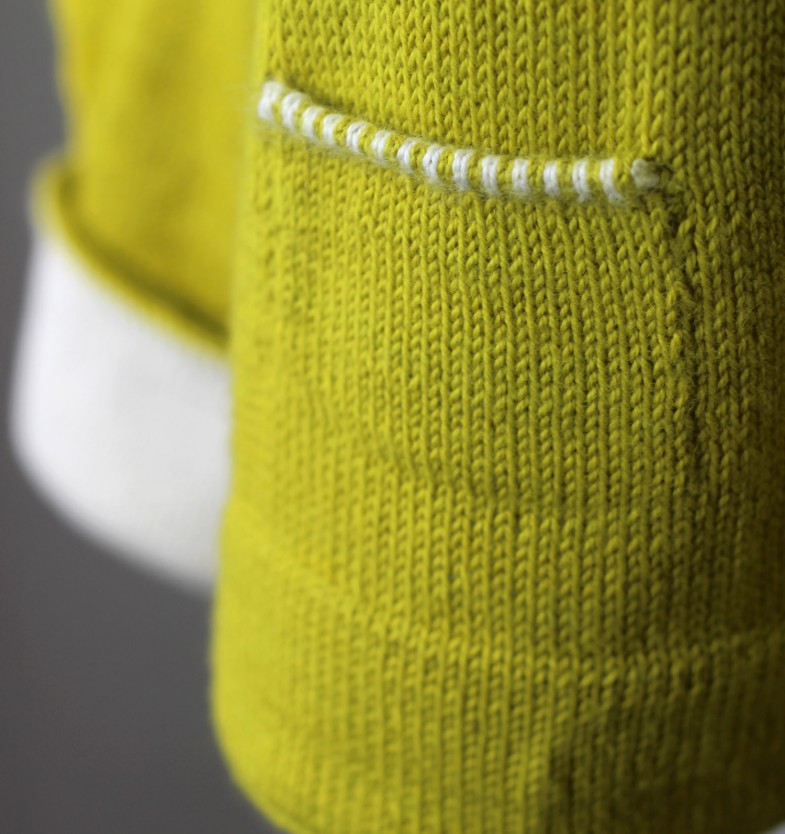 The yarn with the gorgeous drape is Wollmeise Blend, a sport-weight blend of  merino, cashmere, and nylon. It's wonderfully soft and has a lovely sheen.
The sleeves in the photos are a tad long — I'm shortening them by three cm and the pattern has been updated to reflect this. I prefer my sleeves on the long side, but these turned out to be too long. I hadn't properly taken into account the wonderful drapeyness of the yarn. And while I was at it I also shortened the upturn of the cuff a little.
The drapey yarn also means that the collar doesn't really stand up but tends to lie a little more flat than the photos lead you to believe.
I loved everything about knitting this sweater – even the reknitting required when things didn't work out quite as I had imagined, such as the collar and the finer piping details. It turned out, for example, that just willing two different gauges to blend doesn't actually make them blend. The solution was to cast on more stitches to create the piping and also to pick up more stitches for the sleeve to match the piping and then decrease to the number of stitches I wanted for the armhole.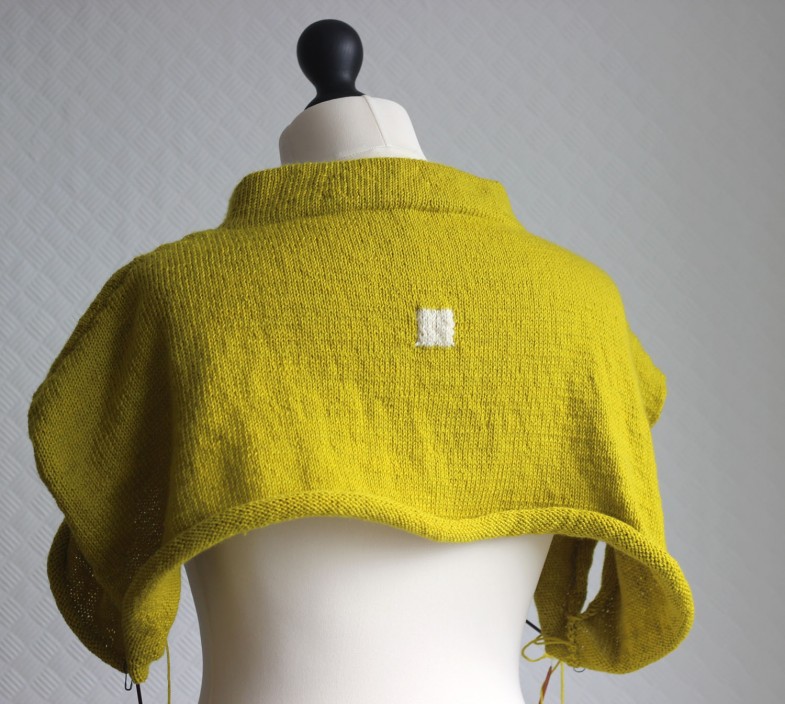 SIZES
XS (S, M, L) [XL, XXL, XXL] / 32″ (36″, 40″, 44″) 48″, 52″, 54″]
Garment (finished) bust measurement
124.5 (135.5, 147.5, 157) [163, 169, 175.5] cm
491/4″ (531/2″, 581/4″, 62″) [641/4″, 663/4″, 691/4″]
APPROXIMATE YARN REQUIREMENT
MC (Zarte Knospe)
1320 (1460, 1650, 1740) [1820, 1960, 2000]m
1440 (1590, 1800, 1900) [1985, 2140, 2200] yds
CC (Natur)
180 (190, 200, 210) [215, 225, 230] m
195 (210, 220, 230) [235, 245, 250] yds
GAUGE
26 sts by 36 rows on 3 mm needles
NEEDLES & NOTIONS
3 mm (US 2.5) circular needle, 80 – 100 cm (32″ – 40″)
2.75 mm (US 2) circular needle, 80 – 100 cm (32″ – 40″)
2.5 mm (US 1.5) circular needle 80 – 100 cm (32″ – 40″)
Stitch holder(s), stitch markers
TECHNIQUES linked to and used in the pattern
* Crochet Cast On
* German Short Rows
* Lined hem
* M1R/L(p)
* Winding Provisional Cast On
---
Want to know what else is up my knitted sleeve? Sign up for the occasional Åsa Tricosa Newsletter.
Save