non troppo wrap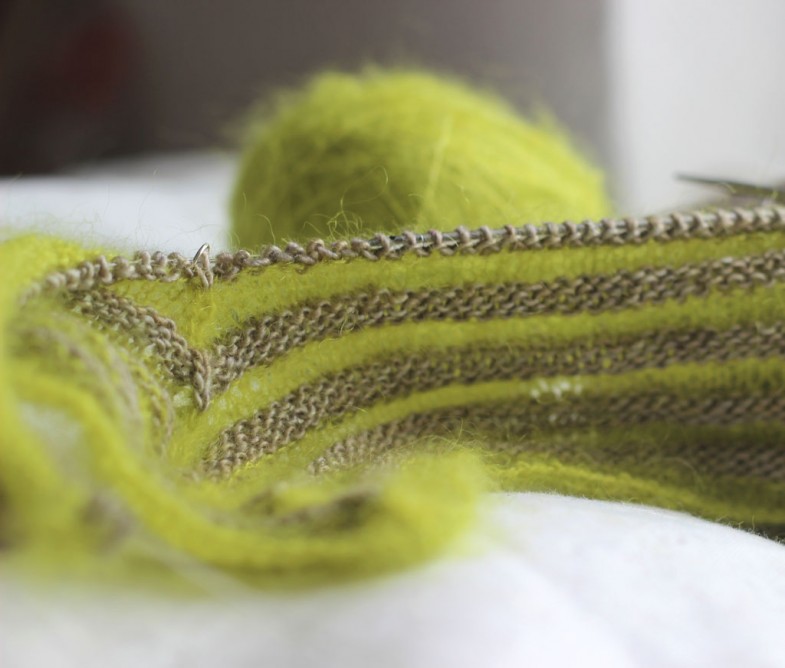 non troppo is a dream of cloudy lightness and funky elegance, inspired by ma non troppo, a Ziggurat pullover I knitted for my mum. The yarn is of course what inspired both. Cathrin Walk of Walk Collection just creates the most beautiful yarns in colours that I have never seen or dreamed of before — nor knew I loved before I laid eyes on them. Fantastic.

This perfect wrap for wintry days and coolish summer evenings is knitted on the bias, generous, asymmetrical, striped – and has both textural playfulness and flair.
Choose somber or wild colours as you please and settle into some soothingly simple knitting.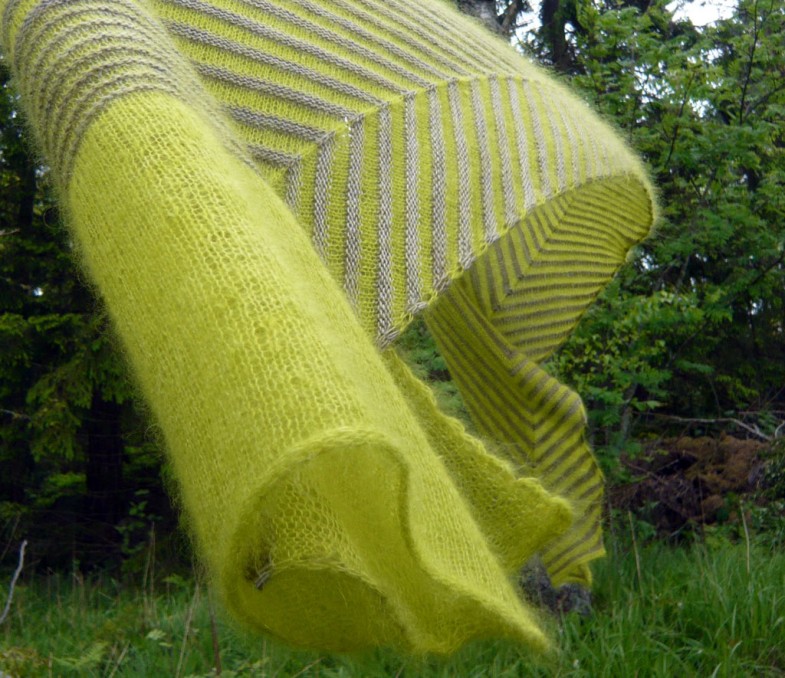 non troppo just could be the perfect commuter or read-while-you're-knitting knit – nothing complicated is going on (and goes on for quite a while).
My sample measures approx 50 cm by 210 cm (20 in by 83 in).
(this is pointy point to pointy point – length along one side is approx 185 cm / 73 in)
Approx yardage
MC (Walk Collection Delicate Silk): 600 m (655 yds)
CC (Walk Collection KidMohair Lace): 550 m (600 yds)
Alternative Yarn Suggestions
MC: Wollmeise Lace-Garn, Wollfaktor Salome, dibadu Simply Lace, Posh Yarn Valerie Heavy Lace
CC: Wollmeise Lace-Garn, Wollfaktor Primadonna, dibadu Kidsilk Lace, Ito Sensai, Rowan Kidsilk Haze
Linked techniques:
• M1R/M1L
• Crochet Cast On
• Moving Marker
non troppo wrap

Pattern: €5 (+VAT)


---
Want to know what else is up my knitted sleeve? Sign up for the occasional Åsa Tricosa Newsletter.